Phillies' offense seeking big improvement in '15
Team scored fourth-fewest runs in non-strike shortened season since 1972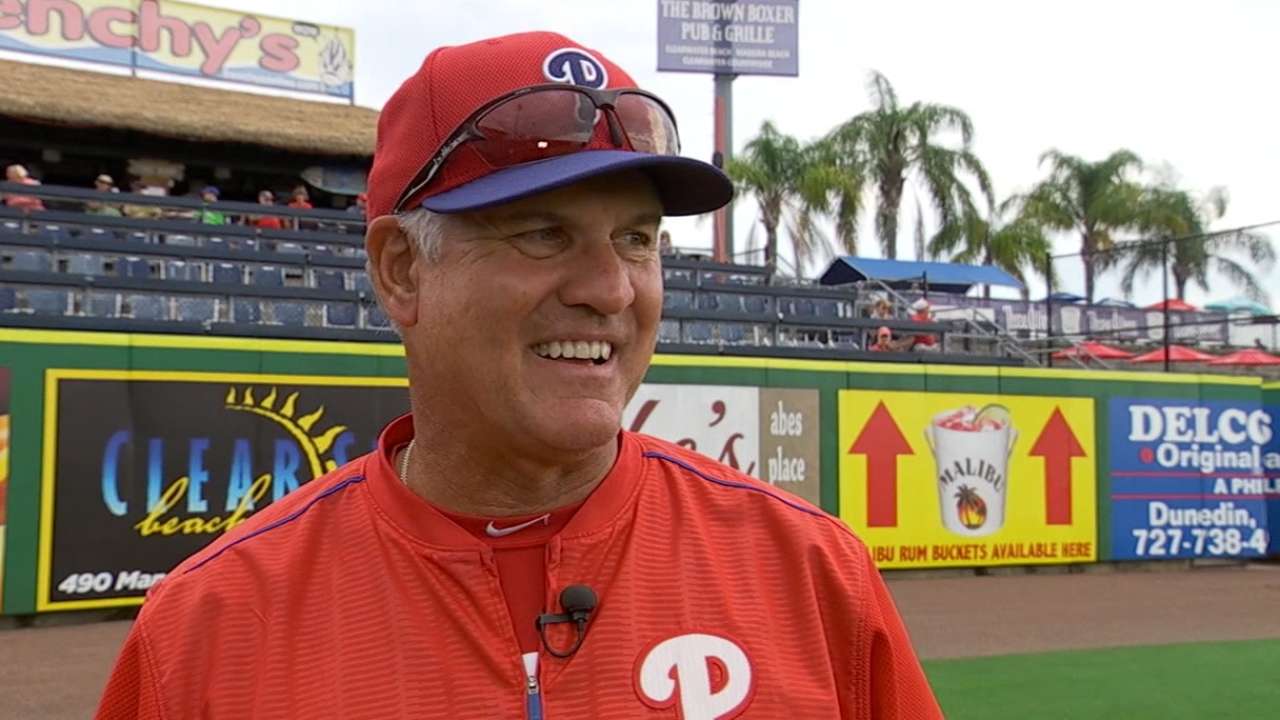 CLEARWATER, Fla. -- Phillies general manager Ruben Amaro Jr. offered a blunt assessment about his offense a couple weeks ago.
"We're not going to score a lot of runs," Amaro said.
It was an evaluation based in fact. The Phillies scored 619 runs last season, which ranked 23rd in baseball. They were the fourth-fewest runs the Phillies have scored in a non-strike shortened season since 1972.
Only the 1995 Phillies (615), 2013 Phillies (610) and 1988 Phillies (597) fared worse.
But the Phillies chose not to address the offense this offseason. Instead, they traded Jimmy Rollins and Marlon Byrd to acquire three Minor League pitchers. Byrd (.757 OPS) and Rollins (.717 OPS) ranked first and third, respectively, among qualified Phillies in OPS in 2014.
It is why the Phillies will be hard pressed to score more than 619 runs in 2015.
They will need bounce-back seasons, if they do.
They will need surprises.
They will need luck.
"We're going to have to manufacture them," Amaro said about scoring runs. "We're going to have to do it with our legs. We're going to have to do it with our brains and aggressiveness."
The Phillies will need Ryan Howard and Domonic Brown to return to prior form. Howard hit .223 with 23 home runs and 95 RBIs last season. His .695 OPS in the cleanup spot ranked 314th out of 316 hitters with 600 or more plate appearances in the cleanup spot from 1914-2014. But he said his left leg is finally healthy following left Achilles and left knee surgeries since 2011. He also has some serious family issues behind him, which might have affected him.
But can Howard, 35, really turn back the clock?
Brown made the National League All-Star team in 2013, but hit just .235 with 10 home runs, 63 RBIs and a .634 OPS in 144 games last season. His OPS ranked 139th out of 147 qualified hitters in baseball. His .640 OPS as an outfielder ranked 60th out of 64 outfielders. But Brown is already behind the eight-ball. He has been sidelined since March 19 because of tendinitis in his left Achilles and could open the season on the disabled list.
Chase Utley will open the season as the team's No. 3 hitter, but on a better team he would hit elsewhere. His .755 OPS in the No. 3 hole last season ranked 18th out of 20 hitters with 400 or more plate appearances in that spot.
The Phillies will hope Cody Asche takes a step forward in his second full season. They will hope for more from Ben Revere, and they will need Darin Ruf to be more than just a part-time player. Rule 5 Draft pick Odubel Herrera must prove he can hit big league pitching on an everyday basis. Can Freddy Galvis post better than a .621 OPS, which is his career mark in 550 big league plate appearances?
There are big ifs everywhere.
They are so big, Phillies manager Ryne Sandberg is talking a lot about small ball.
"I look at our bats and our type of team and I think we're going to have to be good at that game," he said.
It might not be enough to pass 619.
Todd Zolecki is a reporter for MLB.com. Read his Phillies blog The Zo Zone. Follow him on Twitter. This story was not subject to the approval of Major League Baseball or its clubs.