New to broadcast, Davis says '15 Phillies need balance
Former catcher discusses new job, impression of team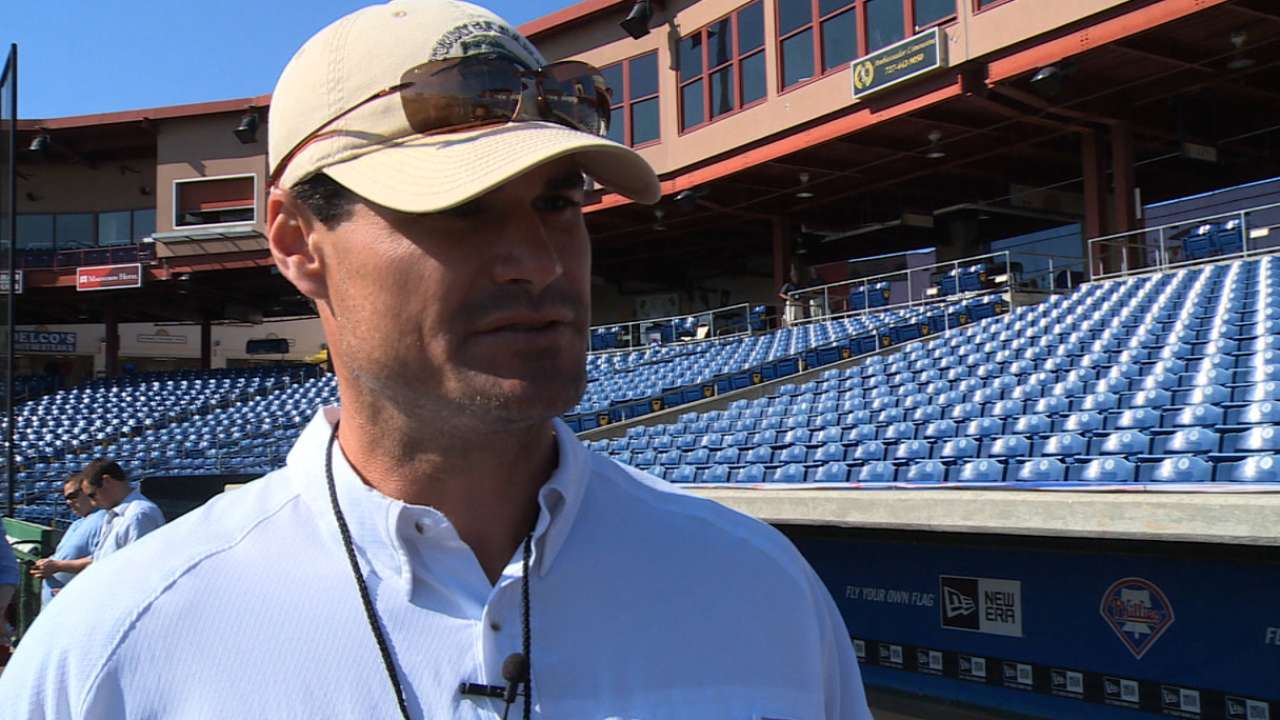 CLEARWATER, Fla. -- Comcast SportsNet finally found a replacement for Jamie Moyer when it announced in February that Ben Davis will join Tom McCarthy, Matt Stairs and Mike Schmidt in the Phillies' broadcast booth this season.
Davis knows the Phillies and baseball. He grew up in the area, attending Malvern Prep. The Padres selected him with the second overall pick in the 1995 First-Year Player Draft before he played in the big leagues seven seasons. He spent the past four years working on Comcast's Phillies pregame and postgame shows.
Davis stopped to chat a few minutes recently about his move to the booth and the team he will be watching this season.
Here are a few highlights:
MLB.com: How are you enjoying the new job?
Davis: I absolutely love it. I love it. It's weird not working every day (in Spring Training) because we're only doing home games and I'm not scheduled for every game, but it's been a blast so far.
MLB.com: Do you feel comfortable in the booth?
Davis: It's been great. The first three games I was with Matt, so we had the three-man booth. Tom just sets you up so well and Matt has his input. I think we all mesh really well. Obviously there is going to be some transition there, but I feel very comfortable. It's similar to what I've been doing the last four years in the studio. It's just now I have more time to talk about a given play. We don't have to worry about getting a commercial break in or whatever, so it's been fun.
MLB.com: What are your impressions of this team?
Davis: Well, ups and downs right now. There's obviously some issues with Cliff Lee not being there. I think that's obviously going to hurt the rotation. But offensively, there's always room for improvement. They've had some good games. They've had some good at-bats. Then they've had some bad games. So, I think they just need to find that balance there with hitting balls hard and getting good at-bats. And they're starting to come along as Spring Training goes, but I think there's definitely some good signs. I'm really anxious to see Odubel Herrera. He's really caught my eye. I like what I've seen out of him. Speed, he's had some good at-bats. It's been nice.
MLB.com: Has anybody else caught your eye?
Davis: Some of the guys like (Brian) Bogusevic has looked very good. (Cord) Phelps has looked good. I don't know what's going on with Dom Brown, how long he's going to be on the shelf. But these guys are really I think opening some eyes and showing they can play.
MLB.com: What is realistic for this team? They're rebuilding.
Davis: I wouldn't say it's rebuilding. A lot of these guys have been here for years, so I don't know if you really want to call that rebuilding. I just think they're taking some different measures in how they're approaching their season. It might be tough at times. I think the offense might have a tough time scoring runs at times. I like the bullpen. They've had a few bumps lately, but I like the bullpen. I love the bullpen. There are great arms coming out of there. But definitely the Phillies have some things that they need to address. I think they're looking to do that, Pat Gillick on down.
Todd Zolecki is a reporter for MLB.com. Read his Phillies blog The Zo Zone. Follow him on Twitter. This story was not subject to the approval of Major League Baseball or its clubs.