Giants send 11, including Susac, to Minors
SCOTTSDALE, Ariz. -- The Giants took a major step toward shaping their season-opening roster Sunday by reassigning or optioning 11 players to the Minor Leagues.
This was no ordinary round of roster cuts. The list included three players from last October's World Series roster: catcher Andrew Susac, right-hander Hunter Strickland and outfielder Juan Perez. All were optioned to Triple-A Sacramento, along with infielder Adam Duvall and outfielder Gary Brown.
Six players were reassigned to Minor League camp: right-handers Juan Gutierrez, Brett Bochy and Curtis Partch, left-hander Steven Okert, catcher Guillermo Quiroz and infielder Brandon Hicks.
"It's never easy, but we're going to San Francisco on Wednesday," manager Bruce Bochy said. "We thought it'd be fair to these kids to let them know now out of respect to them."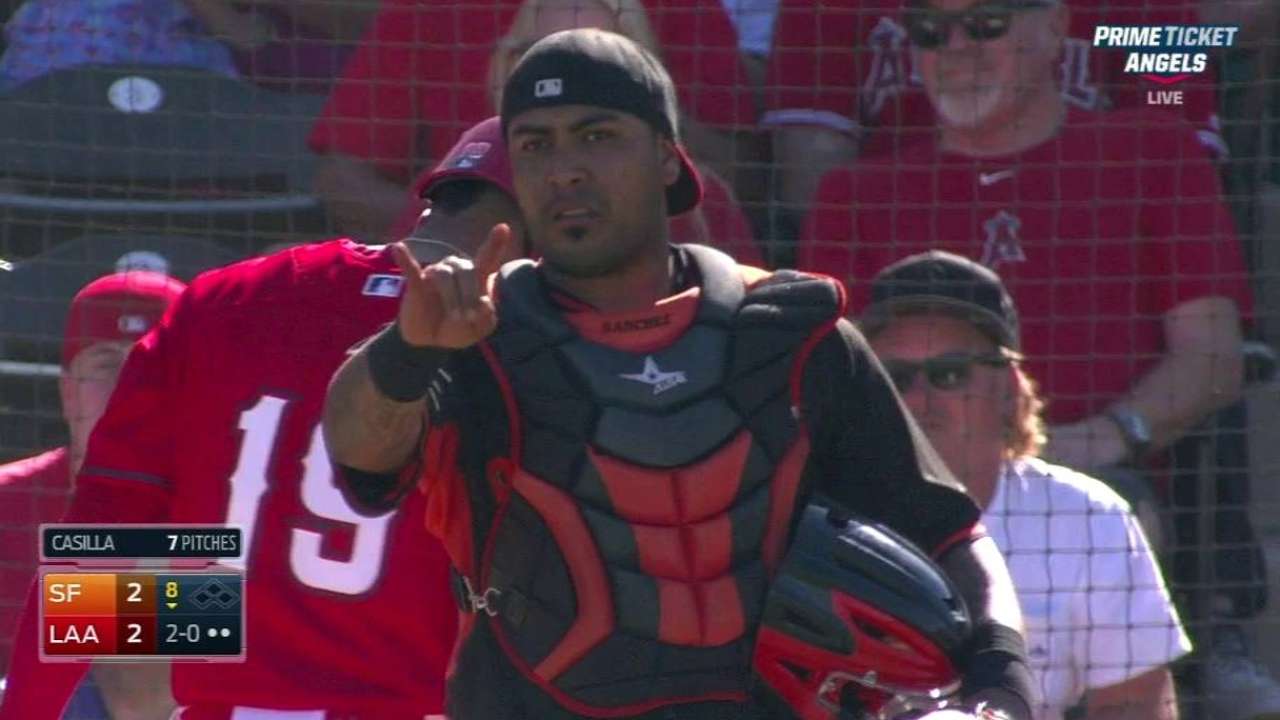 Susac's departure assured Hector Sanchez of winning the backup catcher's spot. Bochy acknowledged that this represented a "mild" upset, since Susac appeared to have a clear edge on Sanchez when camp began. While Sanchez arrived here in "the best shape we've ever seen," according to Bochy, Susac struggled physically with a root canal and right wrist inflammation.
"To have that stuff happen is just frustrating," Susac said.
At 25, Susac is still developing his skills.
"He hasn't played a lot in the Minor Leagues, so this is not going to be hurtful," Bochy said. "In the long term, it's going to be better for him and us."
The other moves defined the remaining personnel issues that Bochy, general manager Brian Sabean and the rest of the club's braintrust soon will address. The Giants essentially must cut only two more players to trim the roster to its 25-man limit before San Francisco opens the season April 6 at Arizona. Though the roster currently stands at 29 players, that includes right fielder Hunter Pence (fractured left arm) and right-hander Erik Cordier (forearm), who will begin the season on the disabled list.
Bochy said though a trade did not appear imminent, the front office has been busy exploring options.
"No question they're talking to clubs, which all clubs are doing at this time of year," he said.
A National League source said the Giants were offering right-handers George Kontos or Jean Machi or both for a competent-hitting corner outfielder. The source added that the Giants seemed more likely to stand pat, since Pence could return by the end of April. Kontos and Machi are competing for the pitching staff's lone vacancy.
Barring a deal, the Giants have room for one position player aside from those guaranteed to make the team. Outfielder Justin Maxwell and infielders Ehire Adrianza and Matt Duffy hope to fill that spot.
Bochy declined to say whether Maxwell had made the team as an extra outfielder, though only three other healthy outfielders are on the roster: Nori Aoki, Angel Pagan and Gregor Blanco.
"We haven't determined the 25-man roster," Bochy said. "We made some moves today and we have not made any other announcements."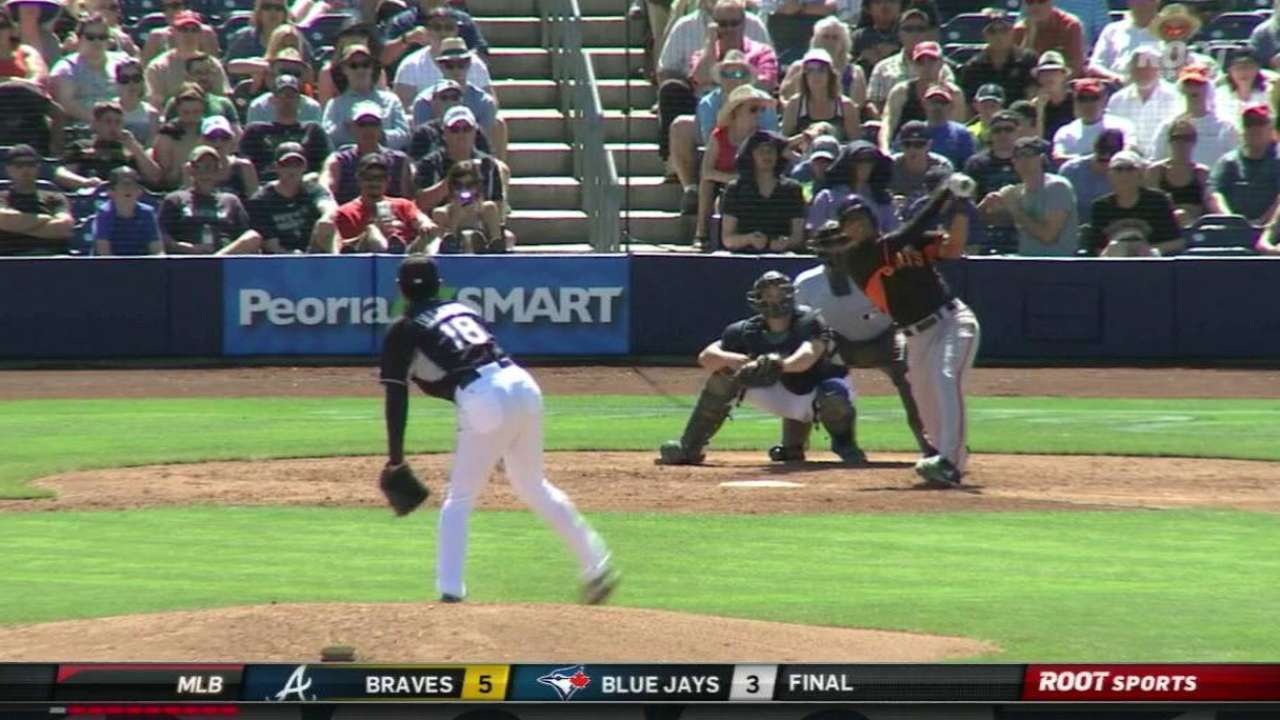 Bochy's reluctance to assign Maxwell an official spot on the Opening Night roster indicated that Travis Ishikawa, who started 14 postseason games in left field last October, is being seriously considered as an extra outfielder. Coincidentally, Ishikawa started in left in Sunday's 11-9 Cactus League victory over the Dodgers.
Perez entered spring with a solid chance to make the Opening Night roster but has hit .239 in 21 games.
"He came in bigger and stronger, but he's not on top of his game," Bochy said.
Strickland was unscored on in eight of 11 spring appearances but twice surrendered three runs. Like Susac, Bochy said additional Minor League seasoning should help Strickland.
Chris Haft is a reporter for MLB.com. Read his blog, Haft-Baked Ideas, and follow him on Twitter at @sfgiantsbeat. This story was not subject to the approval of Major League Baseball or its clubs.