Marlins seeking consistency from rotation
Club has more starter depth thanks to offseason moves, rising prospects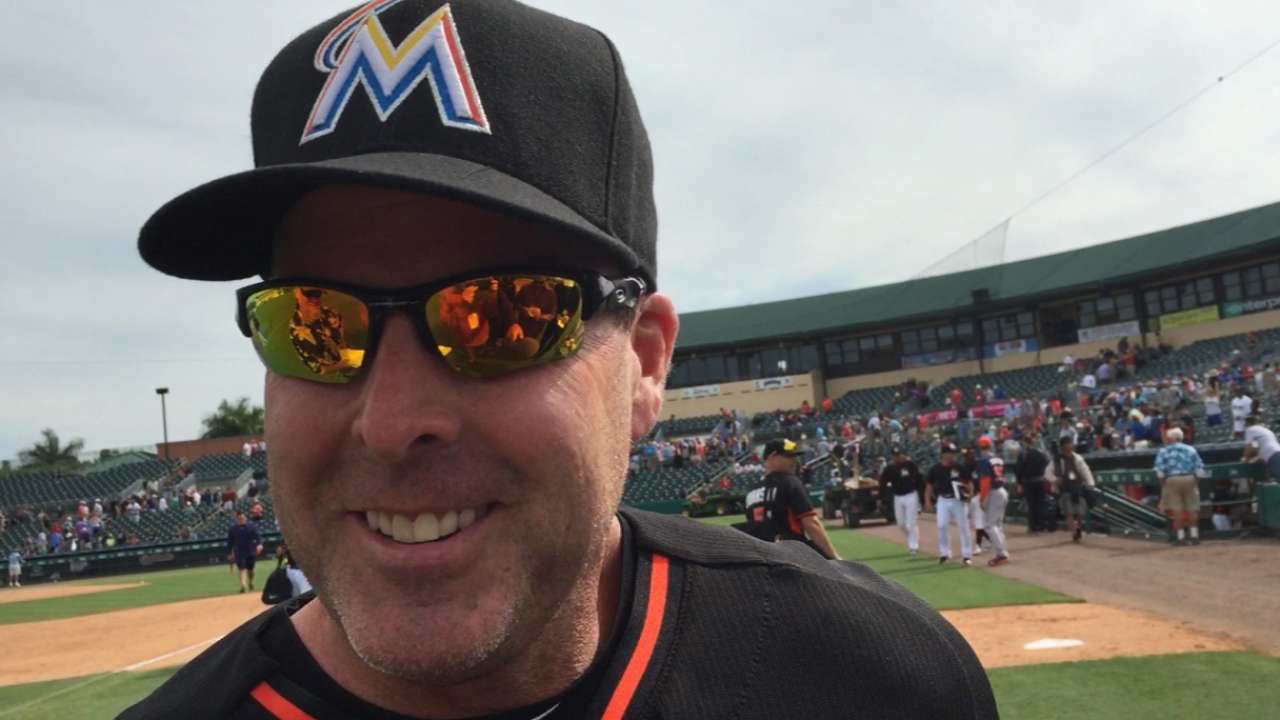 JUPITER, Fla. -- The No. 13 isn't always unlucky. Wearing the uniform number is working out fine for Marlins center fielder Marcell Ozuna, who belted 23 home runs and drove in 85 runs last year. South Florida's most popular sports figure ever, Dan Marino, made No. 13 trendy in his legendary career with the Miami Dolphins.
To the Marlins' rotation in 2014, however, 13 was more than ideal. Due to injuries and inconsistencies, the club used 13 starting pitchers, a franchise high. The '13 Marlins, who lost 100 games, used 12 starters.
The revolving door on the mound is one reason Miami fell short of its playoff goal, and finished 77-85.
If the Marlins are to reach the postseason, they know they will have to get more consistency from their starters. Obviously, injuries and inconsistencies happen, which creates the need for depth.
Entering 2015, the club believes it is in better position to handle adversity.
"The one thing you learn about this game is always expect the unexpected," president of baseball operations Michael Hill said. "There are some things you just can't control. Injuries are one of them. Last year was probably a severe season as it pertained to our starting pitchers, and the injuries we incurred."
The rotation flew into flux when ace Jose Fernandez underwent season-ending Tommy John surgery in mid-May. One reason so many starters entered the mix is it was a struggle to find someone who could pick up the slack.
Of the 13 starters, seven posted ERAs above 5.00 in their collective 33 starts. That list included Jacob Turner (6.03), Brad Penny (5.21), Randy Wolf (6.10), Andrew Heaney (6.93), Anthony DeSclafani (7.40), Kevin Slowey (7.00) and Brian Flynn (11.25).
In 164 1/3 innings, they had a combined 6.46 ERA.
The Royals, meanwhile, reached the World Series and they used just eight starters all season. Their main five each made 25 or more starts, and handled all but 10 games.
"As we entered the offseason and prepared for 2015, we wanted to make sure that we had as much depth as we possibly could," Hill said. "We had a number of internal starting pitching candidates that were already on the roster. We had a number of upper-level Minor League prospects who were moving closer to being Major League-ready. Those are things you count on.
"But we wanted to go out and acquire some also to be part of our rotation, and help us remain competitive and win games."
To provide veteran experience, Mat Latos and Dan Haren were acquired to join the young core of Henderson Alvarez, Jarred Cosart and Tom Koehler. Brad Hand and David Phelps are expected to make the club in swing roles, being able to start or relieve.
Prospects Justin Nicolino and Jose Urena are in Triple-A and are close to being big league ready.
"We're just going to try to build up as much depth as we can because you never know what's going to happen," pitching coach Chuck Hernandez said.
Toss in Fernandez, who is expected back in midseason, and the organization feels it is 10 deep.
"We aren't counting on Jose right now, but we definitely are cautiously optimistic that he will be ready and able to return sometime in June or July," Hill said. "We feel like our roster is better equipped to withstand whatever may be thrown our way."
Joe Frisaro is a reporter for MLB.com. He writes a blog, called The Fish Pond. Follow him on Twitter @JoeFrisaro. This story was not subject to the approval of Major League Baseball or its clubs.