Gonzalez optioned to Triple-A after tough spring
Right-hander struggled with 7.53 ERA in five Grapefruit League appearances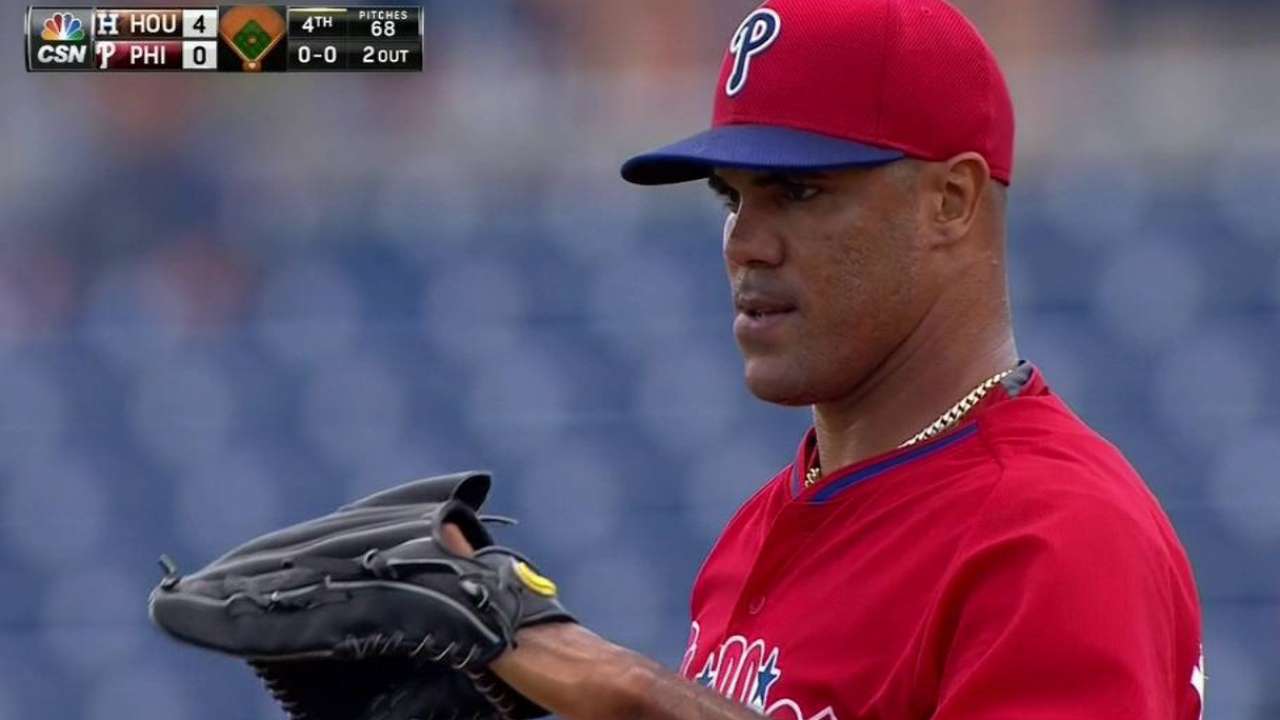 CLEARWATER, Fla. -- So far Phillies right-hander Miguel Alfredo Gonzalez has not come close to the hype.
The Phillies announced Sunday they had optioned him to Triple-A Lehigh Valley, which was not a surprise. Gonzalez entered Spring Training with a chance to make the Phillies rotation and his chances improved dramatically with Cliff Lee almost certainly lost for the season with an injured left elbow.
But Gonzalez never looked close to big league ready. He went 0-3 with a 7.53 ERA in five Grapefruit League appearances. He allowed 25 hits, 12 runs, five home runs and one walk with seven strikeouts in 14 1/3 innings.
"With some work," Phillies manager Ryne Sandberg said, when asked if Gonzalez can be a good big-league pitcher. "The inconsistency was the biggest thing that he fought. Behind in the count. That's what he has to get ironed out to be successful."
Gonzalez's demotion leaves the No. 5 starter's job to Kevin Slowey or Sean O'Sullivan, who is in Minor League camp.
O'Sullivan might be the favorite at this point because he is being stretched out. Slowey is not, although there is time. The Phillies do not need a No. 5 starter until April 12.
The Phillies on Sunday also optioned right-hander Hector Neris to Triple-A. Right-hander Paul Clemens, catcher Koyie Hill and infielders Chris McGuiness and Chris Nelson had been reassigned to Minor League camp.
The Phillies have 36 players remaining in camp: 17 pitchers, three catchers, eight fielders and eight outfielders.
The Phillies and Gonzalez agreed to a six-year, $48 million contract in July 2013, but the deal dropped to three years, $12 million following his physical. Gonzalez's questionable health popped up last Spring Training and he struggled in the Minor Leagues as a starter with those health issues lingering.
The Phillies eventually converted Gonzalez into a reliever and he had success in that role in Double-A Reading and Triple-A. He got promoted to the Phillies in September, but he had a 6.75 ERA in six relief appearances.
"He showed glimpses of what he has," Sandberg said.
Todd Zolecki is a reporter for MLB.com. Read his Phillies blog The Zo Zone. Follow him on Twitter. This story was not subject to the approval of Major League Baseball or its clubs.