Provus sees plenty of talent on Twins' roster
Radio broadcaster discusses upcoming season with MLB.com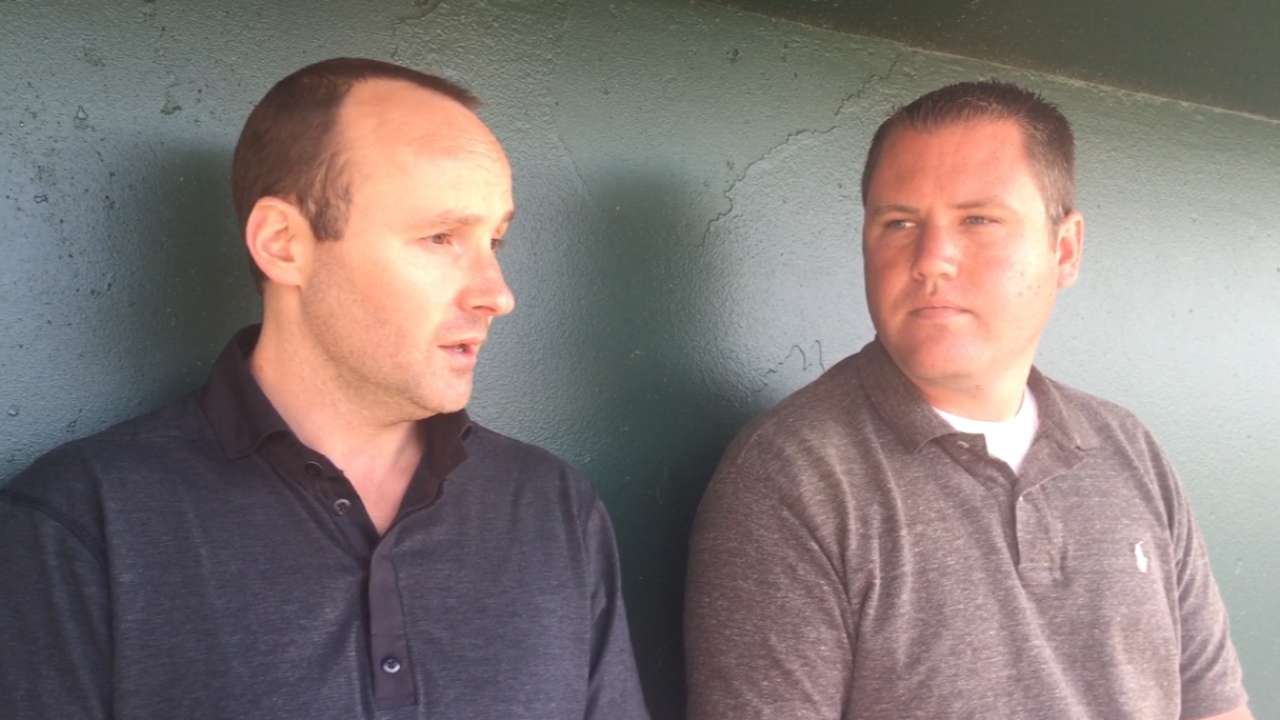 SARASOTA, Fla. -- Cory Provus is entering his fourth season as the radio voice of the Minnesota Twins.
Provus, who does the play by play alongside his radio partner Dan Gladden, took time out of his busy schedule this spring to sit down with MLB.com for a Q&A session. Here's what he had to say:
MLB.com: What have your impressions been of the Twins this spring?
Provus: This is my fourth year with the Twins and I think this is the most talent they've had coming into a season since I've been here. A couple guys have really stood out to me. Ricky Nolasco came into camp in terrific shape and seems to be on a mission to perform much better after a rough go in his first year with the Twins. And I'm anxious to see Danny Santana every day at short. I know [manager Paul] Molitor stressed from Day 1 he was going to have Santana at shortstop, and now I'll get the chance to see him each and every day at his natural position.
MLB.com: How much better does the rotation need to be this year?
Provus: It has to be a lot better. I think the numbers are glaring in terms of the lack of innings, the lack of strikeouts and some concern in the bullpen with new faces that I think puts even more emphasis on the starting staff. They have to give their teammates a chance to win games.
MLB.com: The offense finished seventh in the Majors in runs scored. Can they build on that with their young core?
Provus: I'm not too concerned about the offense. They bring that young core back and Brian Dozier at second base. He'll be in that two-hole, but we'll see how that lineup goes as it moves along. It's kind of been a quiet camp for Joe Mauer. He hasn't been doing many interviews. It seems like other guys are getting attention. But maybe Mauer will have another Mauer-esque year. I think in camp we've seen him pull the ball more and maybe that's a good thing. We saw his homer the other day go out to right field. So I'm not concerned about the offense. I think the home runs will be there if guys like [Oswaldo] Arcia are healthy and [Kennys] Vargas has a full year up here.
MLB.com: What have your impressions been of new manager Paul Molitor?
Provus: I'm curious to see Molitor when the team goes through its first losing streak. Does he push the panic button? I get asked all the time what's different about Molitor this year, and I don't know. I think we'll see once the season plays out and get some games in. I think some things will test him because this is the first time he's done this at any level.
MLB.com: Do you sense more optimism and excitement this year?
Provus: I do. I'm optimistic every year, but you can't ignore the fact the division has gotten tougher. I still think the Tigers are the team to beat. I need to see someone dethrone them before I think otherwise. The White Sox seem to be a different team, and the Indians added a big bat in Brandon Moss. People think the Royals are going to take this giant step backwards, but I don't see it. I know they lost [James] Shields and Billy Butler, but I think Danny Duffy is going to take a big step forward. I think he could be a breakout star. So I think the division is really good, but at the same time, if the Twins can stay healthy and pitch better and maybe get some surprises out of that bullpen, they can hang in there for a while.
Rhett Bollinger is a reporter for MLB.com. Read his blog, Bollinger Beat, and follow him on Twitter @RhettBollinger. This story was not subject to the approval of Major League Baseball or its clubs.