Alvarez to start on Opening Day for Marlins
Right-hander will head to the mound April 6 vs. the Braves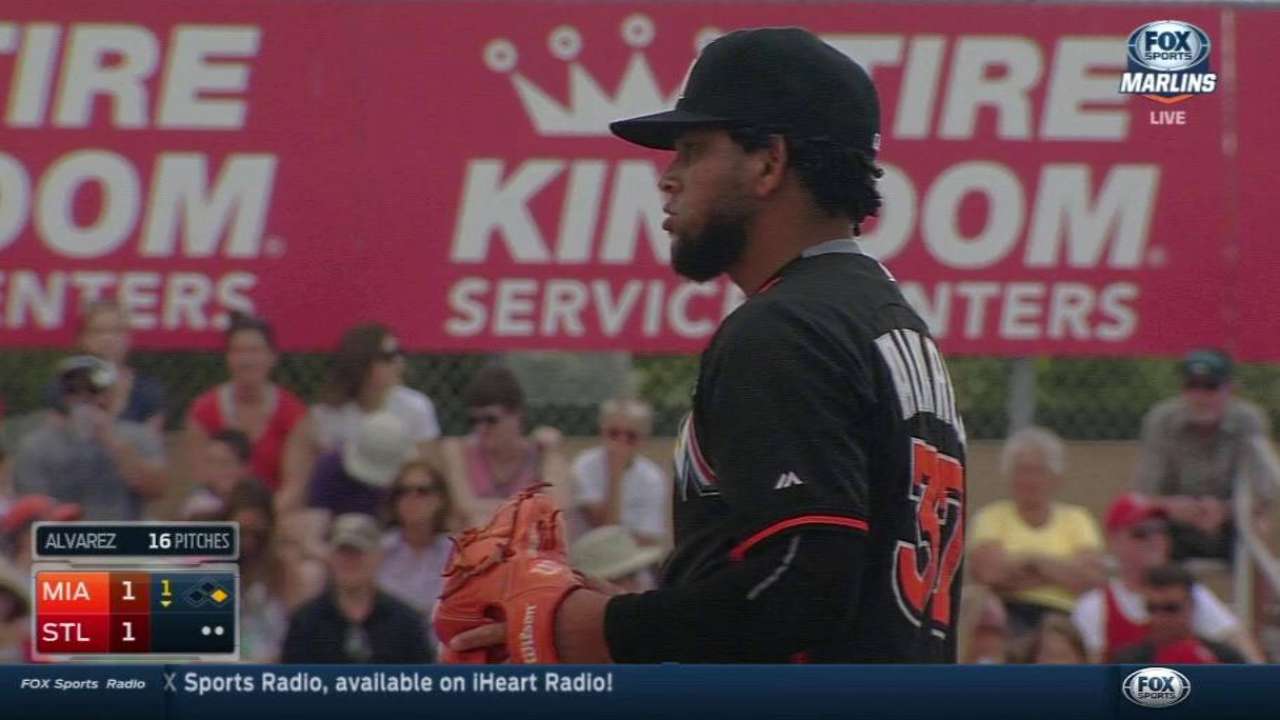 VIERA, Fla. -- The Marlins announced that Henderson Alvarez will be their Opening Day starter against the Braves on April 6 at Marlins Park.
With right-hander Jose Fernandez set to begin the season on the disabled list while recovering from Tommy John surgery, Alvarez has filled in as Miami's ace. Last season, he won 12 games with three shutouts, posted a 2.65 ERA and earned his first All-Star appearance. That made manager Mike Redmond's announcement prior to Sunday's game against the Nationals basically a fait accompli.
"He brings a lot to the table. ... He brings a flare, an excitement," Redmond said. "It's really a perfect fit for Opening Day."
Redmond said the plan if everything went well in spring was to have Alvarez, who turns 25 in April, start the opener. He becomes the fourth Marlins pitcher in the past four seasons to receive the nod (Fernandez in 2014, Ricky Nolasco in '13, Josh Johnson in '12).
This will be Alvarez's first career Opening Day start.
"I think he's going to be pretty excited," said Redmond, who had yet to tell Alvarez as of Sunday morning. "It's an honor for these guys to be named the Opening Day starter, and he certainly deserves it after the year he had last year."
Alvarez is scheduled to make his final start of the spring on Tuesday against the Cardinals. In four Grapefruit League starts, he has allowed eight runs in 13 innings with eight strikeouts, although the Marlins believe he has been throwing the ball better than the results indicate.
Redmond is yet to announce the rest of the rotation, as he waits on the health of Jarred Cosart (blister) before he makes the final decision.
"I think [Alvarez] really turned a corner as far as being a starter," Redmond said. "And knowing and proving not only to himself, but to a lot of people, that he could win big league games and go out there and pitch deep into games, as well."
Jamal Collier is a reporter for MLB.com. Follow him on Twitter at @jamalcollier. This story was not subject to the approval of Major League Baseball or its clubs.