Dodgers have wealth of left-handed bullpen options
Mattingly indicates club will start season with seven relievers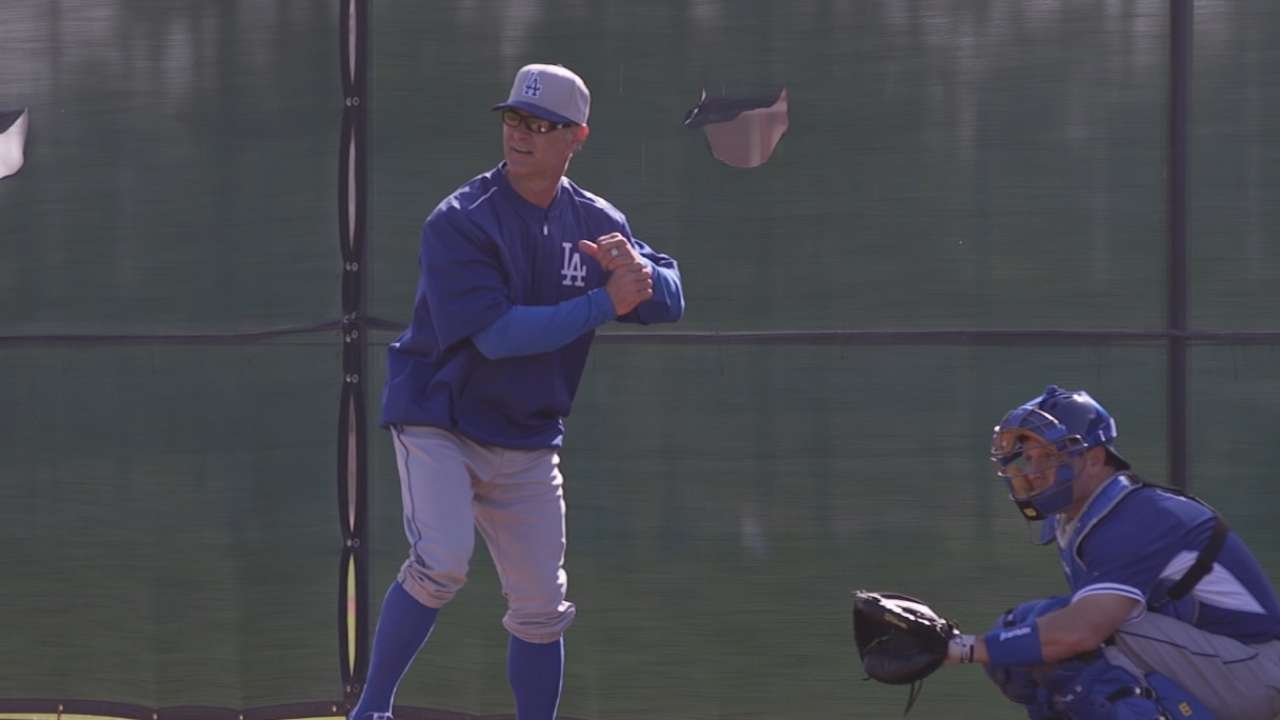 TEMPE, Ariz. -- "How many left-handed relievers are too many?", Dodgers manager Don Mattingly was asked Saturday.
"Eight would be one too many," Mattingly said, meaning the club will probably open the season with seven relievers and four starters.
Even with that "bombshell," figuring who will open the season in the Dodgers' bullpen remains a puzzle, once you get past Chris Hatcher, J.P. Howell, Joel Peralta and Juan Nicasio.
Howell is one lefty, but arguments could be made for Paco Rodriguez (8 1/3 scoreless innings) and Adam Liberatore (eight scoreless innings), the latter pitched an inning Saturday to prove his groin is healed. David Huff, who could be a swingman, got the start Saturday against the Angels and allowed one run in 3 1/3 innings, battling despite lacking changeup command. His ERA is 1.50.
Probably the biggest thing going against Huff is the presence of Howell, Rodriguez and Liberatore. The bullpen needs more than three right-handers. Still in the mix are Pedro Baez, Yimi Garcia, David Aardsma, Sergio Santos, and perhaps Dustin McGowan (taken deep by Mike Trout) or Mike Adams.
And if the Dodgers want a right-handed swingman (instead of the lefty Huff) who can make a spot start or two until Hyun-Jin Ryu returns, Carlos Frias gets a tryout with a start in one of Sunday's split-squad games.
"They've made our decisions tough," Mattingly said. "Everybody can't be a one-inning guy. We have to have guys to fill different roles."
Until Kenley Jansen is healthy, there is no closer. Jansen was playing ping-pong Saturday in a walking boot that comes off Tuesday.
Huff, Aardsma, Santos and Adams are non-roster invites, meaning a spot on the 40-man roster would need to be cleared for them to be active. McGowan is on the Major League roster, but he receives a $1 million bonus if he spends just one day on the 25-man roster. Adams must be put on the Major League roster by April 1, released or paid a $100,000 retention bonus that would give him a June 1 opt-out.
Ken Gurnick is a reporter for MLB.com. This story was not subject to the approval of Major League Baseball or its clubs.