International Prospect Series exceeds expectations
Youngsters split series against pair of U.S. high school squads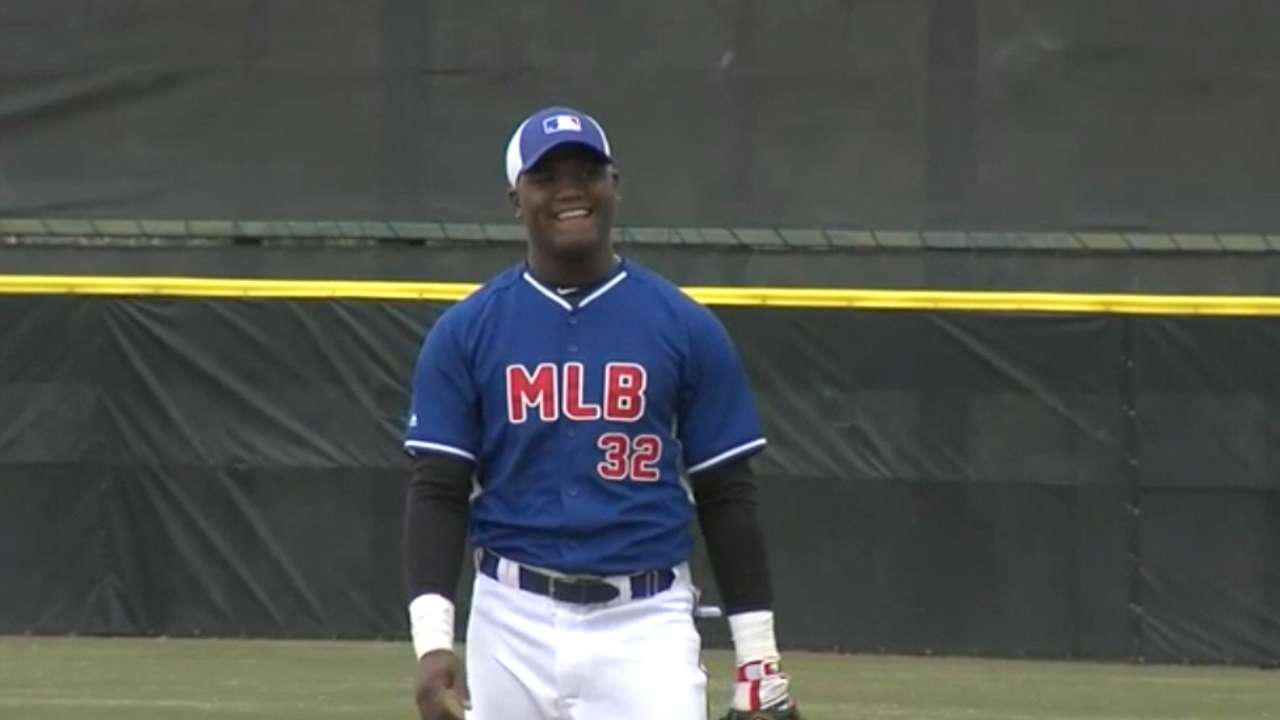 CARY, N.C. -- Maria Tiburcio had the best view the entire week.
On Friday night, she shivered in the drizzling rain in the stands as she rooted on the team of international prospects in the first game of the International Prospect Series on the main field at the USA Baseball National Training Complex.
On Saturday afternoon, she battled the cold wind and the chilly metal bleachers, a far cry from sunny her home in Santo Domingo, Dominican Republic, to watch her favorite team play again.
Tiburcio, the mother Gilberto Celestino, one of the top outfield prospects for the upcoming July 2 international signing period, would do it all over again.
And so would her son.
"As a mother, you love your son and you support him, and it's so good to see him do well at something he loves," Tiburcio said in Spanish. "I'm so proud of my son and all of the boys. It was worth the trip here to see this in person. It was worth it to see it through his eyes."
Celestino, one of the most athletic and polished prospects competing in the event, drove in two runs and showed off his defensive skills in center field in the games against North Carolina's South Caldwell High School on Friday and Providence High School on Saturday.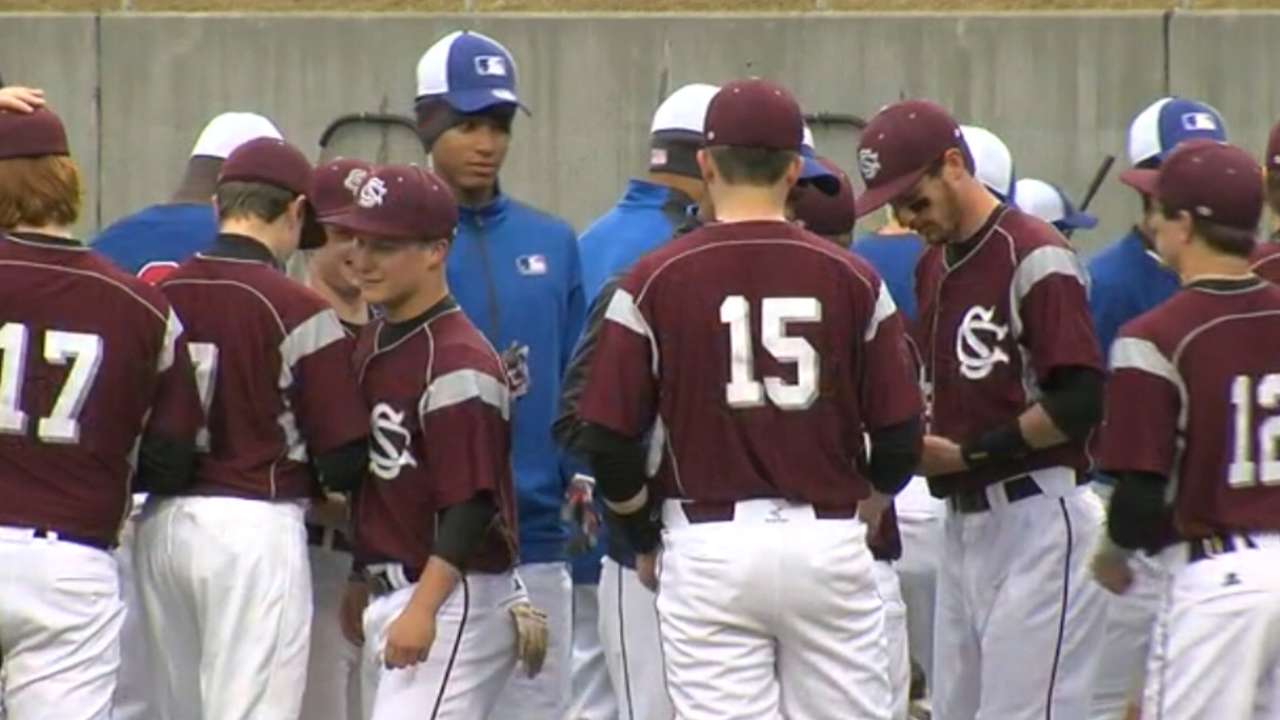 The international prospects, made up of players from the Dominican Republic, Venezuela, Panama, Brazil and Curacao, were defeated by South Caldwell, 8-1. They defeated Providence, 6-5, in their second game. Several scouts said they were impressed with the international team's raw ability and improved gameplay. Many scouts also agreed the cold weather might have kept the international prospects from showing off all of their skills.
Still, most team representatives in attendance said it was nice to see the international team play against a more polished team from the United States, thousands of miles away from their homes.
"Every single thing that happened to me this week was new," Celestino said. "To play at such a high level against good competition in the United States is something that I know will make me better. I'm just trying to work hard and get signed to start my career."
The international prospects arrived Tuesday night and worked out as a team for the first time Wednesday morning. They later visited N.C. State for a baseball game and took in the local sights. On Thursday, the players spent a few hours eating and playing arcade games at Dave & Buster's restaurant before returning to the field for a pro-style workout in front several domestic scouts, international scouts, and front office executives. The week included interviews with English and Spanish media.
The trip marked the first time on a plane for many of the prospects and their first time to leave their respective countries. They had also never played a game in 40-degree weather.
"It exceeded expectations," said Joel Araujo, manager of Latin American game development for Major League Baseball. "It was not easy for a lot of reasons, logistically and otherwise, to get players from different countries to come in and play as a team when they are really not a team. I think it went well. They were competitive, faced the challenges of the cold weather and were still able to come together to have a good time."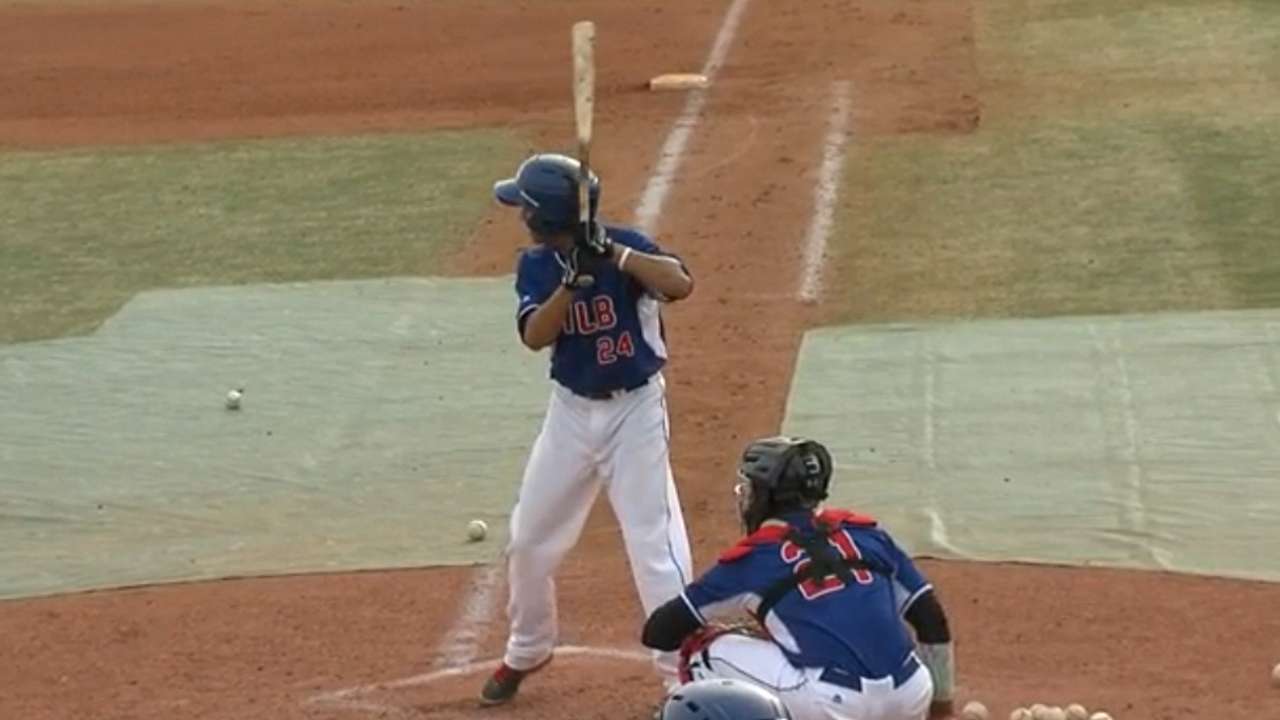 The team gathered around outfield prospect Jhailyn Ortiz moments after celebrating Saturday's victory on the mound for a postgame cheer. There were hugs, high-fives, and countless selfies with teammates.
They came together this week as practically strangers and boarded the team bus for the final time as baseball brothers.
"I'll never forget this experience," Ortiz said. "I see this as a major step toward the start of my career. I had never done anything like this and it's something I'll always remember."
He's not the only one.
"This was an incredible week," Panamanian catching prospect Miguel Amaya said. "I didn't just see this as just a baseball trip, I also saw it as a way to build friendships and camaraderie with the other players here. It was a fantastic experience. It was great. It was awesome. I don't have enough words to describe it."
Jesse Sanchez is a national reporter for MLB.com. Follow him on Twitter @JesseSanchezMLB. This story was not subject to the approval of Major League Baseball or its clubs.