Richards enthused after successful Minor League start
Angels pitcher gains confidence as rehab takes major step forward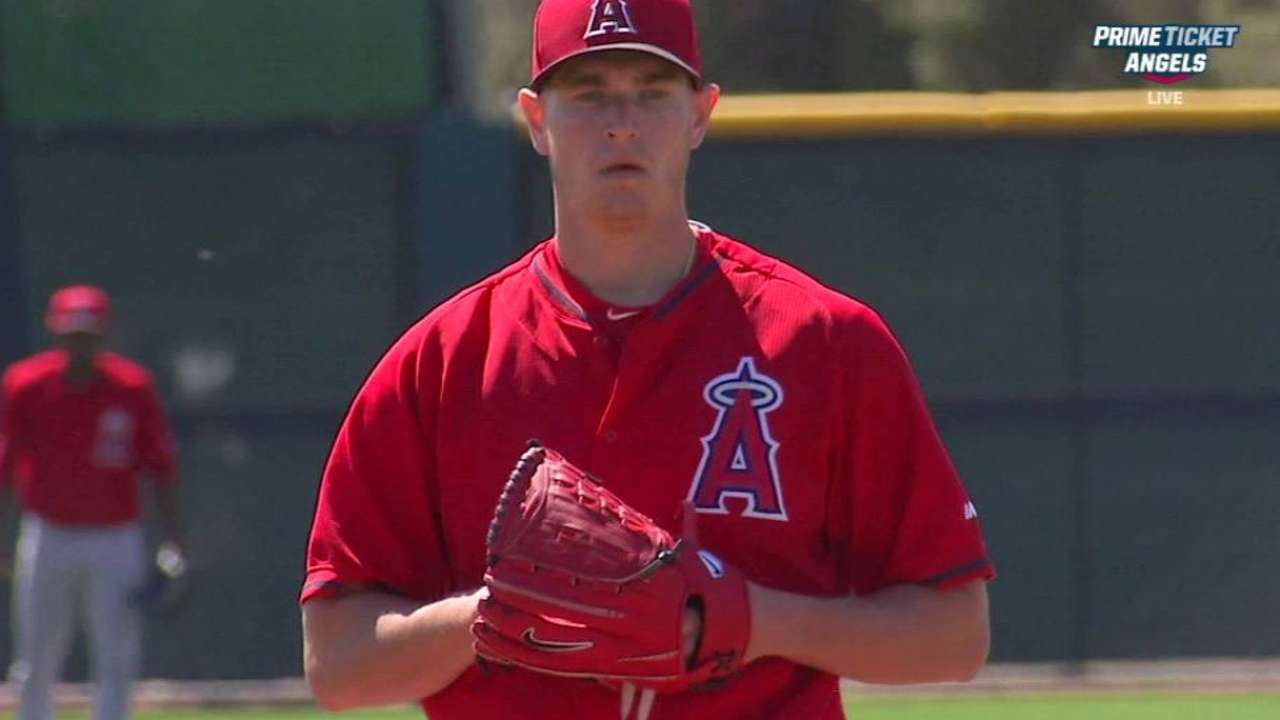 TEMPE, Ariz. -- Garrett Richards stood outside the Angels' clubhouse beaming.
The right-hander had just finished throwing his second Minor League game of the spring, and the line looked good: five innings, one hit, no runs and five strikeouts, with 47 strikes out of 69 pitches.
The pitcher felt even better.
"Today I felt like I could throw all nine," Richards said. "I didn't get tired. I felt like I got stronger. Today was really reassuring. After six, seven months of rehab, I'm starting to see some real results."
Richards has also pitched one intrasquad game this spring, as he comes back from last year's season-ending knee surgery. He has yet to allow a run in his three outings, spanning 12 innings.
Richards said one player on the Rockies' Triple-A squad tried to bunt on him Saturday; Richards said he kicked it, but no runs scored. He said coming off the mound felt natural, adding "I felt like I could do what I wanted to do on the baseball field.
"Breaking balls were sharp. Fastball was cutting and sinking. It was a great outing."
Because of an April 9 off-day, the Angels won't need a fifth starter until April 15. They don't want to rush Richards, who likewise doesn't want to jeopardize his comeback.
But he's scheduled to throw 90 pitches in six innings Thursday. Common sense says that progression falls in line with Richards making his debut in the season's second week.
"To say that it would be impossible to be ready by that date, I don't think you can say it would impossible," Richards said. "But it's something we want to do right the first time. We want to make sure this thing is ready to go when they put me in there, when the lights are on and when the games mean something."
The lights aren't quite on yet for Richards, and a game against Minor Leaguers doesn't mean anything in the standings. But the emotion he exuded Saturday certainly did.
"You have no idea," Richards said when asked of the excitement in his voice. "When you get sidelined like this for this long, getting back to somewhat normalcy is really comforting.
"When you get hurt, you initially have these questions running through your head: 'Am I going to be the same? How is this thing going to respond? Where am I going to be in my career now?' But everything is really clicking."
Cash Kruth is a reporter for MLB.com. Follow him on Twitter at @cashkruth. This story was not subject to the approval of Major League Baseball or its clubs.