Goldschmidt, Pollock homers not enough for D-backs
After missing start with tired arm, Hellickson allows three runs in return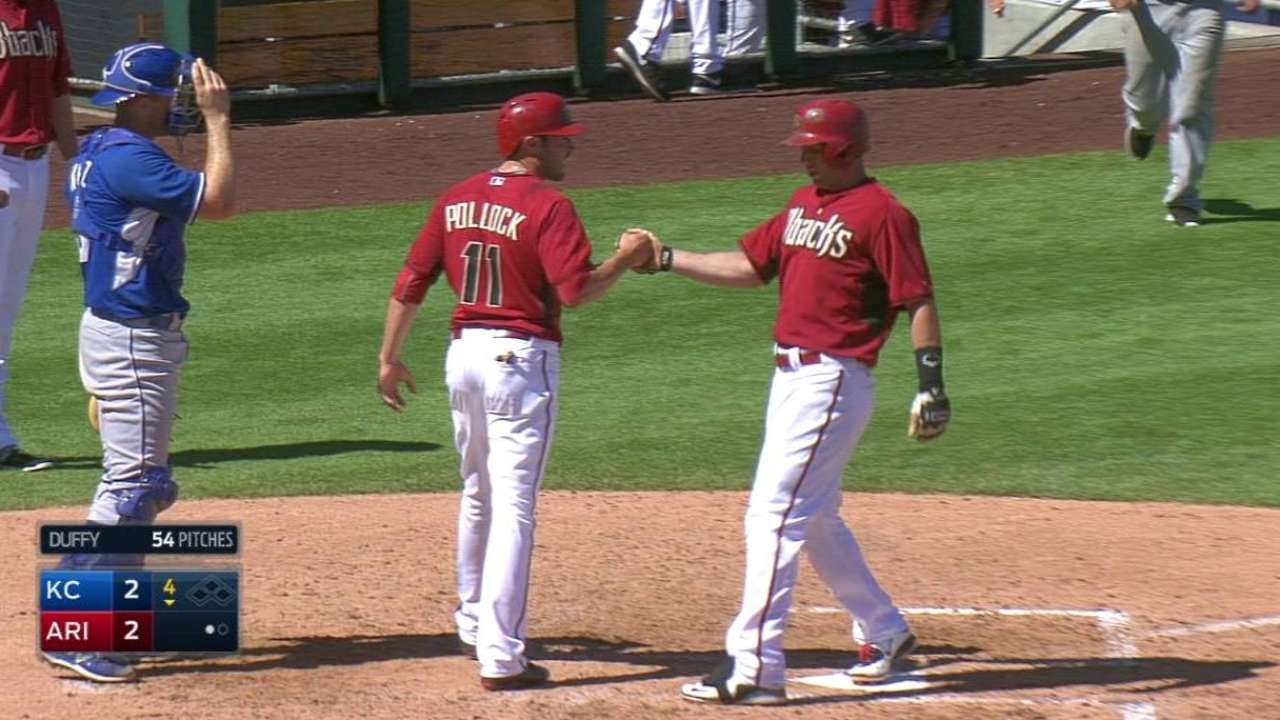 SCOTTSDALE, Ariz. -- A five-run seventh was capped by RBI doubles from Paulo Orlando and Moises Sierra as the Royals completed a comeback win, 10-5, over the D-backs Saturday at Salt River Fields at Talking Stick.
Two-run homers by Paul Goldschmidt and A.J. Pollock helped give the D-backs a two-run lead entering the seventh, but Robbie Ray struggled in relief, allowing five runs in two innings.
The Royals took an early 1-0 lead when Omar Infante opened the game with a double to left and scored one batter later on Lorenzo Cain's single.
Early on, it didn't look like the D-backs would have much of an opportunity to get on the board the way Royals starter Danny Duffy was throwing. The left-hander stuck out six and did not allow a hit through his first three innings. But then the D-backs came alive, led by the homers, and Duffy finished allowing four earned runs in five innings while striking out seven. Nonetheless, Duffy is pleased with how his spring is going.
"I feel like it's building perfectly," he said. "The ball has been popping for me. I feel the best I have in years [springs]. I got a little fastball happy [today]. I tried to double-up with fastballs to Pollock and Goldschmidt and it hurt me. You get happy you throw one by them, and then the next thing you leave one over the plate."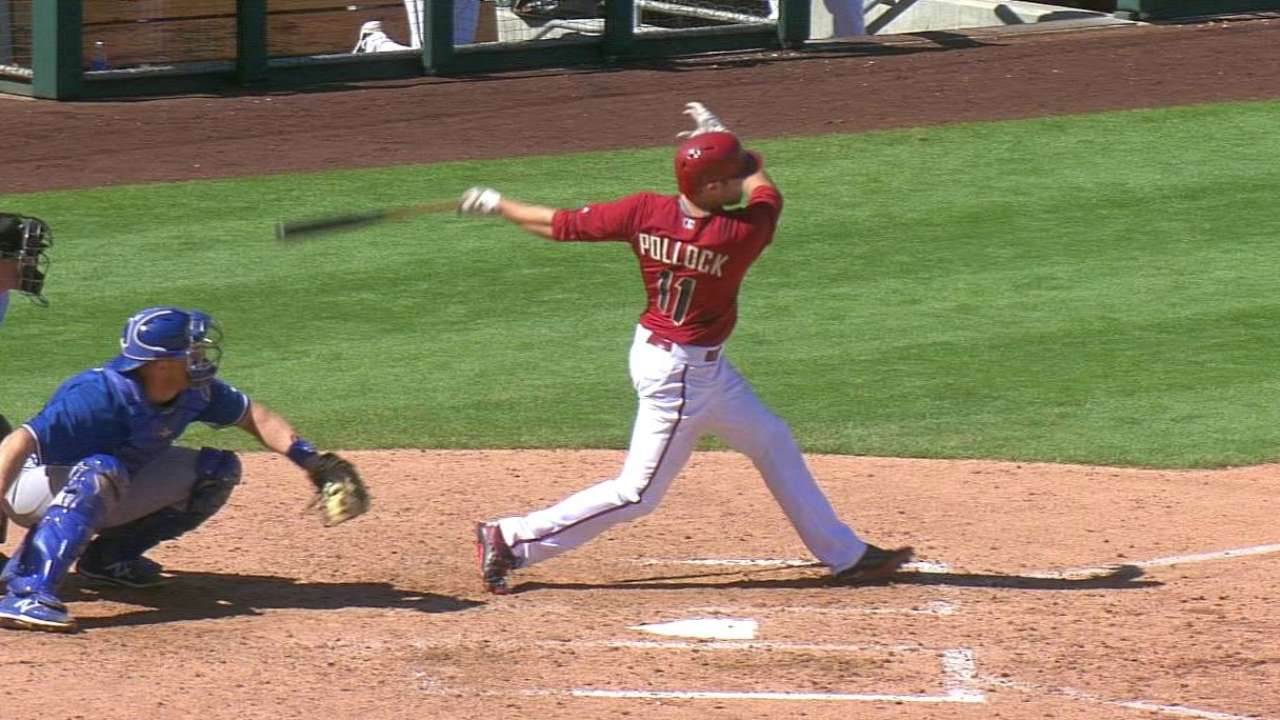 Royals manager Ned Yost had mixed reviews of Duffy's start.
"He was OK," Yost said. "He had a very good first three innings and then just started getting the ball up a little. The slider he threw to Pollock for the homer wasn't a real sharp slider."
The Royals added to their initial lead in the fourth when Orlando singled home Eric Hosmer, who had walked to start the inning. Orlando finished 3-for-3 with two RBIs.
"He was really impressive today," Yost said of Orlando, who is battling for the fifth outfielder spot.
After missing a start with a tired arm, Jeremy Hellickson got the start for the D-backs. He allowed eight hits and three runs while striking out three in 4 1/3 innings.
"He looked good," D-backs manager Chip Hale said. "[He] kept the ball on the ground. They found some holes."
Up next: The D-backs play a pair of split-squad games Sunday afternoon. A large portion of the team's everyday lineup will travel to Hermosillo, Mexico to take on the Rockies. One of the D-backs' top prospects, right-hander Aaron Blair will get the start in that game, which can be listened to on Gameday Audio. Meanwhile, Daniel Hudson will start the other game against the Rockies at Salt River Fields, with Rubby De La Rosa to follow, live on MLB.TV.
Steve Gilbert is a reporter for MLB.com. Read his blog, Inside the D-backs, and follow him on Twitter @SteveGilbertMLB. This story was not subject to the approval of Major League Baseball or its clubs.