Siddall: Martin, youthful arms will set pace for Blue Jays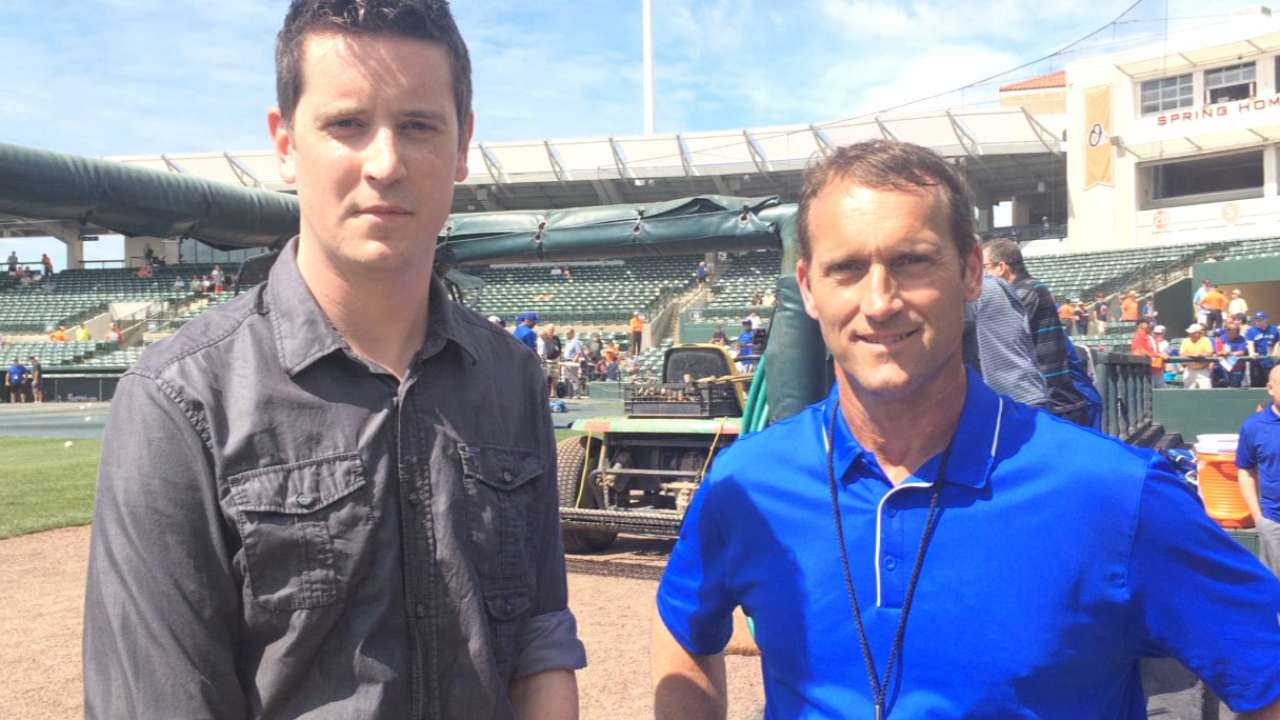 The following is a question and answer interview with Blue Jays broadcaster Joe Siddall as he takes a look ahead to the 2015 season:
On the impact of adding Russell Martin...
By far, he was the biggest acquisition for the Blue Jays. When you get a player like Russell, with the reputation he comes with, calling the game, handling the pitchers, he's going to be the quarterback back there. Besides blocking balls and throwing people out, what he does -- he controls half the team. You talk about 12 or 13 pitchers that he's going to have a direct impact on. It's going to help lower the team ERA.
On Martin being an elite pitch framer...
He came with that reputation. I hadn't seen Russell a whole lot. Now that I've had a chance to see him up close, it's amazing what he does, especially with the low pitch. I think we've talked a lot about the low pitch this year. Umpires are starting to call that ball down in the zone a little bit more. But he'll take a pitch around shin level, below the knees, and he will make it look like it's at the knees. And it's just in the way that he receives the ball, gets down and brings it up. And I always talk about catchers funneling the ball toward the strike zone, whether it's down, up, right or left. He's done it as good as I've seen and now I can see where that reputation has come from.
On whether Miguel Castro and Roberto Osuna are ready for the big leagues...
They're 20 years old. And that's a lot to expect, for 20-year-olds to make that jump to the Major Leagues. Especially since both just played in A-ball. When you get to see these arms up close like we have, they've got electric stuff, No. 1. But what really impressed me -- not just the 95-97 on the radar gun, but it's the life and it's also the secondary pitches. It's just uncanny to see 20-year-olds throwing these secondary pitches, and it's almost like they want to throw them anytime in the count. That's something you see from Major League veterans.
These kids are both doing it at 20. They're both special arms. I'm not sure it's the best decision for them to be up there [in the Majors], but if one or both are the best arms in camp, the Blue Jays have a sense of urgency now. It's time to win, and you can't give away games early in the season. Those games in New York in April are going to be just as important as games later in the season.
On Aaron Sanchez moving into the rotation...
He had so much success primarily throwing a fastball last year. He was [throwing] 96-98 [mph] in the big leagues last year with great movement, and that's why he had great success. As a starter in the Minor Leagues, he was very good. I don't think he was unhittable. That's going to be a challenge for Aaron. Now that he's got those three pitches -- he's got fastball and curveball and changeup -- they're all great pitches. I really think he belongs in the starting rotation.
It's just going to be a matter of how he is going to adjust, working in all three of those pitches. Here's a young man that at some point may say, "Let me just throw the fastball," because he has so much success. But as a starter, you're going to have to be able to get through the lineup a few times, get into that sixth, seventh inning. You're going to need three pitches with these big league hitters, to change things up.
On what needs to go right so that the Jays will contend...
The thing that needs to go right is the pitching. I'm very comfortable with that lineup. I said it last spring -- I still think this is a lineup that can compete and be in the top five of scoring runs in the American League. They've got enough of the big boys in the middle of that order.
The pitching's going to be key. Mark Buehrle and R.A. Dickey both had great seasons last year. They're going to almost need to repeat those performances, and they're both a year older. It's not easy. But now you have the potential possibility for three starters under the age of 25 in [Drew] Hutchison, [Daniel] Norris and Sanchez. It's hard to know what you're going to get from these young guys.
For me, the biggest issue is the bullpen. It was last year and I think it still is. Alex Anthopoulos brought a lot of young arms into camp. A lot of Minor League free agents, a lot of waiver claims. You're hoping a couple of those guys can surface. To be honest, beyond Brett Cecil and Aaron Loup from the left side, Steve Delabar really needs to make a return here. That'll really help the Blue Jays. There's a lot of arms down there without proven track records in the Major Leagues in recent seasons. That could be an issue as this team moves north.
Gregor Chisholm is a reporter for MLB.com. Read his blog, North of the Border, and follow him on Twitter @gregorMLB. This story was not subject to the approval of Major League Baseball or its clubs.