McAllister mows down 9, Kipnis goes deep in win over Crew
Indians righty among 3 pitchers vying for 2 rotation spots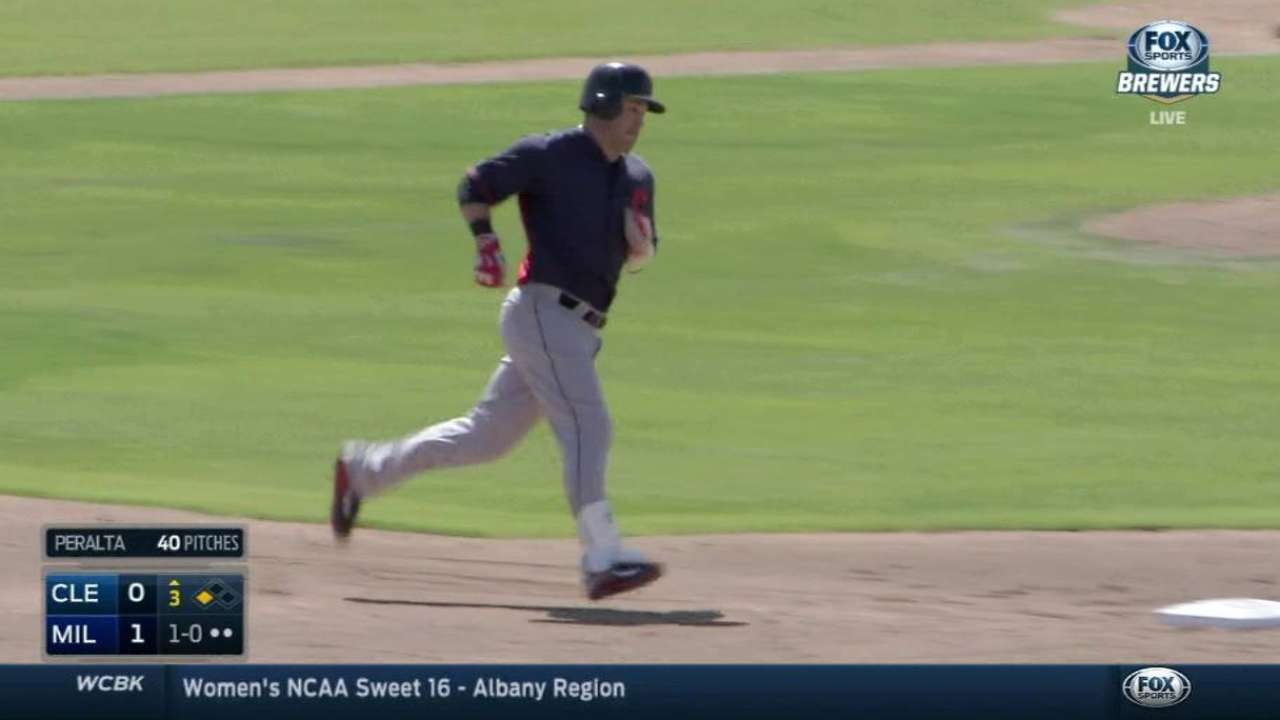 PHOENIX -- Jason Kipnis homered for Cleveland and Ryan Braun drove in two runs for Milwaukee as the Indians defeated the Brewers, 3-2, on Saturday afternoon at Maryvale Baseball Park.
Zach McAllister had a solid start for the Indians as he continued to make a push for one of the two open spots in the rotation. The right-hander struck out nine over five innings and was charged with two runs on six hits.
After hitting Aramis Ramirez with a pitch in the first inning, McAllister retired the next eight batters in order, including six via strikeouts. He threw 24 of his 30 pitches in that span for strikes, helping turn a rough first into a solid outing.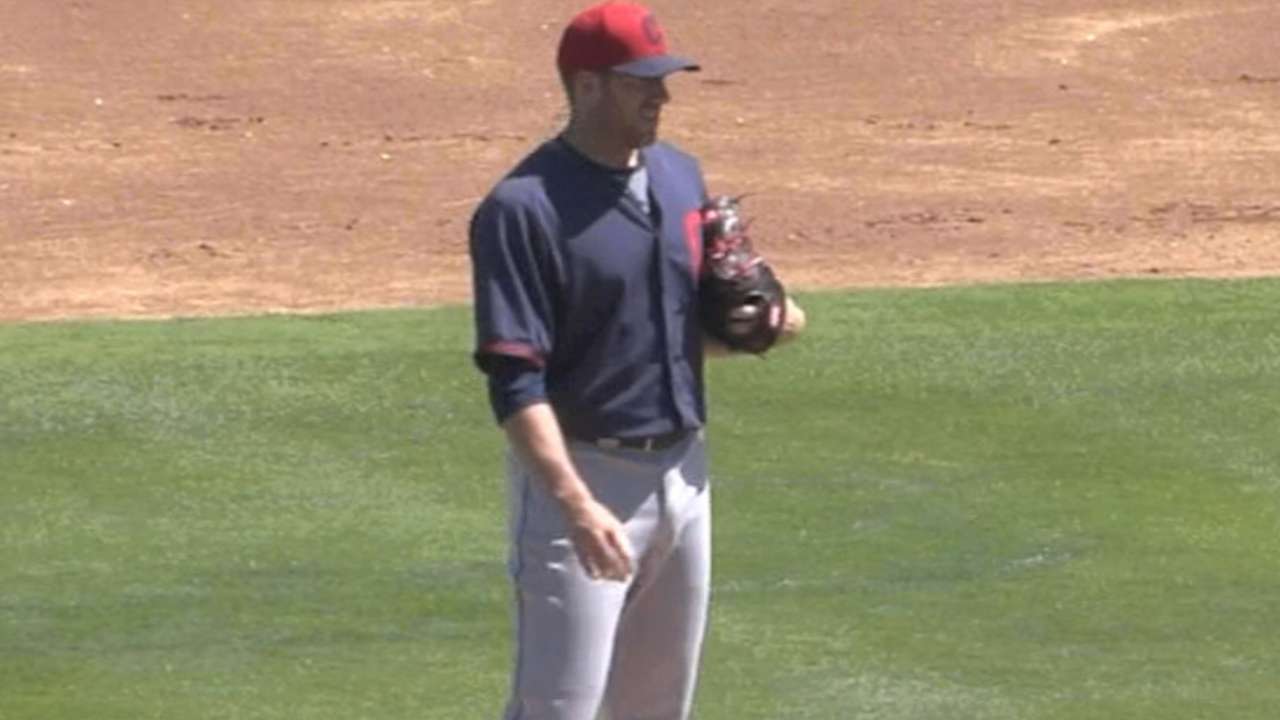 "I think it was setting my sights a little bit lower," McAllister said. "That first inning, I was up. Not horrible, but enough where if I would've stayed there, I would've got hurt. So, just being able to make that adjustment and getting the ball down, I think that was a big part of it for me today."
TJ House and Josh Tomlin are also competing to be the Indians' fourth or fifth starter.
"He had real good velocity and he held it through his last inning," Indians manager Terry Francona said of McAllister. "Off of that good fastball, he threw some offspeed pitches. That was impressive. He's been good all spring. ... I think his hard work is really paying off. He's worked so hard and he came in so prepared, and it looks like it."
Kipnis mashed a two-run homer to center off Brewers starter Wily Peralta in the top of the third. It was the first homer of the spring for Kipnis, who recently returned to action after missing seven games with back spasms.
"That ball was killed," Francona said. "That ball wasn't to left field, but it was to the left side of center. That's hard to do, man. That's a strong kid. That's a nice piece of hitting."
Braun ripped a double to the gap in right-center in the first inning to score Jean Segura. He added an RBI-single up the middle in the fifth to score Peralta and tie the game. After starting the Cactus League season 0-for-13, Braun is 10-for-18 (.555) with two homers.
Peralta went six innings in his fourth start of Spring Training. He allowed two runs on six hits, while striking out four against two walks. Peralta is scheduled to start the third game of the regular season against the Rockies on April 8.
Adam Lind started at first base for the Brewers after sitting out Friday night's road game against the Reds. He's dealing with a stiff back, though it doesn't affect him at the plate, and he smoked a double that bounced over the wall in left-center in his second at-bat.
Lonnie Chisenhall led the Indians with two hits. Jose Ramirez contributed a triple and a run scored. Jerry Sands, fighting for a bench role, went 0-for-3 as the designated hitter.
The Indians got to Brewers reliever Brandon Kintzler for a run in the eighth inning to break the tie and win for the first time since Tuesday.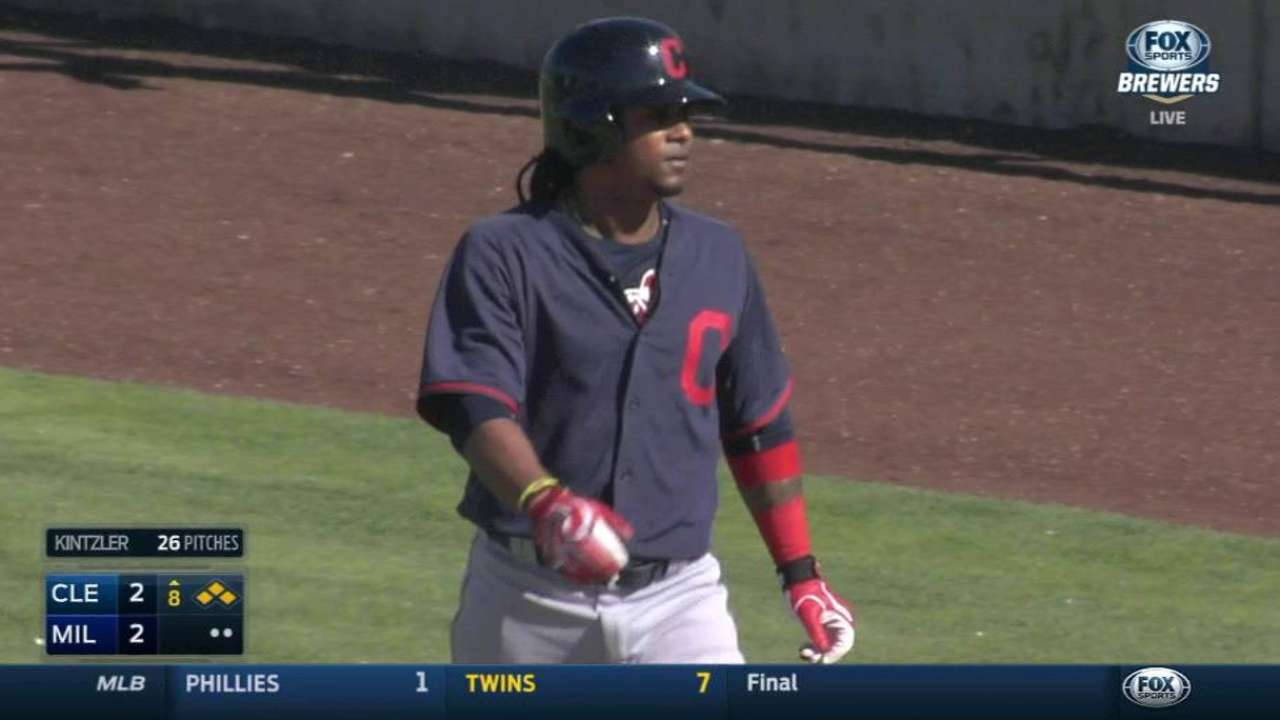 Up next for the Indians: Left-hander TJ House -- one of the three remaining candidates for Cleveland's two rotation openings -- is scheduled to start for the Tribe in a 4:05 p.m. ET Cactus League clash with the White Sox on Sunday at Goodyear Ballpark. All-Star outfielder Michael Brantley is tentatively slated to play after missing a handful of games with a back issue. The game will be available on Gameday Audio and MLB.TV.
Austin Laymance is a reporter for MLB.com. This story was not subject to the approval of Major League Baseball or its clubs.