Tigers' lefty relief race could go to end
Ryan, Krol both candidates for Opening Day bullpen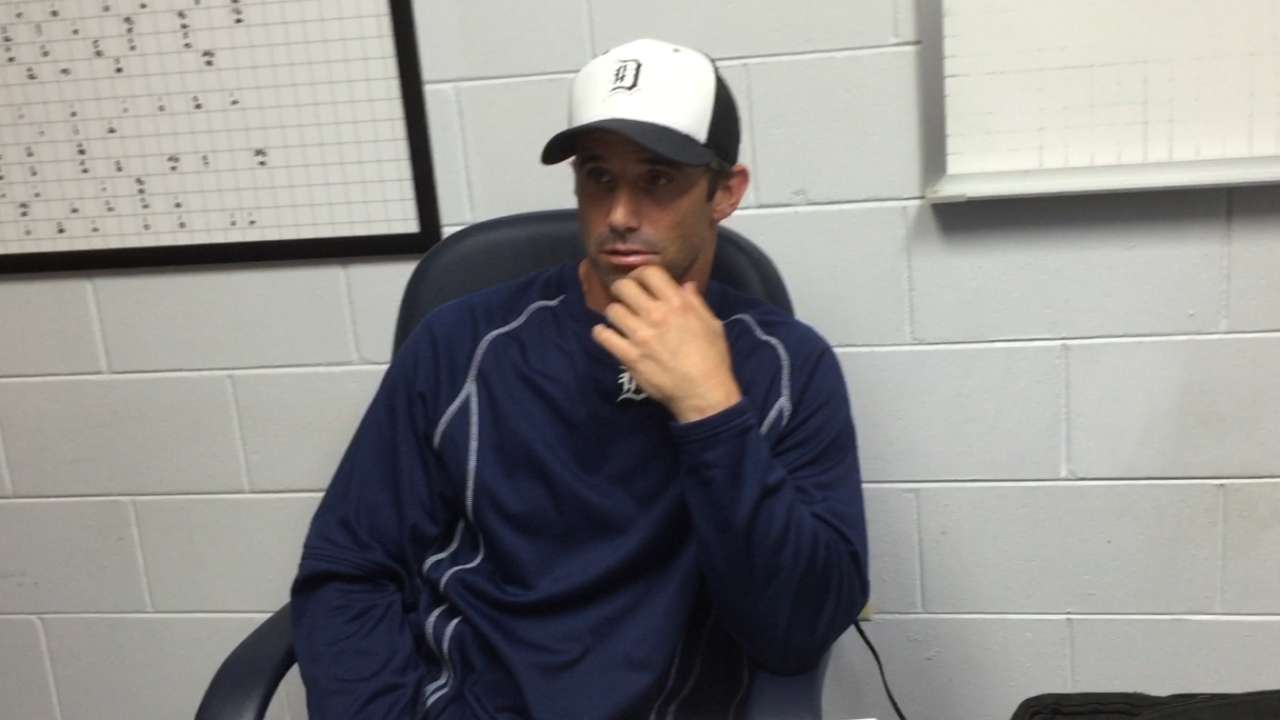 LAKELAND, Fla. -- The numbers were sitting on manager Brad Ausmus' desk the other day.
"I already looked at it," he said. "I looked at it, and I put it away."
It was a list of prominent left-handed hitters looming on the Tigers' early-season schedule, along with their splits. It was a reminder of why Ausmus would like to carry two left-handed relievers on his Opening Day roster.
It was easy to remember that when Ausmus brought in Kyle Ryan for the sixth inning in the Tigers' 4-3 win over the Cardinals on Saturday, when he promptly went back to the mound to take him out after he struck out Matt Adams. It was the second consecutive outing for Ryan, giving him the challenge of bouncing back on back-to-back days. But there was more to it.
"If you like strikeouts, he did OK," Ausmus said. "If you don't like them, then he probably didn't do that well."
The Tigers like strikeouts in lefty-lefty situations. They actually fared better at that last year than one might expect. Left-handed hitters had more strikeouts (135) than hits (133) off Tigers left-handed pitchers last season, along with a .237 batting average and .629 OPS. More than half of those matchups came with Tigers lefty relievers, though Drew Smyly and David Price also accounted for their fair share.
As the Tigers look to remake the left side of their bullpen, they need a pitcher who can cover multiple innings. But they also want guys who can match up with opponents' best left-handed hitters. The latter is a role seemingly fit for Ian Krol, but the Tigers have options.
Ausmus used Ryan in a couple situational lefty spots last Steptember. His spot appearance Saturday strongly suggests he could do the same come April.
"If I'm there, hopefully it's a good situation, whether it's long or short," Ryan said. "For them to have enough confidence in me to go into Spring Training as a reliever, and actually for them to believe that I might be able to make the team as a reliever, that makes me proud."
Ryan has given up seven runs on seven hits over 11 innings this spring. Six of those runs, though, scored in a pair of three-run appearances. Left-handed hitters are 1-for-10 against him this spring.
Not long after Ryan, Krol came on to pitch in the eighth inning. He faced all righties, walked one and struck out two, displaying a good curveball along the way that he has honed this spring.
"When he throws it right, it's good," Ausmus said of Krol. "He has a tendency to occasionally slow his arm down on his cutter and curveball. He did it a couple times today. But when he doesn't slow his arm down, it's very good."
Either Ryan or Krol is expected to join veteran Tom Gorzelanny in the Opening Day bullpen. The fact that Gorzelanny has been pitching mainly in Minor League games suggests his spot is safe. The fact that he has been stretching out his workload suggests he could be more of a multi-inning reliever than a specialist.
Somebody will get Joe Mauer, Michael Brantley, Alex Gordon, Eric Hosmer and other lefties in the division. Who gets the call, Ausmus indicated, could be the last roster decision of camp.
Jason Beck is a reporter for MLB.com. Read Beck's Blog and follow him on Twitter @beckjason. This story was not subject to the approval of Major League Baseball or its clubs.