Wood throws 6 innings vs. tough Blue Jays lineup
Braves lefty allows three runs, feels he's close to ready for regular season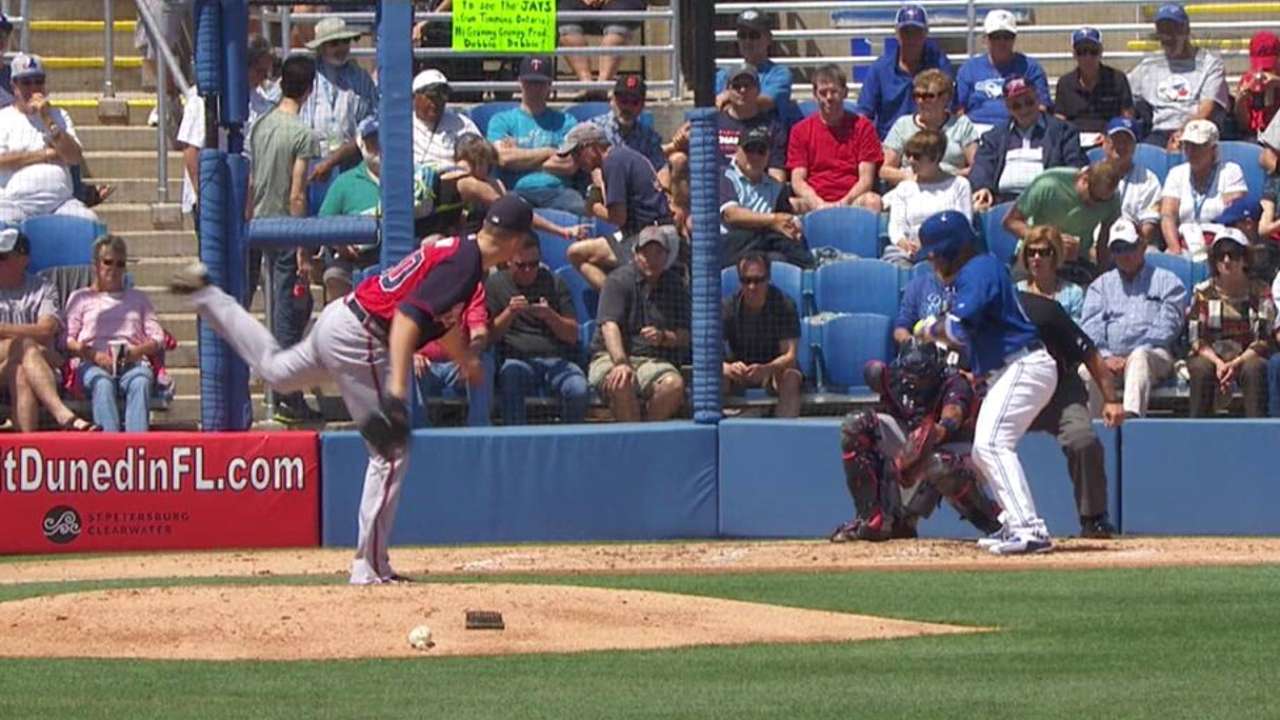 DUNEDIN, Fla. -- Braves left-hander Alex Wood felt like it had been "an eternity" since he last pitched. He went 12 days between Grapefruit League outings, breaking up the time off with a game in Minor League camp a week ago.
But with his first regular-season start a little more than a week away, Wood feels like he's just about ready to go.
Wood threw six innings against most of the Blue Jays' regular lineup Saturday afternoon at Florida Auto Exchange Stadium, giving up three runs on seven hits and a walk while striking out two in the Braves' 5-3 win.
"I thought it was good for the most part. I think I'm getting closer," Wood said. "I think they hit a lot of weak ground balls. Hit a couple hard, but overall I thought it was good. ... Get that next [start] done, and I'll be right where I need to be."
It was Wood's fourth Grapefruit League outing and his fifth overall this spring, as he threw five innings in a camp game between Triple-A Gwinnett and Double-A Mississippi on March 21.
He admitted that the intensity of that outing didn't quite match up to what he experienced Saturday, facing a predominantly right-handed Toronto lineup that featured true power hitters in Jose Bautista, Edwin Encarnacion and Josh Donaldson.
Wood struck out only two batters in six innings, giving him eight in 14 2/3 innings this spring. That's obviously below his career mark of 8.9 strikeouts per nine innings, a drop he attributed to hitters simply making more contact early in the count.
"You know what was good about it today? He got himself in a couple jams," Braves manager Fredi Gonzalez said. "It was nice to see that he had to get out of those jams, working through those things.
"Because sometimes you go 1-2-3, 1-2-3 every single time, it's a little different. You don't get the adrenaline, the juices flowing. Today he faced a really, really good right-handed dominant lineup and he did great."
As Wood pointed out, the adjustment to his schedule allowed him to slot into the Braves' rotation between right-handers Julio Teheran, who pitched Friday, and Shelby Miller, who will start Sunday.
That will likely be where Wood opens the season, as the club's No. 2 starter, after one more spring tuneup.
"Now we're lined up to get into our routines for Opening Day and for the first stretch of games that we'll have here in a week and a half or so. It's exciting," Wood said. "I know I'm champing at the bit. So are these guys. It's coming down to the end."
Adam Berry is a reporter for MLB.com. Follow him on Twitter at @adamdberry. This story was not subject to the approval of Major League Baseball or its clubs.