Black hasn't ruled out batting Alonso second in Padres lineup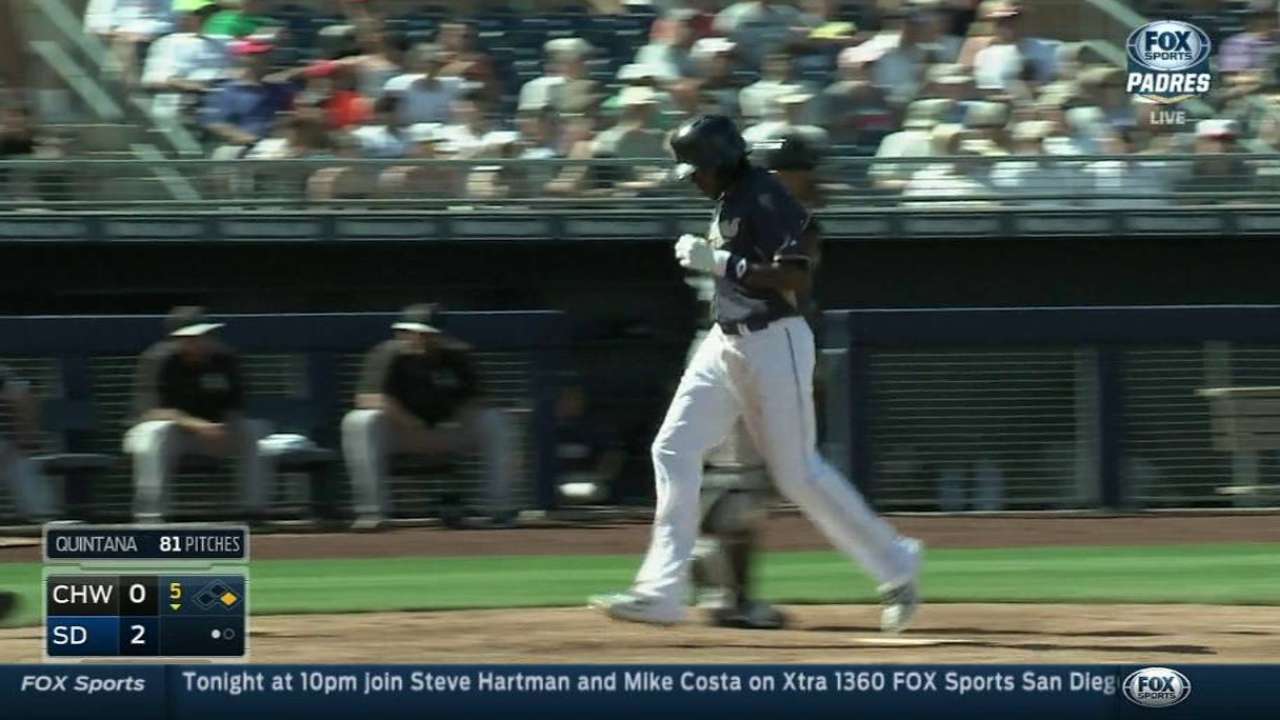 PEORIA, Ariz. -- Bud Black is the first to admit that Yonder Alonso doesn't necessarily fit the No. 2 hitter prototype. That doesn't mean the Padres' skipper has ruled out batting Alonso second in the order this season against right-handed pitchers.
Alonso batted second on Thursday and Friday, and the results -- coincidental or not -- were as good as they possibly could have been. In six plate appearances, he went 5-for-5 with a walk before receiving a day off on Saturday.
"My job is pretty much the same all the way around -- have good at-bats, get on base and score runs," Alonso said. "For me, I feel like any time I'm in the lineup is a chance for me to help my team, and it doesn't really matter where I'm hitting."
Alonso acknowledged that hitting in front of Matt Kemp and Justin Upton would be an appetizing prospect. He's also well versed in the belief that No. 2 hitters are bound to see an influx of hittable fastballs.
But Alonso hasn't yet seen that for himself. After all, in his five big league seasons, he's only made three plate appearances in the second spot in the order.
"I'm still trying to get a feel for it," Alonso said. "I think the difference [in the way you're pitched] takes a little bit of time for you to realize."
Alonso's 2014 campaign was a disappointing one. He hit .240/.285/.397 in 84 games and had his season cut short in August because of lingering wrist and forearm injuries.
But with A.J. Preller's offensive overhaul, the Padres are no longer relying on Alonso to be a middle-of-the-order power threat. Where, exactly, he'll hit is still to be determined, but Black said second is a definite possibility.
"We've talked about maybe not having a prototypical leadoff hitter or a prototypical No. 2," Black said. "... But again, Yonder has shown some on-base skills in his career. We like the left-handed bat there, potentially, against right-handed starters. We think that he can hit deep in the count, see some pitches."
The Padres would be more than happy if Alonso were to rediscover his 2012 form, when he hit 39 doubles and reached base at a .348 clip.
His .333 spring average (and .867 OPS) could be a sign that he's capable of getting back there. But Alonso knows very well that a hot Cactus League bat is one thing, and sustained success is quite another.
"It feels good," Alonso said of his swing. "I just need to keep working, keep grinding keep getting better. The key is to continue this."
AJ Cassavell is a reporter for MLB.com. Follow him on Twitter @ajcassavell. This story was not subject to the approval of Major League Baseball or its clubs.