Sanchez enjoying benefits of tweet-free spring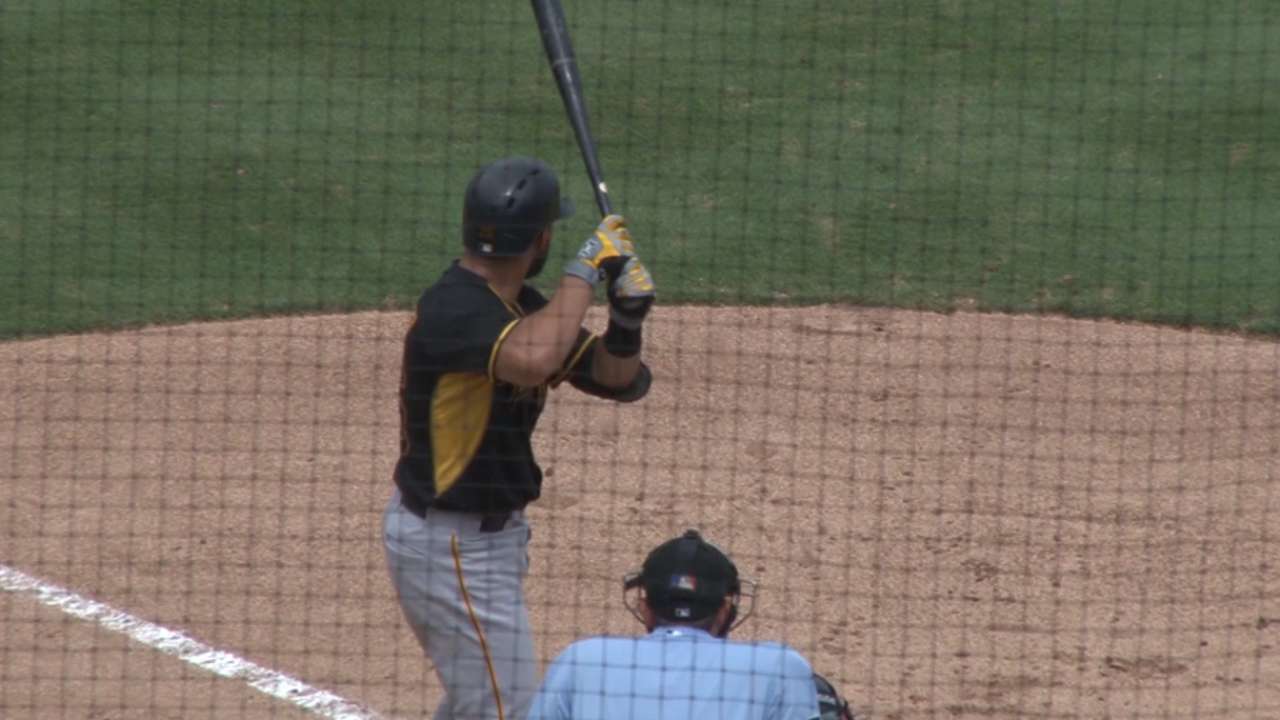 BRADENTON, Fla. -- To baseball fans from coast to coast, it has been dramatically apparent for months that there is something different about this Tony Sanchez in the Pirates' Spring Training camp.
It hasn't been the fact that this Sanchez has lots of hits. Rather, it's the fact this Sanchez doesn't have any tweets.
MLB's most engaging, most entertaining social networker put away all his needles and barbs three months ago, soon after getting cut by his team in the Dominican Winter League. This also happened at the approximate time the Pirates went out and traded for another catcher, Francisco Cervelli.
Sanchez made a commitment to himself to show up in Pirate City as a new man. He figured the first sign of that was to bench the old Tony Montana -- the Twitter handle with 40,000-plus followers.
"It was my way of letting them know that it's a new me," Sanchez said. "I came to camp with plans to do a lot of things, and tweeting wasn't one of them."
If his plans included hitting often and hard, blocking pitches, throwing accurately and earning the renewed respect and admiration of Pirates pitchers and management ... done.
"He's become such a good player," said A.J. Burnett, back at McKechnie Field after making 96 pitches to Sanchez in a Minor League game at Pirate City.
"He's playing as well as I've ever seen him play -- on both sides of the ball," manager Clint Hurdle said. "He's playing with confidence. He's come to work, to get better -- to make the club, regardless of what personnel was in place. He wanted to make sure to dominate whatever he could control -- and he has."
"By me not saying anything [on Twitter], I'm saying a lot," said Sanchez. "I still want to entertain people, but now I want to entertain them on the field. The tweeting was a big distraction. I got to see that."
Sanchez hasn't closed his Twitter account, a hint that he may yet resume his interactions at some point. Before going out to catch Game 1 of the 2015 World Series would be a good time.
Touching all the bases
• First: Burnett had 64 strikes among his 96 pitches, and held Yankees Minor Leaguers to two unearned runs over six innings, walking one and striking out seven.
• Second: Led by both Sanchez (.462) and Cervelli (.333), the eight different catchers the Bucs have played in Grapefruit League games have combined to go 36-for-101 (.356), with seven homers and 22 RBIs.
• Third: Cervelli hit a second-inning drive off the right-center wall and hustled it into a triple. The Bucs' last regular-season triple by a catcher was in 2011, by Ryan Doumit.
• Home: Saturday's crowd of 6,351 pushed McKechnie Field's spring total to 99,450, a new record (93,433 in 2013).
"Our fans have shown a wonderful commitment to this team from Day 1 of Spring Training," Pirates president Frank Coonelly said. "We have made the fan experience in Bradenton a high priority, and our fans have responded repeatedly by coming out in record numbers."
Tom Singer is a reporter for MLB.com and writes an MLBlog Change for a Nickel. He can also be found on Twitter @Tom_Singer. This story was not subject to the approval of Major League Baseball or its clubs.