Iglesias hitting better than the numbers
Shortstop looks to have quality at-bats after missing last season to injury
LAKELAND, Fla. -- Jose Iglesias made the play on the first groundout of the game Saturday. He also made the play on the last out of the game. From a health standpoint, the fact that he played all nine innings indicates he's ready for Opening Day after missing last season with stress fractures in both shins.
His hitting, on the other hand, might be a little bit behind. He knows this. But he also doesn't think he's far off.
"It's going to take me a while to be 100 percent at the plate," he said. "I feel really close, and each particular at-bat is different."
The numbers, ugly as they are, seem to back him up.
It's not an ideal spring when a 1-for-3 game raises a batting average to .105 (4-for-38). Iglesias' infield single Saturday was actually his second hit in three games, but also part of a 2-for-31 slump since March 12.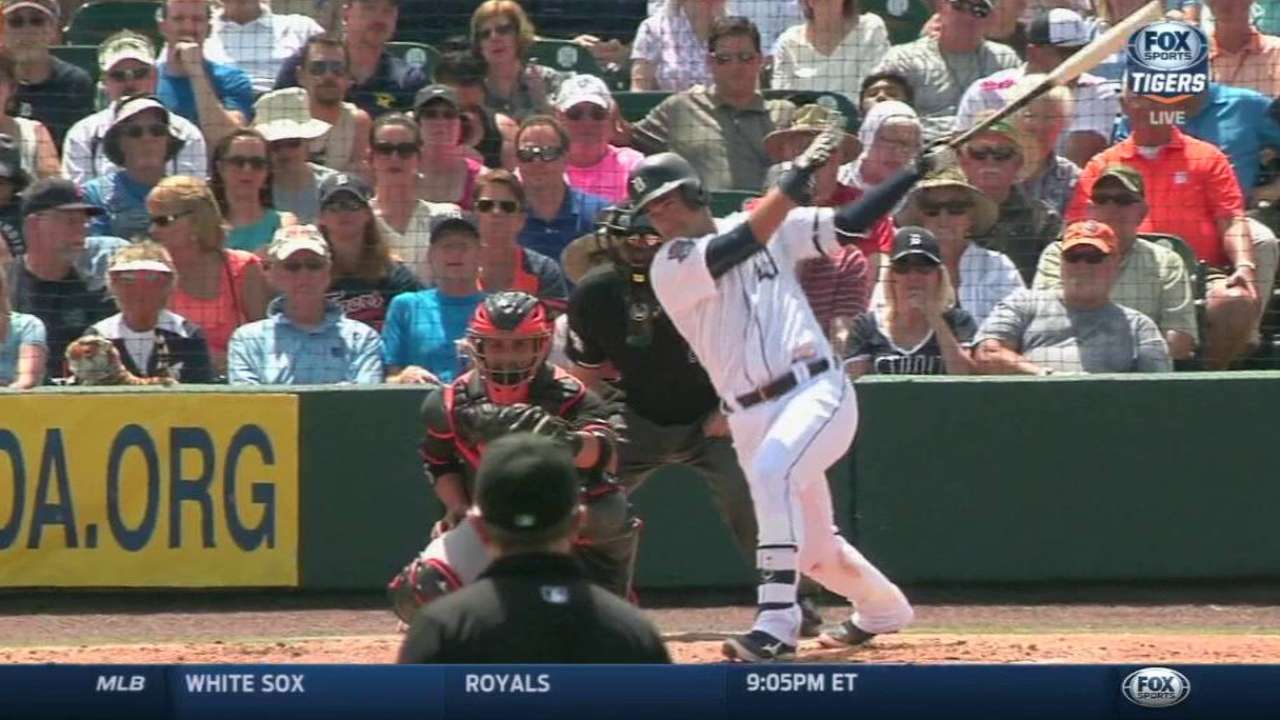 They're ugly numbers, yet the fact that he still has more hits (four) than strikeouts (three) suggests the at-bats are not. His game is to put the ball in play, and he's doing that.
"You have some good at-bats. You hit the ball well. It doesn't necessarily have the results you expect or you want," Iglesias said. "All you can do is have some quality at-bats for the team and do what you have to do in that particular at-bat. That's all you can control."
If it was the regular season with a player who hadn't missed a year, it would be labeled an aberration. Manager Brad Ausmus is downplaying it for that reason.
"If you're putting the ball in play that much and you're not getting hits, there's a little bit of bad luck involved," Ausmus said. "He's not a .100 hitter, so I'm not overly concerned about it."
It's the flip side of his 2013 season, when he got off to a hot start and heard critics insist he's not a .300 hitter. He hit .330 with the Red Sox, then .259 with the Tigers after his Deadline trade.
Somewhere between .300 and .105, there's a home for Iglesias. The Tigers believe he'll find it.
"I feel pretty good," Iglesias said. "I've been able to have some consistent, good at-bats, and that's what you're looking for in Spring Training. Results are irrelevant. Obviously you want to hit, but you can't control that, so I've been putting good at-bats together, and that's what matters to me right now."
Still, the Tigers are going to get him work. So while Andrew Romine manned shortstop for them in Dunedin on Friday, Iglesias crossed the street to Minor League camp and took at-bats -- 20 of them, actually. He had six hits, including a bunt single.
When the season opens in just over a week, he expects his swing to be down. His simple swing gives him a chance to make contact. If he keeps the ball on the ground, his legs give him a chance to reach base.
"I'm a contact hitter, a line-drive hitter," he said. "I'm not a power hitter who has to worry about having everything in place. I just try to put the ball in play, put a good swing on it and be on base for my guys."
Jason Beck is a reporter for MLB.com. Read Beck's Blog and follow him on Twitter @beckjason. This story was not subject to the approval of Major League Baseball or its clubs.