Slater, Beede make Giants' future look bright
Second baseman goes yard off Petit, righty tosses scoreless frame in prospects' game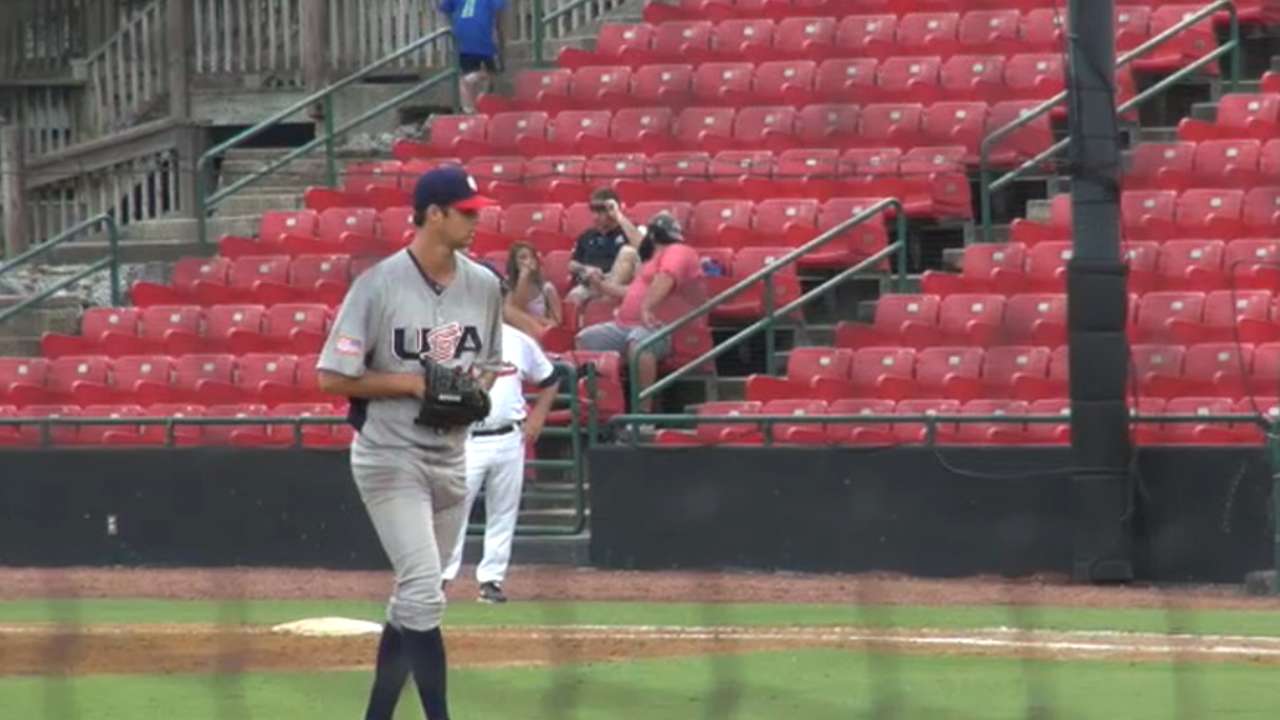 SCOTTSDALE, Ariz. -- Two members of the Giants' 2014 Draft class deepened the organization's optimism on Saturday.
Performing for a team comprised of prospects from Minor League camp, Tyler Beede, San Francisco's No. 1 (21st overall) selection in last year's First-Year Player Draft, pitched a scoreless second inning. Second baseman Austin Slater, an eighth-round pick, belted an opposite-field, fourth-inning homer off Giants starter Yusmeiro Petit. Those were among the highlights in a 2-2, nine-inning tie at Scottsdale Stadium between "The Future Giants," as Beede, Slater and their mates were dubbed, and a San Francisco split-squad.
"It gives you a vision of what's going to happen in the future," said Beede, articulating the afternoon's theme.
Employing a lineup that included projected regulars Nori Aoki, Joe Panik, Angel Pagan, Brandon Belt and Brandon Crawford, as well as veterans Hector Sanchez and Joaquin Arias, the mostly big league Giants mustered five hits, including three through eight innings. The Futures frequently changed looks against the Giants by using a different pitcher in each inning, while blanking San Francisco for six innings.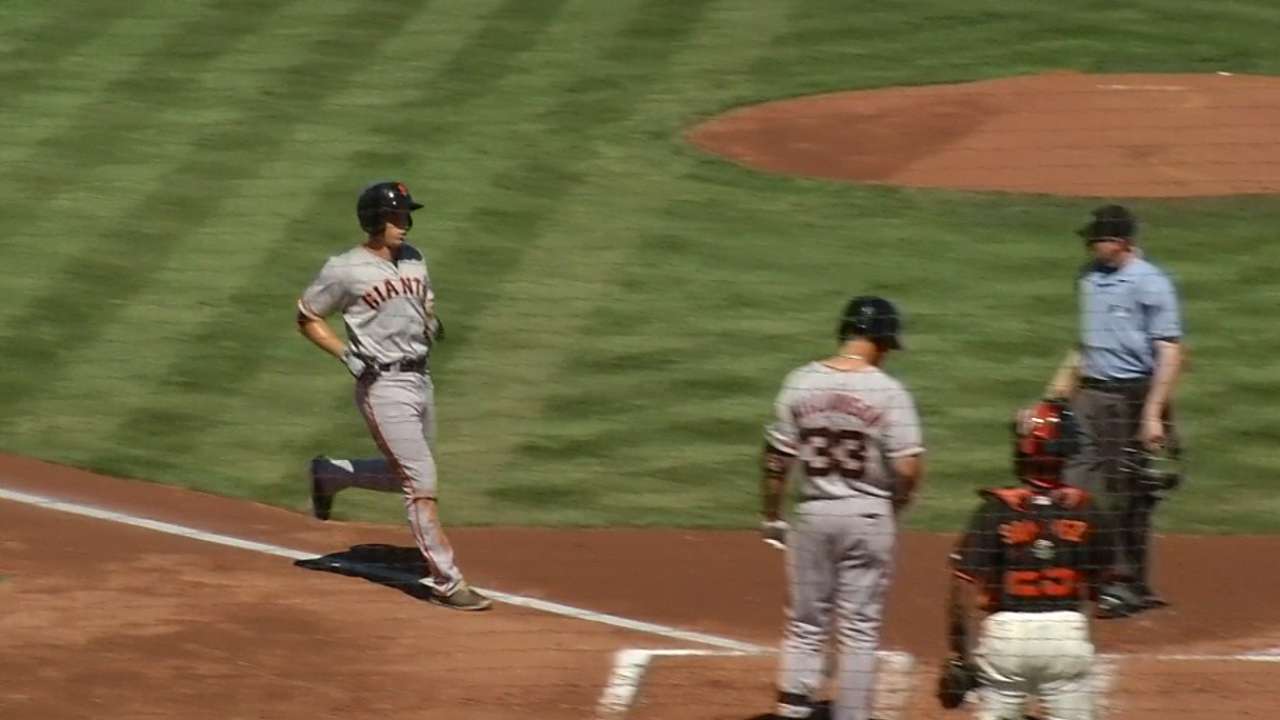 Part of that group was Beede, the right-hander from Vanderbilt University, who is ranked as the Giants' No. 4 prospect by MLB.com. He initially looked shaky, as Belt lined out to right field, Crawford scorched a single and Sanchez walked. Beede quickly righted himself by retiring Arias and Gary Brown on popups.
"It was a really, really cool experience," said Beede, 21. "Once you hear over the sound system who's coming to the plate, [you think of] the careers that they've had, obviously [including the] World Series and such. It's an honor to face those guys. At the same time, you have to compete, and you want to compete against those guys and show them what you have."
As is the case with most young pitchers, Beede has been striving to gain consistency with his mechanics, daily routine and preparation -- "so that when I go out there, everything's the same, and I can control what I need to control," he said.
Having relied on a four-seam fastball, a changeup and a curveball in college, Beede has added a sinking fastball and a slider to his repertoire, the better to keep his deliveries low.
Petit, who lasted five innings, long ago gained the steadiness that Beede seeks. But Petit wasn't precise enough, as the right-handed-hitting Slater sliced the first pitch he saw over the right-field barrier to open the scoring.
Less than a year removed from Stanford University, Slater sounded like a seasoned pro: "Against a guy like Petit, he has a great cutter. So I was thinking of going the other way the entire day," said Slater, who hit a combined .346 last year for both of San Francisco's Rookie-level affiliates. "He left one up on me."
Slater, 22, couldn't hide his enthusiasm. "It was a dream come true to play against those guys on the other side of the field," he said. "I wasn't really expecting that, getting drafted last year. Very cool. [I'm] thankful."
Chris Haft is a reporter for MLB.com. Read his blog, Haft-Baked Ideas, and follow him on Twitter at @sfgiantsbeat. This story was not subject to the approval of Major League Baseball or its clubs.