Sources: Mets, Duda discussing long-term contract extension
First baseman could be signed into his early 30s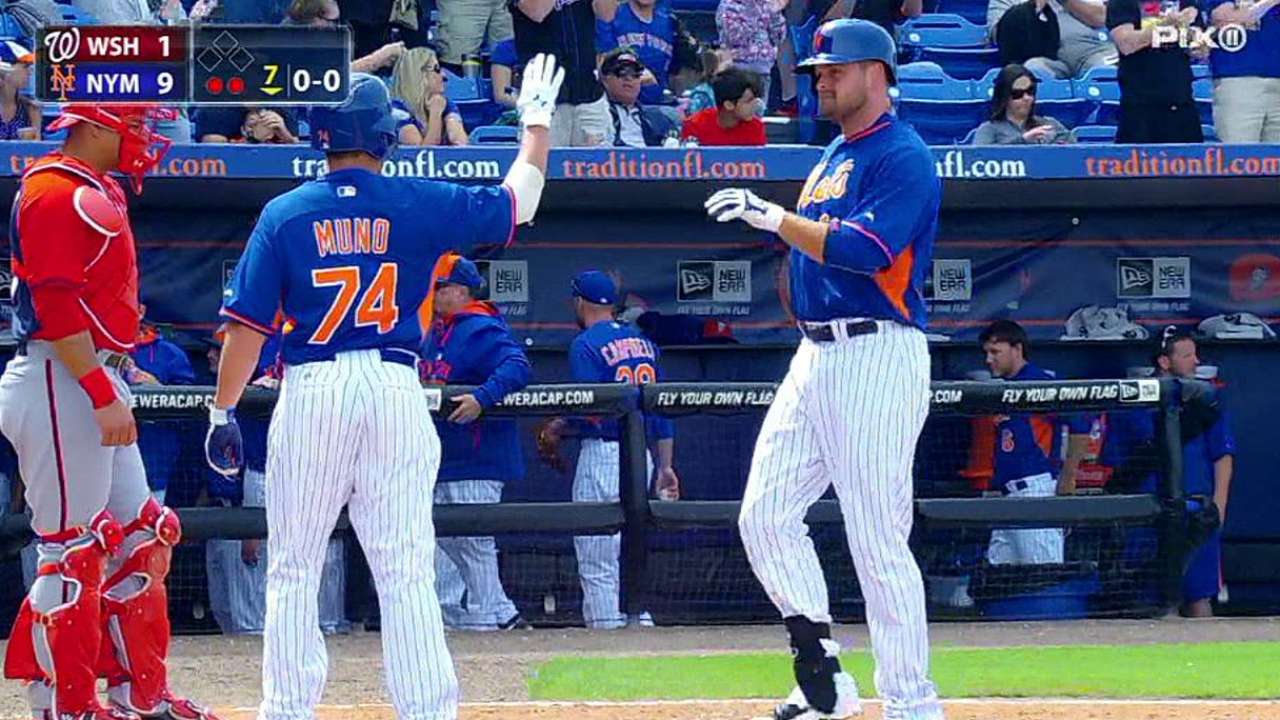 PORT ST. LUCIE, Fla. -- The Mets and Lucas Duda are discussing a long-term contract extension, according to two sources familiar with the negotiations, which would keep the first baseman in Flushing well into his 30s. The Mets have not publicly acknowledged the negotiations, and general manager Sandy Alderson declined comment on Saturday afternoon.
Duda, 29, is set to make $4.2 million this season as an arbitration-eligible player, more than twice what he earned a year ago. He is under team control through the 2017 season, meaning any extension would be at least four years long -- covering his final three years of team control plus his first year of free agency. Such a deal would take Duda at least through his age-32 season, guaranteeing him a measure of security while giving the Mets a proven cleanup hitter for the foreseeable future.
Becoming the Mets' full-time first baseman last summer after they traded Ike Davis to the Pirates, Duda finished with a career-high 30 home runs in 153 games. Though just two of those homers came against left-handed pitchers, who held Duda to a .180 batting average and .516 OPS, the Mets do not plan to platoon Duda to start the season. Instead, they are hoping his work with new hitting coach Kevin Long along with another year of experience, will pay dividend.
Duda initially established himself as an outfielder in 2011, but hit just .232 with 30 home runs combined over his next two seasons. A natural first baseman, Duda grew more comfortable when the Mets moved him back to that position late in 2013, prompting the team to keep him over Davis the following April.
He responded with a career year, hitting his 30th home run in his final plate appearance, finishing third in the National League in homers and traveling to Japan in November as part of Major League Baseball's All-Star Series.
"I'm really looking forward to next year and what it holds," he said at the time.
Battling a strained left intercostal muscle early this spring, Duda went 1-for-his-first-14 in Grapefruit League play, but has since batted .238 with two home runs and a triple in seven games.
Because Duda did not become a core player for the Mets until his age-28 season, the team would absorb much of the risk in any extension. Already, Duda is under team control until he is 32, an age at which players traditionally lose value. Alderson has also been wary of committing to anyone over his five years as GM, the notable exception being the eight-year, $138-million deal he gave David Wright weeks before the third baseman's 30th birthday.
Anthony DiComo is a reporter for MLB.com. Follow him on Twitter @AnthonyDicomo. This story was not subject to the approval of Major League Baseball or its clubs.