QB Wilson's Spring Training visit comes with deep ball
Seahawks star crushes home run to left-center field during BP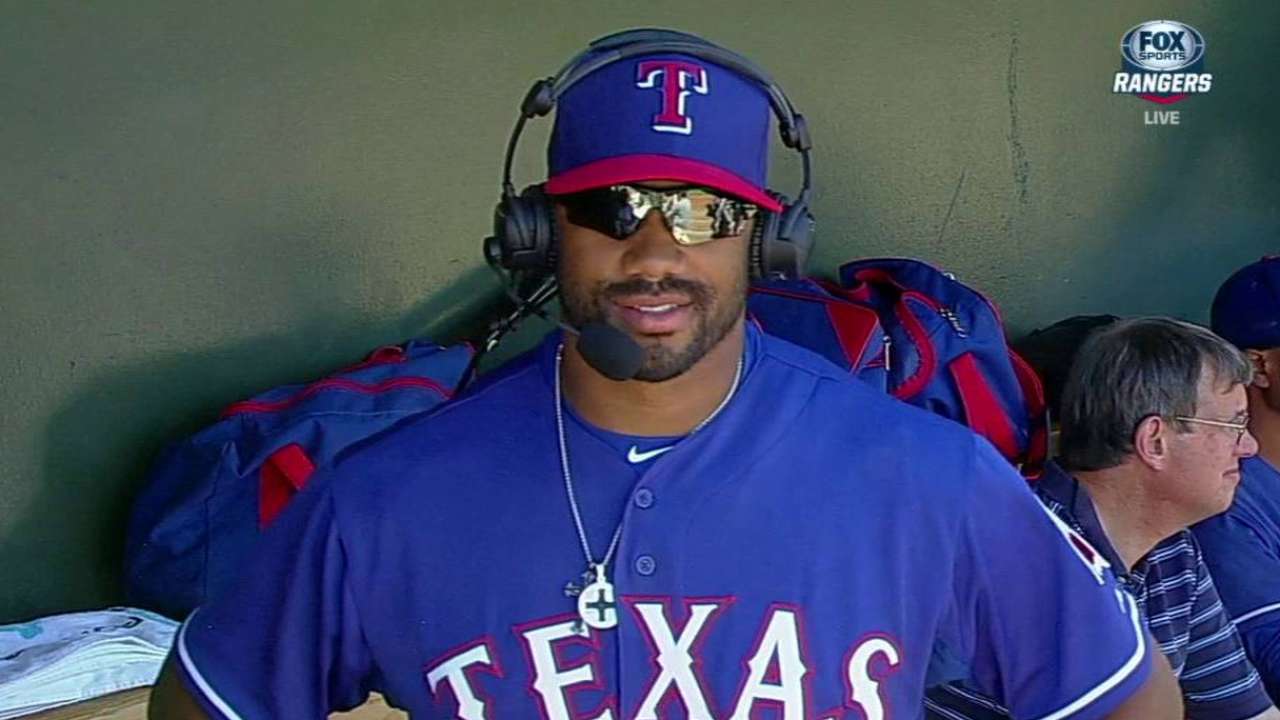 SURPRISE, Ariz. -- Seahawks quarterback Russell Wilson went deep again on Saturday. This time he wasn't throwing a bomb to Doug Baldwin, but taking Rangers third-base coach Tony Beasley over the left-field fence in batting practice.
"I lasered one out in left-center field," Wilson said during what has become an annual visit to Rangers camp in Spring Training. "That was good. I stayed back and was able to drive it to left-center. It feels good hitting a home run. There's something special about throwing a touchdown, because it's so hard to get touchdowns, but getting a home run is a good feeling too."
Wilson's visit came just two months after the Seahawks lost to the Patriots in the Super Bowl, held just down the road in Glendale. He arrived on Friday night, had dinner with manager Jeff Banister and a number of players and then worked out with the Rangers on Saturday.
An unusually large crowd assembled around Nolan Ryan Field to watch Wilson work out with Adrian Beltre, Prince Fielder, Elvis Andrus and others. As they strode out to the field, Fielder asked Wilson what it's like to win the Super Bowl and then get back the next year.
"It's an honor to be here," Wilson said. "Growing up as a little kid, I always dreamed of playing two sports. I always played both. Just to be here and have this opportunity is a gift from God. I'm grateful to have this amazing opportunity. It's truly humbling just to be able to play with these guys, these big leaguers to take grounders with them, to hit BP this year, to have a good time."
Wilson also visited the Rangers for a day last season, but technically belongs here. Wilson played two seasons as an infielder in the Rockies' farm system before being taken by the Rangers in the Minor League phase of the 2013 Rule 5 Draft. His baseball-playing days appear over, but the Rangers liked the idea of having Wilson associated with the franchise, even in a limited way.
"This is the first time I had the opportunity to have a conversation with him and he is an impressive guy," Banister said. "He is the guy you think he is. What strikes me is how earnest he is, and at the same time, wants to be the best in the game. He also has an awareness of what it takes to be the best."
"When you can hear a message from an athlete who has done it, won a championship, knows what the grind is and knows what it means to be a great athlete, that message doesn't change if you're in a football locker room or a baseball clubhouse, a hockey locker room or a basketball locker room."
Wilson suited out for the game against the Padres. He did not play, but did take the lineup card out to home plate and handed it off to the umpires.
T.R. Sullivan is a reporter for MLB.com. Read his blog, Postcards from Elysian Fields, and follow him on Twitter @Sullivan_Ranger. This story was not subject to the approval of Major League Baseball or its clubs.