Barnes still has chance to make Opening Day roster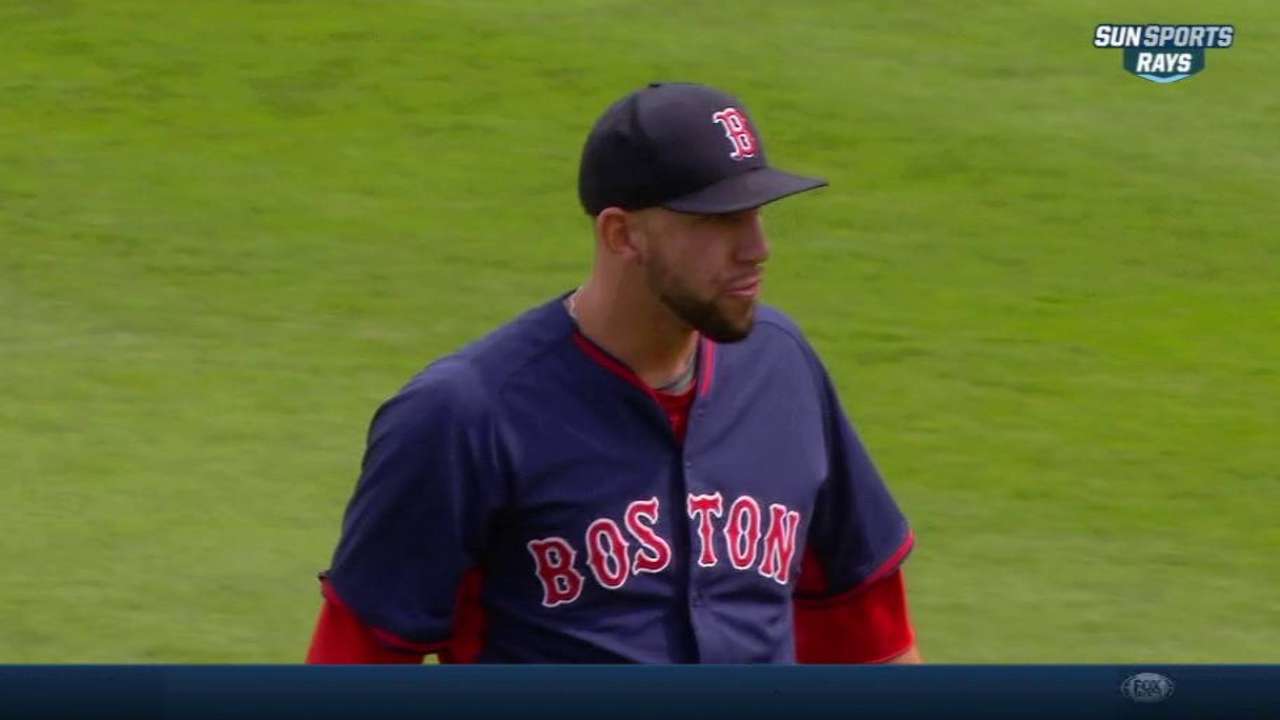 PORT CHARLOTTE, Fla. -- Matt Barnes was thrust into a realistic relief situation in Saturday's game against the Rays, coming on with runners on first and second and two out. The prospect delivered, inducing Asdrubal Cabrera into a groundout.
He finished his outing by following a leadoff double with three straight strikeouts.
This doesn't mean Barnes has made the team. But he remains in contention for one of the last couple of spots.
Over 2 1/3 innings, Barnes was dominant, allowing one hit while striking out four. If he doesn't win a bullpen spot for the Red Sox, the righty will go back to his natural role of starting for Triple-A Pawtucket.
"I'm not trying to think about that at all," said Barnes. "If you start thinking about that, I'm getting ahead of myself.
"The only thing I can control is going out there and pitching. I'm focusing on that, getting my work in between outings, and letting the rest take care of itself. I feel happy with how I've thrown the ball. We'll just let the management make the decision on that."
Whether he makes the roster or not, manager John Farrell has become impressed by Barnes.
"I thought he was very good. He gives up the 1-2 double and then records the three strikeouts following that [in the sixth inning]," Farrell said. "Went to his curveball a little bit more to get some swing and miss against some quality major league hitters. He looks poised coming in for the middle of an inning. That's the first time he's come in with men on base. It's a quick out to end the threat. He looked fine."
With Koji Uehara still battling back from a sore right hamstring, there is some uncertainty about how many spots are available in Boston's bullpen.
Uehara, Junichi Tazawa, Alexi Ogando, Edward Mujica and Craig Breslow are all locks for a roster spot if healthy. So that leaves two or three spots there for the taking.
"We have some pending situations," said Farrell. "Just trying to keep all of our options available to us and as we've said, there's been a couple of spots in the 'pen to be in competition for. The way he's thrown the ball, the way Robbie Ross has come on the last three outings, we've got some very good options from which to choose."
Ian Browne is a reporter for MLB.com. This story was not subject to the approval of Major League Baseball or its clubs.