Strasburg shows rust from ankle sprain vs. Mets
Nats' starter admits being tentative in longest spring outing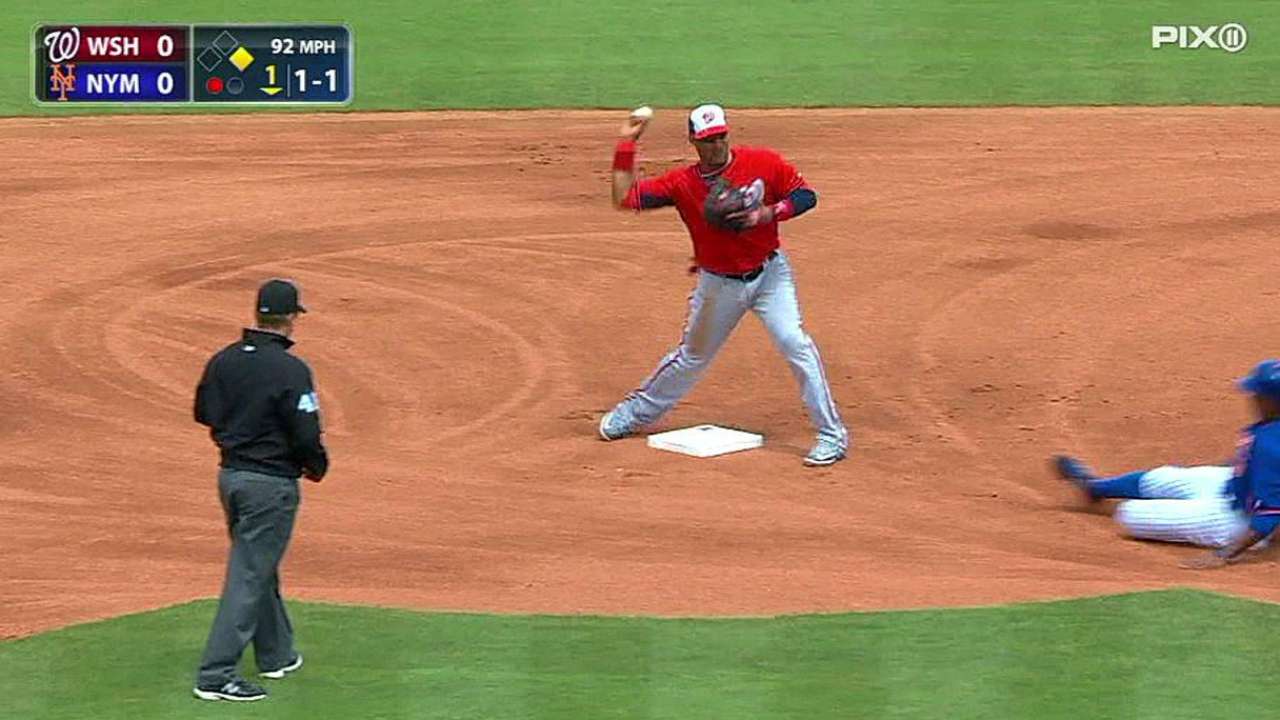 PORT ST.LUCIE, Fla -- Even though right-hander Stephen Strasburg is a bit behind the rest of the Nationals starters, he is not worried about how that may affect his preparation for the start of the regular season.
His start in Saturday's 10-2 loss against the Mets was his first since he sprained his left ankle last week while working out in the weight room. He still had some hesitation about landing on that ankle.
"It's kinda like a trust factor," Strasburg said. "You sprain your ankle really bad you're bracing for it so it's hard to get over that. I didn't really feel anything alarming so it's progress. I've just gotta keep going out there and I'm sure it'll be an afterthought soon."
It was not his sharpest outing -- he allowed four runs on four hits in four innings with a pair of walks and strikeouts -- although rust likely played a role. In the third inning, Curtis Granderson and David Wright tagged Strasburg for back-to-back homers to make up the Mets' offense against him.
Overall, Strasburg said his arm felt good after he completed his longest outing of the spring, 70 pitches and 39 for strikes, which included a 32-pitch third inning.
Nationals manager Matt Williams announced the order for the Nationals rotation for the start of the season Saturday, and plans to have Strasburg start the Nats third game against the Mets and right-hander Matt Harvey. That leaves Strasburg with one more start before the regular season begins, where he is expected to throw 85 pitches.
"Yeah, it's going to have to be," Strasburg said about whether that will be enough to get him prepared for the regular season. "The thing is you make 33 starts. The biggest thing is having the stamina up there, and I'm just going to go out there and give everything I have and keep plugging along."
Worth noting:
• Instead of making his final start of the spring against the Cardinals on Monday at Roger Dean Stadium, Max Scherzer will throw in a Minor League game. He is scheduled to throw 95 pitches and the Nationals wanted it to be in a more controlled environment. Taylor Jordan will start in the Grapefruit League game in his place.
• Bryce Harper slipped on the warning track while chasing down a ball hit down the line in the sixth inning and hurt his hands bracing for the fall. Williams and trainer Steve Gober went to right field to check on Harper, but he stayed in the game and took a walk in his next at-bat.
"The ball just took a funny hop and he slipped," Williams said. "The track here is a lot of gravel and he slipped, but no issues. He jarred himself a little bit, but he was fine coming out."
Jamal Collier is a reporter for MLB.com. Follow him on Twitter at @jamalcollier. This story was not subject to the approval of Major League Baseball or its clubs.