Sandberg concerned about lack of offense
Phillies hitting .231 as a team during Spring Training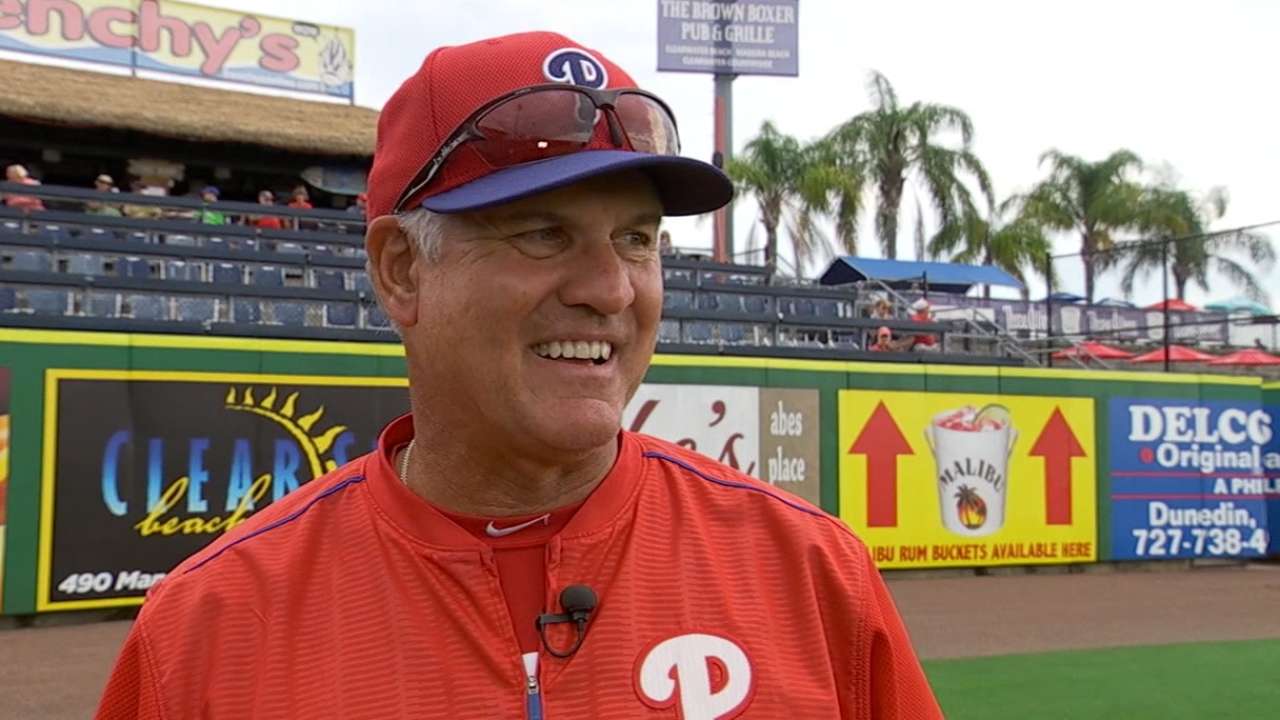 FORT MYERS, Fla. -- The Phillies settled for one run on five hits Saturday, as they fell to the Twins, 7-1. And with Opening Day now a little more than a week away, manager Ryne Sandberg is admittedly concerned.
"This is the time of the spring when you want the guys to be finding their strokes," Sandberg said as the Phillies' team batting average droped to .231. "Overall, this is the time of spring when you want to see more fine-tuned at-bats."
Instead, only Cameron Rupp (.400), Chase Utley (.375), Brian Bogusevic (.355), Odubel Herrera (.346), and Russ Canzler (.314) are hitting over .300.
And the clock is ticking.
Sandberg admitted he is also concerned about the Phillies' defense, which has been a bit sloppy of late.
Meanwhile, there are still a number of decisions to be made. Sandberg said the Phillies are close to making a significant number of roster cuts.
"Probably within a day or two," the manager said.
However, with exhibition games in Philadelphia next Friday and Saturday, Sandberg said the Phillies will probably not make their final cuts until next weekend. Rosters are due at the Commissioner's office a week from Sunday.
Worth noting
• Set-up man Ken Giles, who allowed four runs in two-thirds of an inning on Thursday against Toronto, rebounded with a flawless inning on Saturday.
• Phillipe Aumont, the last player left on the Phillies from the Dec. 6, 2009 trade that sent Cliff Lee to the Seattle Mariners, allowed two hits and a run in his one inning of work on Saturday, raising his ERA to 4.54. Aumont is out of options, which means the Phillies risk losing him if he doesn't make the team this spring. The 6-foot-7 Aumont, who was recalled from Triple-A Lehigh Valley twice last season, was 0-1 with a 19.06 ERA in five games with the Phillies.
• Twenty-year-old right-hander Zach Eflin, acquired from the Dodgers in the offseason Jimmy Rollins deal, will make his first exhibition start for the Phillies on Monday against the Pirates in Bradenton. Eflin will be the Phillies' third highly-regarded pitching prospect to take the mound in the past week. Severino Gonzalez started on Tuesday and Aaron Nola pitched in relief on Friday. Both threw three scoreless innings. Eflin is starting in place of David Buchanan, who will pitch on Sunday in a Minor League camp game.
• Saturday's matchup of Sandberg against Minnesota's Paul Molitor marked just the second time in Major League history that two current Hall of Fame players have managed against one another. The other time was just this past Monday when Sandberg and Molitor managed against each other in a Grapefruit League game in Clearwater.
Jim Hawkins is a contributor to MLB.com. This story was not subject to the approval of Major League Baseball or its clubs.