'Winning is important' for Melvin, even in spring
Kazmir lowers ERA to 0.75; Crisp expected to return to lineup Tuesday
GLENDALE, Ariz. -- The A's entered Saturday with a Major League-best 17-9 record this spring, which, of course, will mean nothing in a week.
Well, maybe not nothing.
"It's always nice to win some games, definitely. It's certainly not the most important thing; you want to see how guys respond in situations," manager Bob Melvin said. "But for the most part, with a new group and based on what we accomplished the last three years, we want them to know winning is important."
The A's are projected to have roughly 10 players new to the organization on their Opening Day roster. Some came from winning organizations, some from less successful ones. Oakland made the postseason each of the last three years, and the club will have a winning spring for the fourth straight year. Through Friday, the A's were 64-42 the past four Spring Trainings.
This spring, many of the wins came late, after the regulars had exited the game -- and often the ballpark.
"Some of the lineups, certainly on the road, might not have as many starters, but that's the time for guys to show what they can do," Melvin said. "We let those guys know we expect to battle until the end. We expect to come back and win games. We expect, even in games we lose, to try to make the opponent uncomfortable late in games.
"That's something we've had an emphasis on here for the last four years. It doesn't always work that way, but at least that's the mindset they know we expect."
• Left-hander Scott Kazmir on Saturday lowered his Cactus League ERA to 0.75 with 5 1/3 scoreless innings against the White Sox in a 10-4 victory at Camelback Ranch. He takes the results with a grain of salt, but he still likes how he's pitched.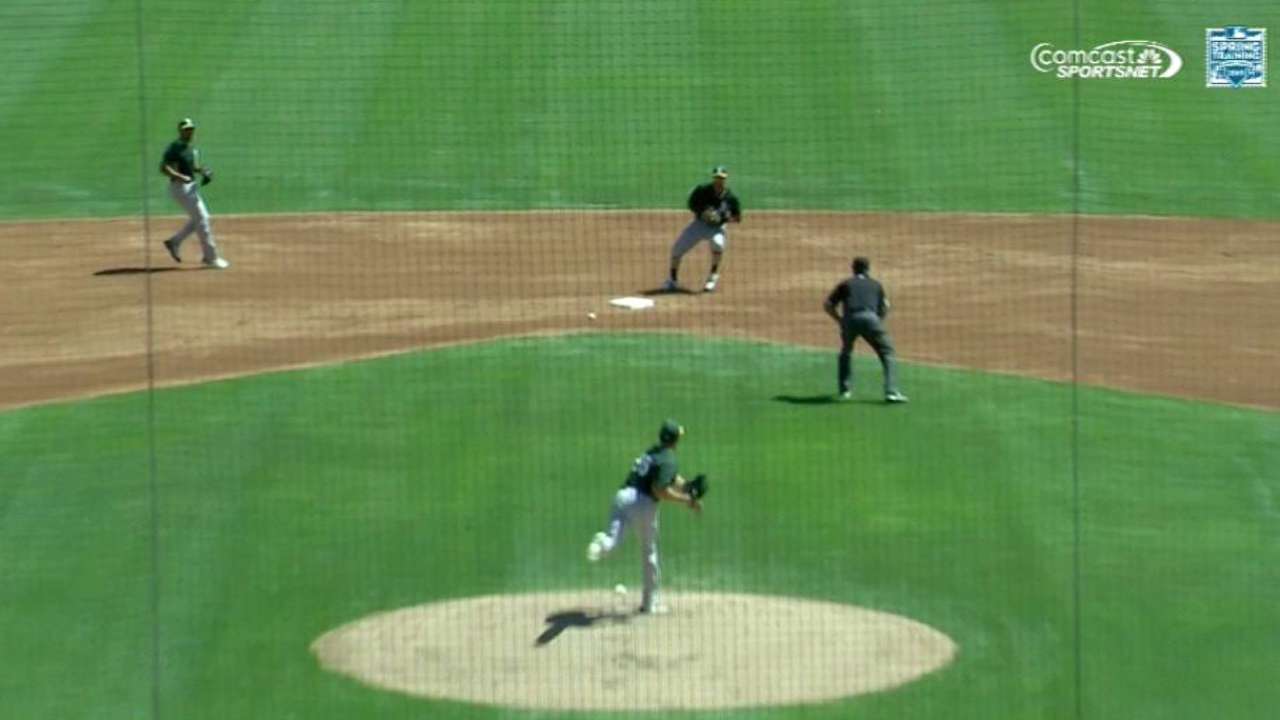 "These hitters are still getting tuned up, so I don't put too much into the numbers," Kazmir said. "I feel like everything was working for me [Saturday], for the most part. When I threw a changeup, it wasn't down the middle. It was either on the corner or started middle and ended up being low in the dirt. As far as quality pitches, I felt like I had it all there."
• Melvin expects leadoff hitter Coco Crisp back in the lineup on Tuesday, a week after he was scratched because of elbow soreness and received a cortisone shot. But if Crisp cannot play Tuesday against the Angels, his Opening Day availability comes into question.
Could Crisp join the long list of player who will start the season on the disabled list?
"Not if he's ready to go on Tuesday," Melvin said. "If he can play on Tuesday, I'll probably give him Wednesday off and then play him a couple games in the Bay Bridge series and he'll be ready to go."
Crisp has just 15 at-bats this spring, and he is moving from center field to left this year.
• Right-hander Jarrod Parker continued to progress in his rehab from Tommy John surgery. Parker on Saturday threw a one-inning simulated game, and Melvin received a positive report.
"I'm not big for the radar gun, but he did hit 92 [mph], pitched consistently at 90," Melvin said. "He pitched free and easy with a good changeup. It was good to see, a great start."
• Non-roster invitee Barry Zito will start Tuesday against the Angels, while Sonny Gray pitches in a Minor League game.
Chris Gabel is a contributor to MLB.com. This story was not subject to the approval of Major League Baseball or its clubs.