Strasburg, Nats' bullpen roughed up by Mets
Starter gives up four runs while Roark surrenders five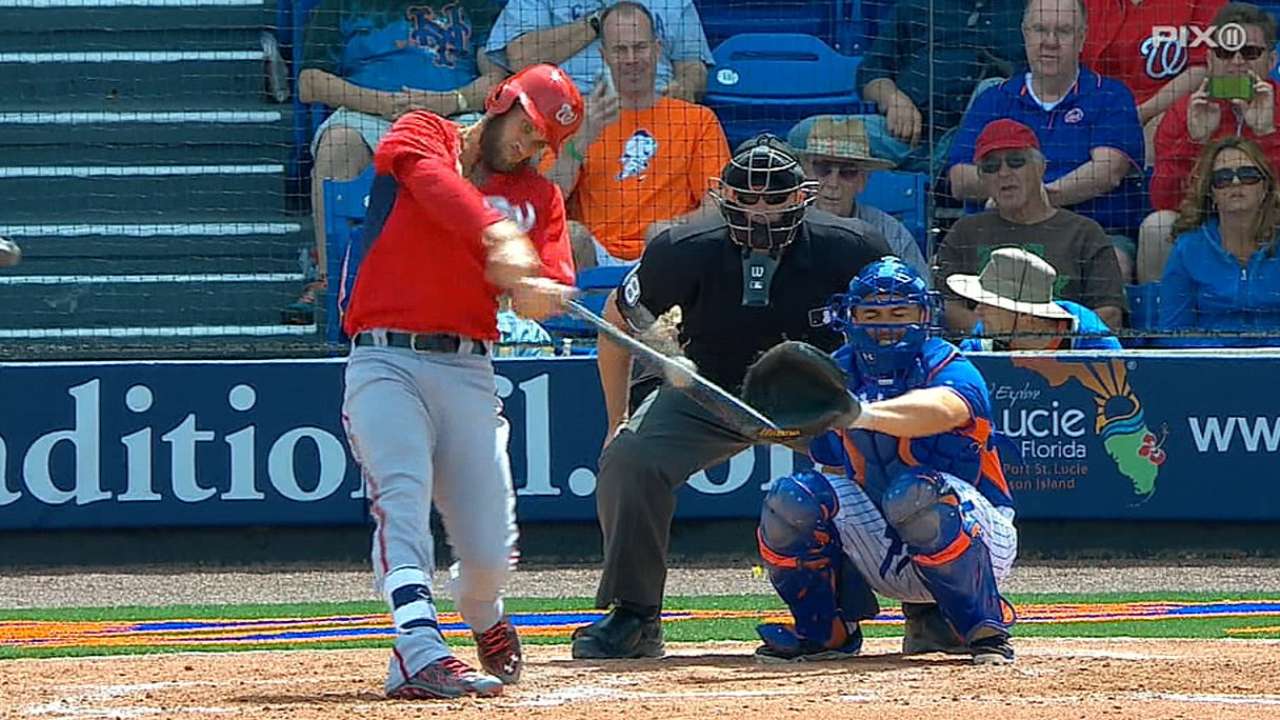 PORT ST. LUCIE, Fla. -- Jacob deGrom kept thriving, David Wright and Curtis Granderson kept mashing and everything continued going swimmingly for the Mets on Saturday in a 10-2 win over the Nationals.
Granderson and Wright hit back-to-back home runs off Nationals starter Stephen Strasburg in the third, giving deGrom all the cushion he would need. In his penultimate spring start, the reigning National League Rookie of the Year fired seven innings of one-run ball, the only damage coming on a leadoff homer by Bryce Harper in the sixth. That lowered his Grapefruit League ERA to 2.45, tops amongst all pitchers with more than 20 innings.
Wright's home run was his fourth in 14 spring games, after the Mets third baseman hit a career-low nine last season. Granderson's was his third in 16 games, after hitting 20 in his first year in Flushing. The Mets also received a solo shot from catcher Johnny Monell to lead off the seventh and a two-run homer from Lucas Duda later that inning, jumping all over Nationals reliever Tanner Roark.
Strasburg gave up four runs in total over four innings, three on Granderson's homer and one on Wright's. He struck out two and walked two, allowing four hits. Before the game, manager Matt Williams announced that Strasburg will start Washington's third game of the season on April 9, also against the Mets.
For Strasburg and deGrom, who will start April 8 against the Nationals, the afternoon was in that sense a game of chicken. Both pitchers hoped to succeed without revealing too much of their strategies, though deGrom insisted that he "didn't put too much thought into it."
"There's still 11 days," said deGrom, who will follow Opening Day starter Bartolo Colon in the rotation. "It would be different if it were next week and we were going right back into it, but there's a little time. So I think that will be fine. I might have thrown some pitches that I wouldn't normally throw, see if I can maybe learn something from that to take into when the season starts, but overall I just tried to go out there and attack the zone."
Roark, who did not make the Nationals' Opening Day rotation despite a 15-win season in 2014, gave up multiple runs for the fourth time in seven Grapefruit League games. He has allowed five home runs this spring with a 9.53 ERA.
Up next: Doug Fister, who will slot in as the team's No. 5 starter during the regular season, will make his fifth start of the spring when the Nationals host the Marlins at Space Coast Stadium on Sunday at 1:05 p.m. ET. Fister has allowed seven earned runs in 12 2/3 innings this spring and is expected to pitch about six innings.
Anthony DiComo is a reporter for MLB.com. Follow him on Twitter @AnthonyDicomo. This story was not subject to the approval of Major League Baseball or its clubs.