San Clemente claims NHSI championship
Puckett leads offense with two RBIs; Lawson picks up the victory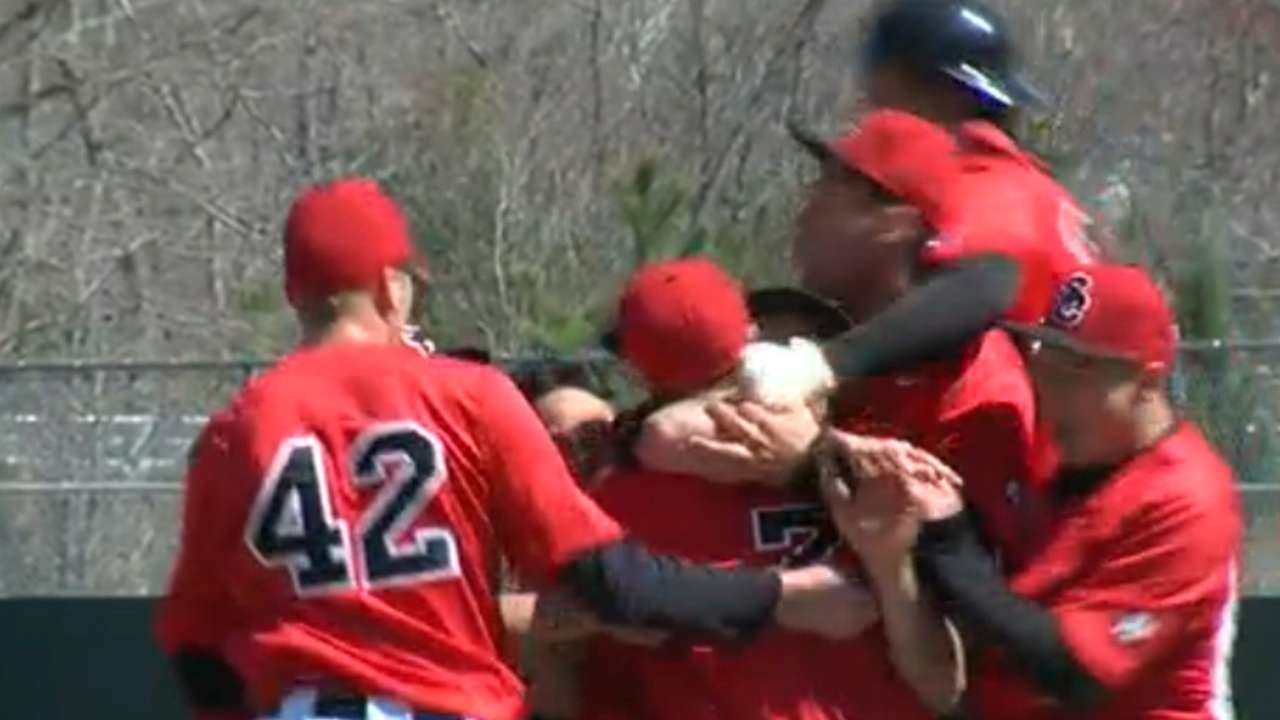 CARY, N.C. -- Before the 2015 USA Baseball National High School Invitational began, San Clemente (Calif.) High School was dealt a blow, as ace left-hander Kolby Allard was sidelined by a stress reaction in his back.
Not having Allard, ranked No. 17 on MLBPipeline.com's Top 50 Draft prospects list, proved to be no problem for the Tritons. After winning its first three games of the tournament, San Clemente defeated College Park High School (Pleasant Hill, Calif.), 8-3, in Saturday's championship game.
The Tritons jumped out to an early lead, scoring three runs in the second inning. They continued to build on that advantage throughout the game, as they collected nine hits and drew six walks. Senior second baseman Chris Puckett led the offense, going 2-for-3 with a double, two RBIs and a run.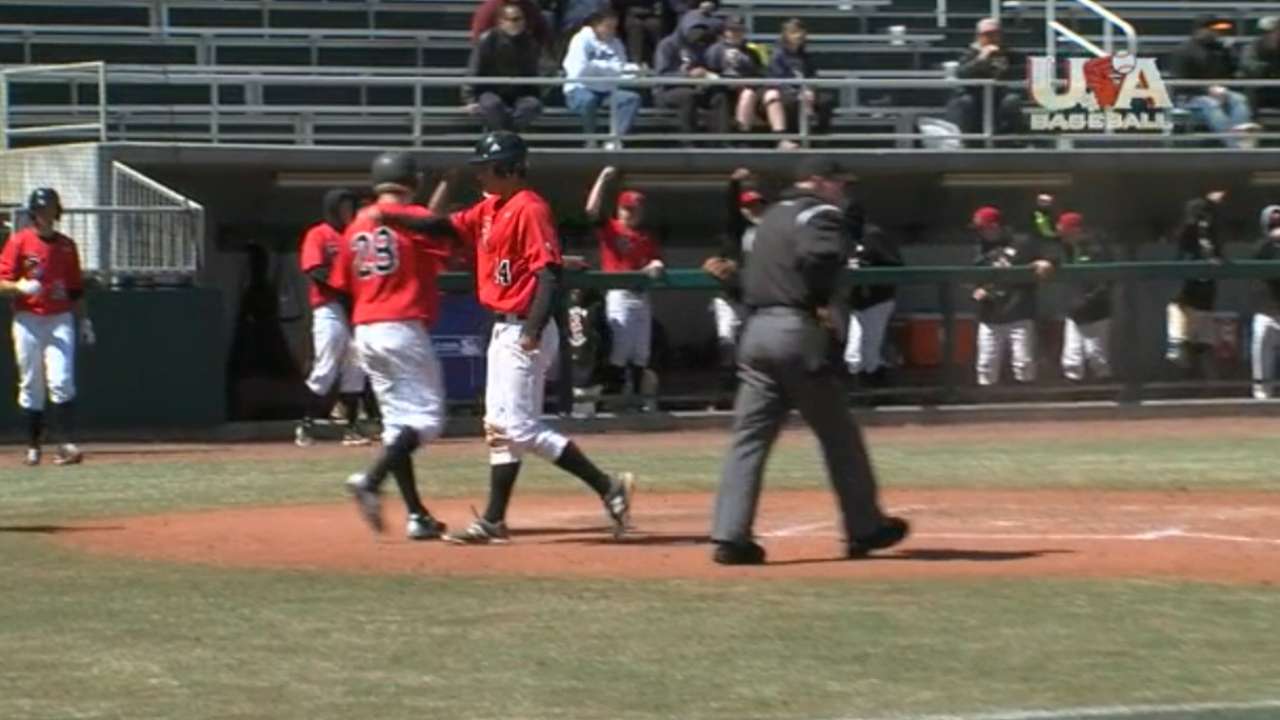 San Clemente's pitchers made the early lead hold up, as they delivered the kind of solid pitching performance they had throughout the tournament. Senior right-hander Tanner Lawson held College Park to three runs on three hits and three walks in 4 1/3 innings to pick up the victory, and senior left-hander Dylan Riddle closed out the win with 2 2/3 scoreless innings of relief.
Coach Dave Gellatly said pitching is one of the Tritons strengths.
"If there's one thing that we're deep in, we are deep in pitching," he said. "I think everybody found that out in the last four days."
While his teammates were competing against some of the best high school teams in the country, Allard was in the dugout, cheering for them. Senior catcher Lucas Herbert said having Allard with them gave the Tritons a boost throughout the week.
"It was big, because even though he couldn't pitch, which is rough, a lot of guys would be down, might not even make the trip," said Herbert, who, like Allard, is committed to UCLA. "He came out and cheered everyone on and was supportive. [He] didn't really say anything about his back or he wished he could pitch or nothing like that. It was great just having him out here supporting the team."
Herbert continued his strong showing in the tournament on Saturday. He went 1-for-2 with a double and two walks. He scored twice and drove in a run while guiding Lawson and Riddle through a powerful College Park lineup.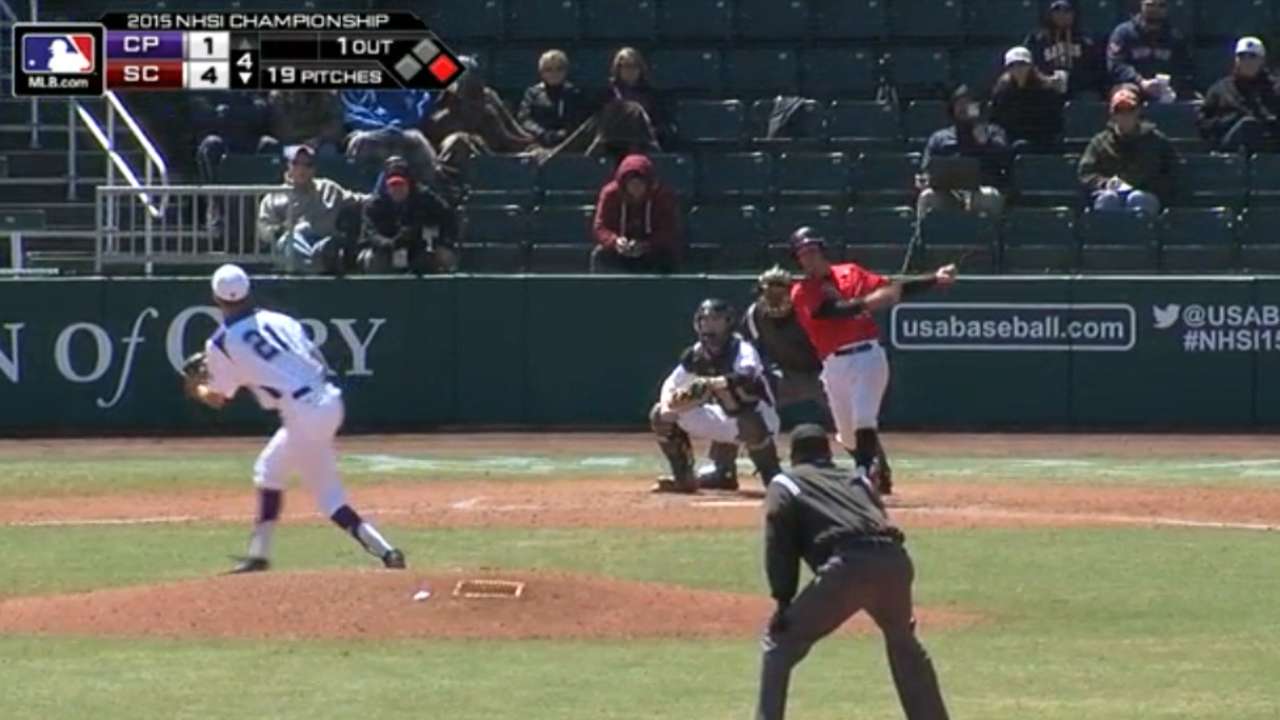 "I can't speak enough about him," Gellatly said. "He knows how to get hitters out, he knows how to block balls, he knows when to back pick and he makes us look like great coaches. It's all him."
College Park cut the deficit to three runs in the fourth and again in the fifth, but were unable to get any closer. Senior shortstop Joe DeMers, a Washington commit, went 1-for-2 with an RBI and a walk.
Coach Andy Tarpley said the Falcons simply couldn't match the Tritons depth at the end of a long week.
"They swung the bat and hit the snot out of the ball today," he said. "Some of my younger pitchers got a taste for it at least."
While the championship game was going on, the rest of the 16-team field was finishing up their tournament. Those games featured several more standout performers.
Seth Beer, RHP/OF, Lambert High School (Suwanee, Ga.): The Longhorns split a doubleheader on the final day of the tournament and Beer played a starring role. The junior Clemson commit homered in both games, going 3-for-7 with two runs and three RBIs. He also earned the victory in Lambert's 5-2 win against Mosley High School (Lynn Valley, Fla.), as he struck out seven batters in 6 2/3 innings and held the Dolphins to two runs (no earned) on three hits and three walks.
Colin Coates, OF, DeSoto Central High School (Southaven, Miss.): While DeSoto lost a wild game to Farragut High School (Knoxville, Tenn.), Coates had a big day at the plate. The senior went 3-for-4 with a double, a home run, three runs and two RBIs.
Kyle Datres, RHP, Loyalsock Township High School (Williamsport, Pa.): Facing Leesville Road High School (Raleigh, N.C.), Datres threw four scoreless innings to lead Loyalsock to a 5-0 victory. The senior North Carolina commit struck out eight batters and held Leesville Road to one hit and one walk.
Matt Kroon, SS, Horizon High School (Scottsdale, Ariz.): In a consolation game against Lambert, Kroon went 3-for-4 with a triple, three runs and a stolen base. The senior Oregon commit went 6-for-14 during the tournament.
Cooper Moore, C, Huntington Beach (Calif.) High School: In a consolation game against Whitewater High School (Fayetteville, Ga.), Moore went 3-for-4 with a double, a home run and five RBIs. The senior Utah commit also helped guide some of Huntington Beach's younger pitchers through a tough Whitewater lineup.
Teddy Cahill is a reporter for MLB.com. Follow him on Twitter at @tedcahill. This story was not subject to the approval of Major League Baseball or its clubs.