Price: Chapman may be asked to get more than three outs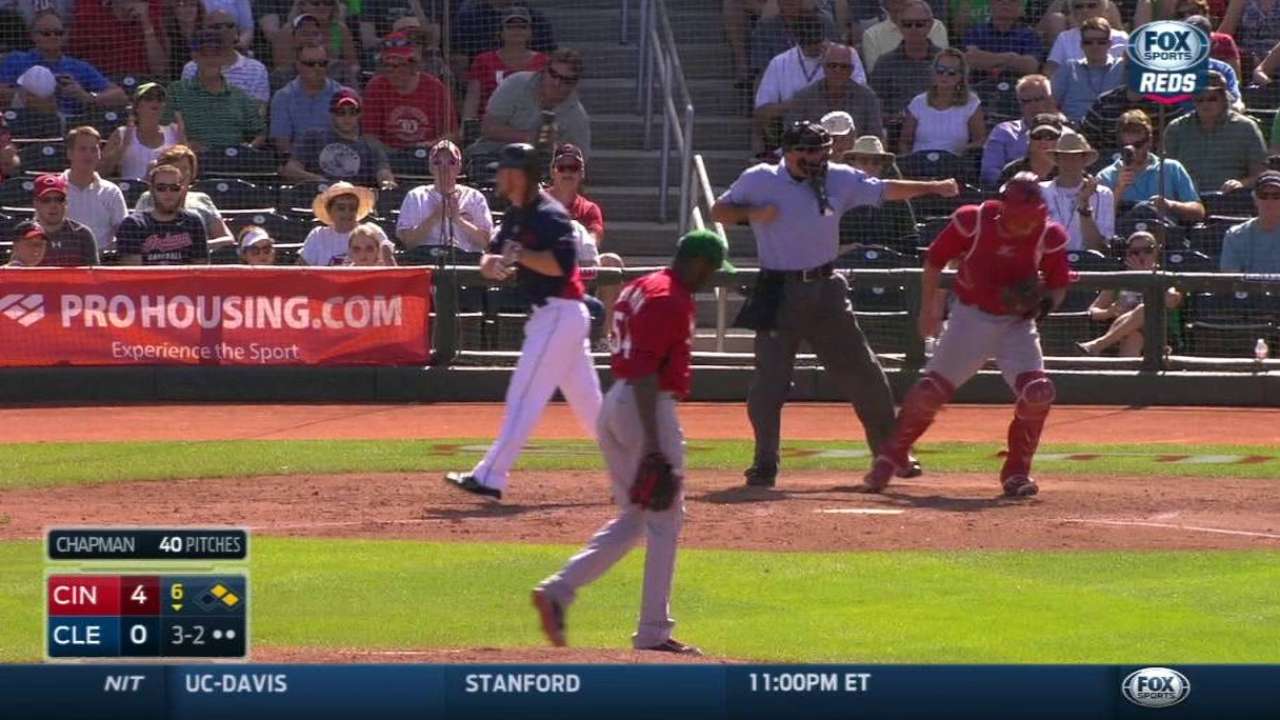 GOODYEAR, Ariz. -- Reds closer Aroldis Chapman has demonstrated effective pitching throughout the spring, but Saturday's outing was about as smooth as it could have been.
Against a Cubs split-squad, Chapman -- serving as the Reds' starting pitcher -- faced three batters and struck out the side in his only inning of work. Leadoff batter Dexter Fowler was called out on a 3-2 pitch. Arismendy Alcantara swung and missed on a fastball following a changeup for strike three. Jorge Soler ended the inning on a called third strike.
Chapman has a 3.27 ERA in seven spring appearances, with eight hits, three walks and 16 strikeouts. Four of his appearances were of the two-inning variety.
"It's been great," Reds manager Bryan Price said before the game about the extended outings for Chapman. "It's given him a chance to spend some time with his slider and changeup. We don't want to isolate him to one single inning and not have the opportunity to spend time with those pitches
"Now he's more in that one-inning mode to get ready for the season."
Most of the Reds' bullpen roles are yet to be defined, with the lone exception being Chapman. He is a three-time National League All-Star closer who had 36 saves with 38 tries with a 2.00 ERA over his 54 appearances last season.
Price used Chapman for more than one inning only three times last year, in part because former eighth-inning setup man Jonathan Broxton was also very successful. Without Broxton this season, Price did not rule out using Chapman for more than three outs.
"This year, based on how things go, there might be opportunities," Price said. "He's certainly up to the task."
Mark Sheldon is a reporter for MLB.com. Read his blog, Mark My Word, and follow him on Twitter @m_sheldon. This story was not subject to the approval of Major League Baseball or its clubs.