CarGo not concerned about left knee day after exit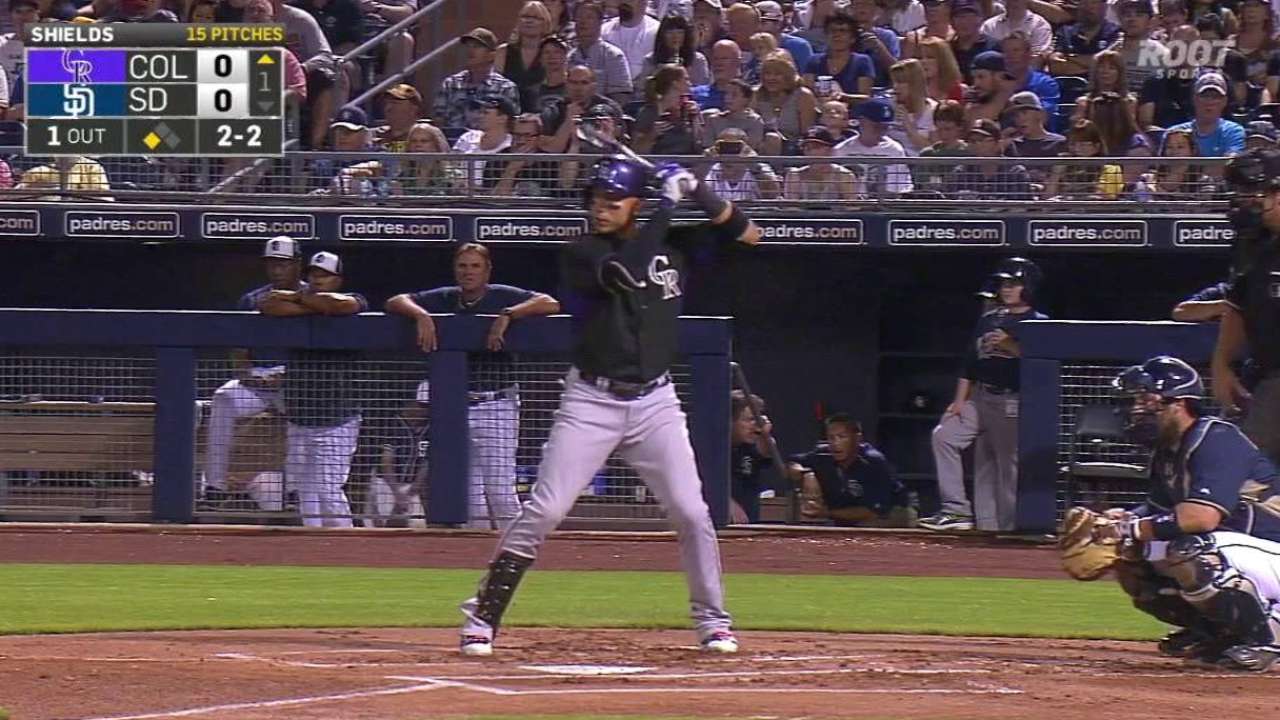 SCOTTSDALE, Ariz. -- Rockies outfielder Carlos Gonzalez said the left knee soreness that forced him from Friday night's game was from fatigue. He doesn't anticipate any lasting issues.
Gonzalez underwent surgery last August to repair the patellar tendon in his left knee. Gonzalez was ready for Spring Training games sooner than expected, and has performed well (.333, three doubles in 27 at-bats entering play Saturday). He felt the soreness after chasing down a third-inning fly ball and making a throw during Friday night's 7-5 loss to the Padres, and left the game after his following at-bat.
But after a workout Saturday morning, Gonzalez's mind was at ease.
"It scared me at the moment, because [the prior injury is] the first thing that comes to your mind," Gonzalez said. "Now I feel good. I woke up today stronger. I'm ready to go."
During the regular season, especially early, manager Walt Weiss will be monitoring the playing time of Gonzalez and shortstop Troy Tulowitzki (left hip labrum surgery in August), looking for rest opportunities. Gonzalez said he will communicate with Weiss and the training staff, but he'll want to play all the time. That means Weiss will have to hold Gonzalez back at times.
Gonzalez was not in the lineup Saturday afternoon against the Cubs, but most likely would not have started. It's a Spring Training day game after a night game. But during the regular season, Weiss will look for similar opportunities to rest Gonzalez and Tulowitzki.
"That's up to me to make sure we don't overload these guys," Weiss said. "A lot of that just comes down to communication."
To help protect the knee, Gonzalez has an extensive exercise program before and after games. He also dropped from 235 pounds -- his weight last season, when he also underwent surgeries for appendicitis and a benign tumor in his left index finger -- to 210.
Gonzalez has not homered this spring, but for the early part of camp, his signature leg kick was not as pronounced as usual. Feeling healthier, Gonzalez is putting more weight on his left leg, which is the support leg for his swing. The lack of health was a reason he dipped to a .238 batting average and 11 home runs in 70 games before surgery last year.
"Putting yesterday's game behind -- of course, I felt fatigue -- the games before that I felt I was really getting back there and driving the ball," Gonzalez said. "I'm missing a couple of balls. The day we played the Giants, I hit one to center field that I stayed longer on my back side. It was a warning-track fly ball. Those are the balls. I barely missed it, but I got power behind it."
Thomas Harding is a reporter for MLB.com. Read his blog, Hardball in the Rockies, follow him on Twitter @harding_at_mlb, and like his Facebook page, Thomas Harding and Friends at www.Rockies.com. This story was not subject to the approval of Major League Baseball or its clubs.