Williams struggles in Grapefruit loss to Twins
Right-hander allows four earned runs on nine hits over four-plus innings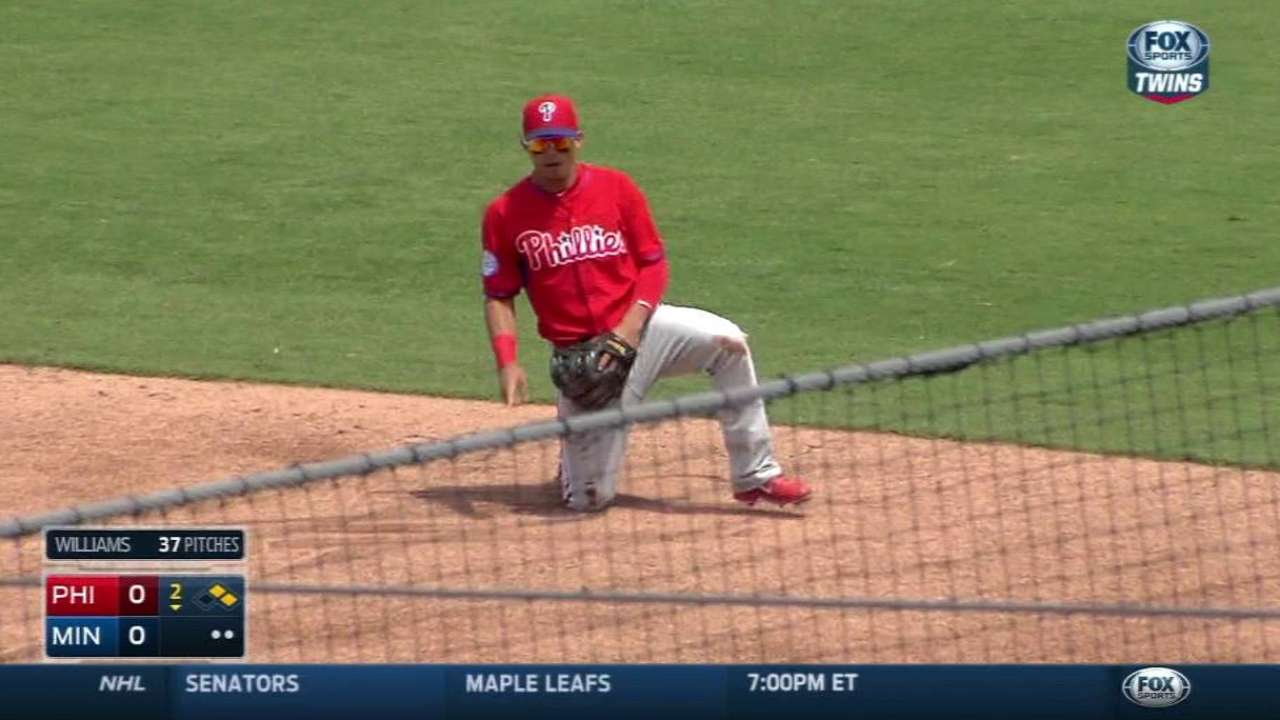 FORT MYERS, Fla. -- Ervin Santana tossed six strong innings and Joe Mauer crushed a two-run homer to help lead the Twins to a 7-1 win over the Phillies on Saturday at Hammond Stadium.
Santana, making his fourth Grapefruit League start, gave up just one run on five hits while striking out two. The lone run he allowed came in the third inning on an RBI single from Odubel Herrera to score Cesar Hernandez, who led off the inning with a double.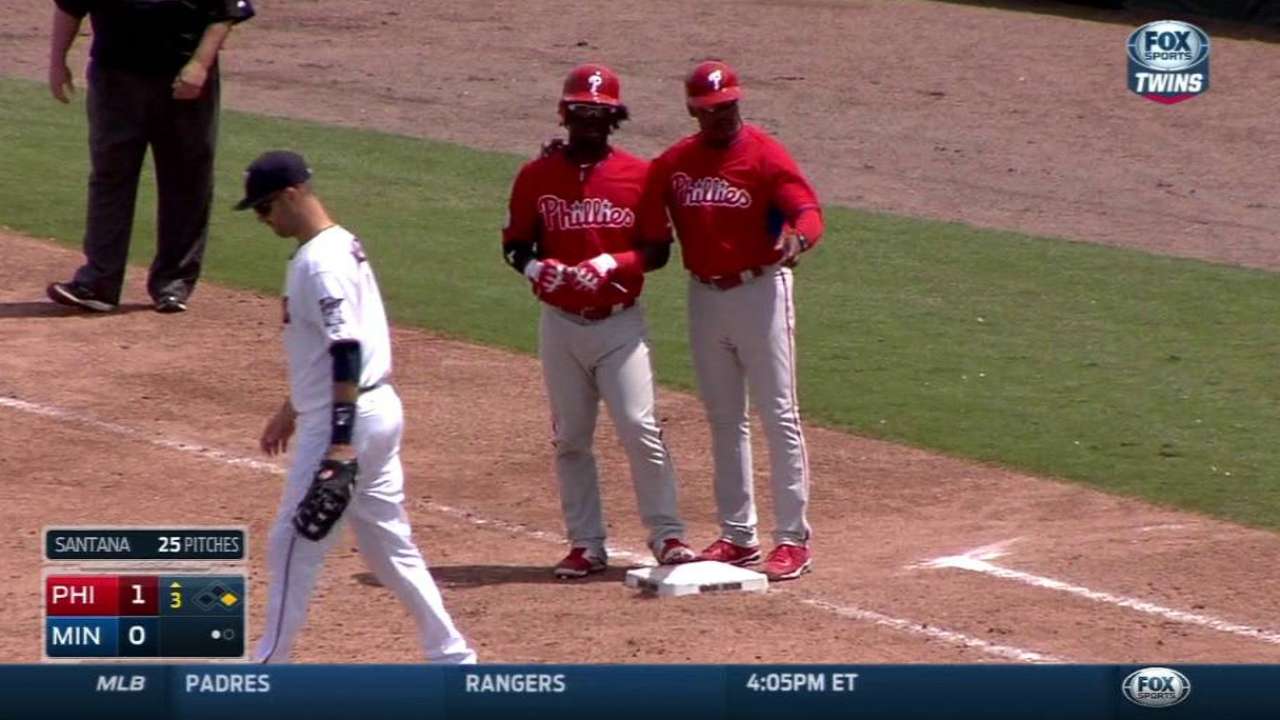 "Everything was good," Santana said. "I was keeping the ball down for the most part. A couple times it was up, but that happens. But everything was good."
He fared better than Phillies right-hander Jerome Williams, who surrendered six runs (four earned) on nine hits and two walks over four-plus innings.
The Twins took the lead with a three-run third inning when Brian Dozier led off with a single and scored on a double from Eduardo Escobar. Kennys Vargas brought home Escobar on an infield single that hit off the second base bag. The Twins got their third run of the inning thanks to an error from Hernandez on a grounder hit to second base by Eduardo Nunez. After the error prolonged the inning, Shane Robinson came through with an RBI single.
Mauer gave Minnesota two insurance runs with a deep blast to right field off Hernandez in the fourth. It was the first homer of the spring for Mauer, who went 2-for-3 on the afternoon.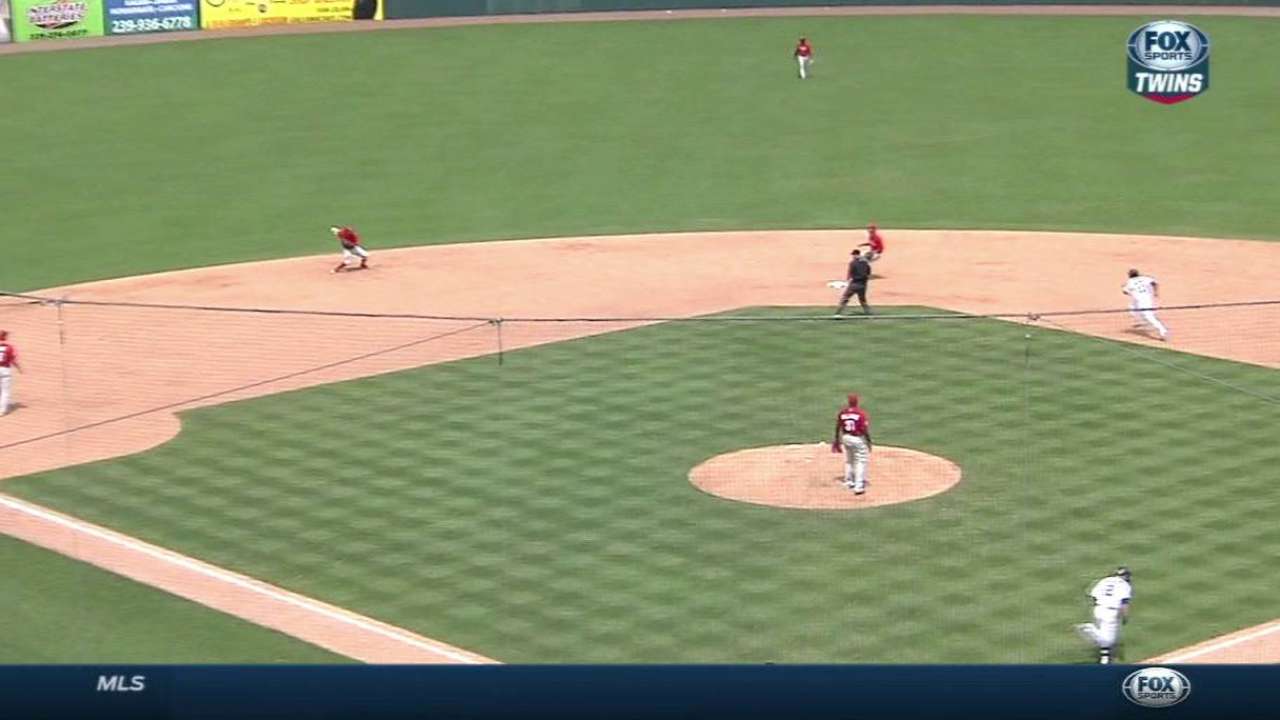 The Twins scored again in the fifth on a sacrifice fly from Jordan Schafer, which was keyed by a throwing error from third baseman Cord Phelps.
Up next: Aaron Harang, hampered by back issues earlier this spring, makes his fourth start on Sunday against the Tigers and Anibal Sanchez at Bright House Field on MLB.TV at 1:05 p.m. ET. The 36-year-old Harang, who was scratched from two of his first three scheduled starts, made his big league debut with the Oakland A's in 2002 and pitched for seven teams before signing a one-year contract with the Phillies on December 30. Only nine active Major League pitchers have amassed more than his 2,149 2/3 innings.
Rhett Bollinger is a reporter for MLB.com. Read his blog, Bollinger Beat, and follow him on Twitter @RhettBollinger. This story was not subject to the approval of Major League Baseball or its clubs.