Reds' plan for Cuban righty Iglesias yet to be determined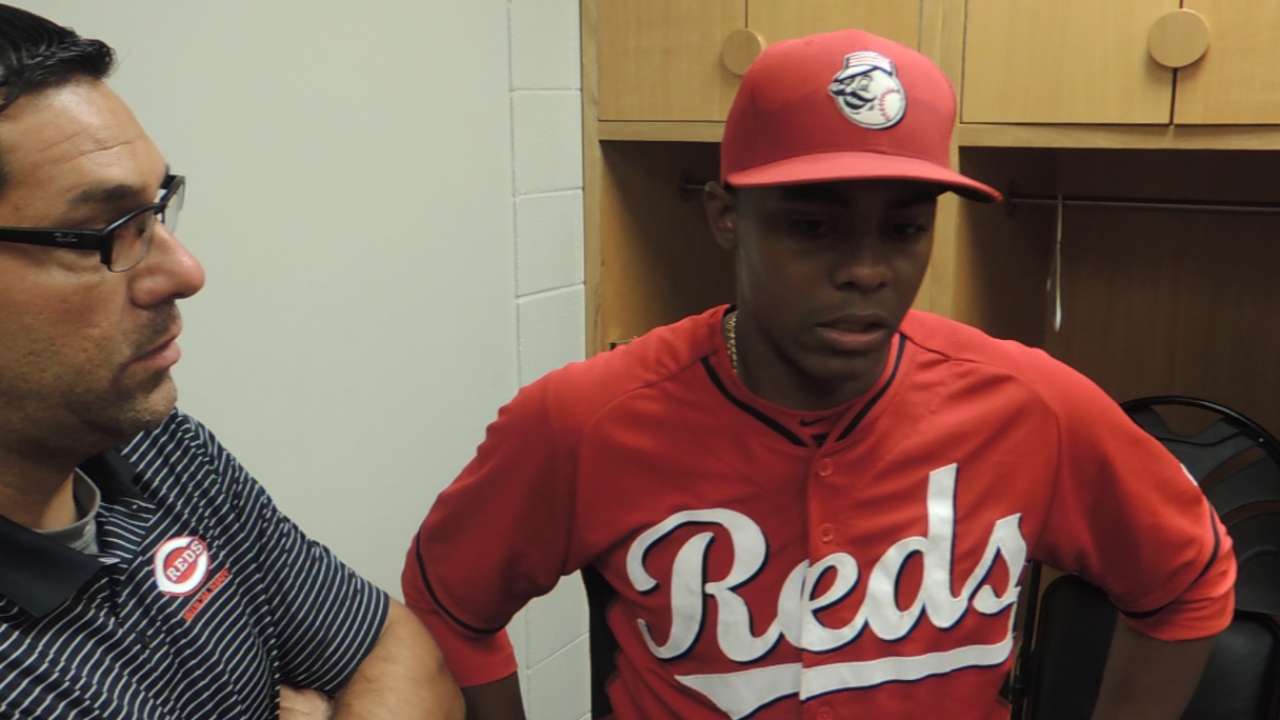 GOODYEAR, Ariz. -- As the Reds contemplate their roster decisions in the final week of Spring Training, one of the more complex issues clearly involves rotation candidate Raisel Iglesias.
If Iglesias doesn't make the rotation, would he go into the bullpen as a long reliever? Or, would last summer's Cuban signing be best served going to Triple-A Louisville to be developed as a starter?
"I imagine he might be a little of both this year, and where he does it, I just don't know yet," Reds manager Bryan Price said on Saturday.
Because he's never pitched in the Majors, Iglesias' starts and innings total would likely be limited. In that respect, it makes him similar to prospect Michael Lorenzen. Both appear to be fifth-starter candidates, likely holding the spot until Homer Bailey (September elbow surgery) returns from the disabled list after missing one or two starts. What happens after that is another mystery.
"We'd be hard pressed to throw him out there for 30-plus starts at any level and think we're going to be able to control his innings to a level we're comfortable with," Price said of Iglesias.
In six spring games, including three starts, Iglesias has been inconsistent at times. He started off Friday's loss to the Brewers with three straight rocketed hits in the top of the first inning, including a pair of home runs.
"He needed to be more effective with the location of his fastball," Price said. "That's something we did see in the [Arizona Fall League] and instructional league, better command of the fastball in the strike zone. We know it's in there. But his fastball command hasn't been as good as we have seen in the past. We're working on helping him improve."
Iglesias, who signed a seven-year contract worth $32 million last June, has a 3.68 ERA over his 14 2/3 spring innings with 14 hits, five walks and 14 strikeouts. Over his five games, Lorenzen has a 1.64 ERA in 11 innings with eight hits, eight walks and seven strikeouts.
The Reds won't need a fifth starter until April 12 vs. the Cardinals. They could put off the decision by having their fifth starter begin the season with Louisville to stay sharp and add an eighth reliever or a sixth bench player to the 25-man roster in the meantime.
"There's chances we can do a lot of finagling with the roster before that [April 12] start," Price said. "We'll just have to see what options we have. We still haven't made our decision on who that guy [for the fifth rotation spot] is going to be."
Mark Sheldon is a reporter for MLB.com. Read his blog, Mark My Word, and follow him on Twitter @m_sheldon. This story was not subject to the approval of Major League Baseball or its clubs.