MLB.com Columnist
Lyle Spencer
Rios feels sky-high about 2015 Royals
After down season, veteran outfielder is rejuvenated in Kansas City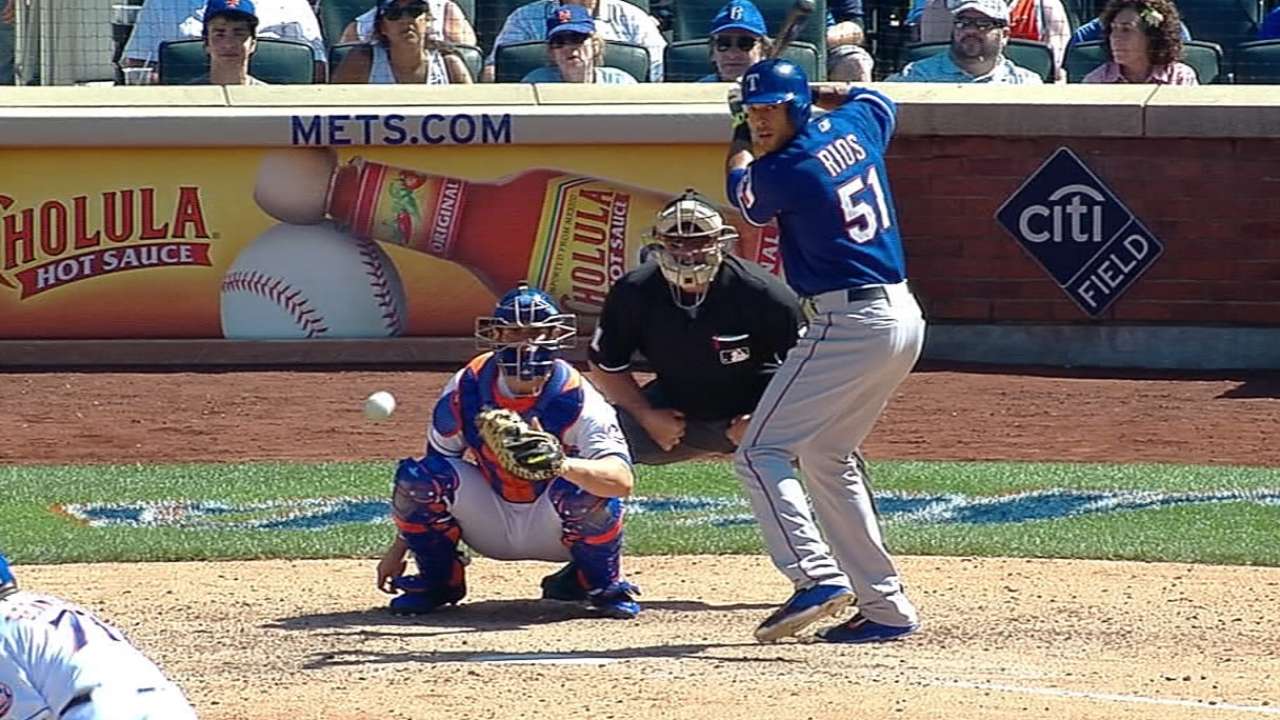 SURPRISE, Ariz. -- In the company of one of the liveliest bands of players in baseball, Alex Rios is reinvigorated. The American League champion Royals are taking the graceful, athletic right fielder back to his youth following a dark, injury-derailed season in Texas.
"I'm 34 years old," Rios said, "and I feel like a 20-year-old kid."
A recurrence on Wednesday night of the pain in the right thumb that required surgery and stripped Rios of his customary power last year might concern fans, but his spirits are undiminished. He's sky-high about this season and this team.
"I'm very optimistic," he said. "I didn't really hurt it, just irritated it. I consider it minor. If it was the regular season, I would be able to play today.
"I've played against these guys a long time, and I know what they have. It's exactly what I thought it would be here. These guys want to have fun, but when it's time to play, they get serious. They know how to get the job done."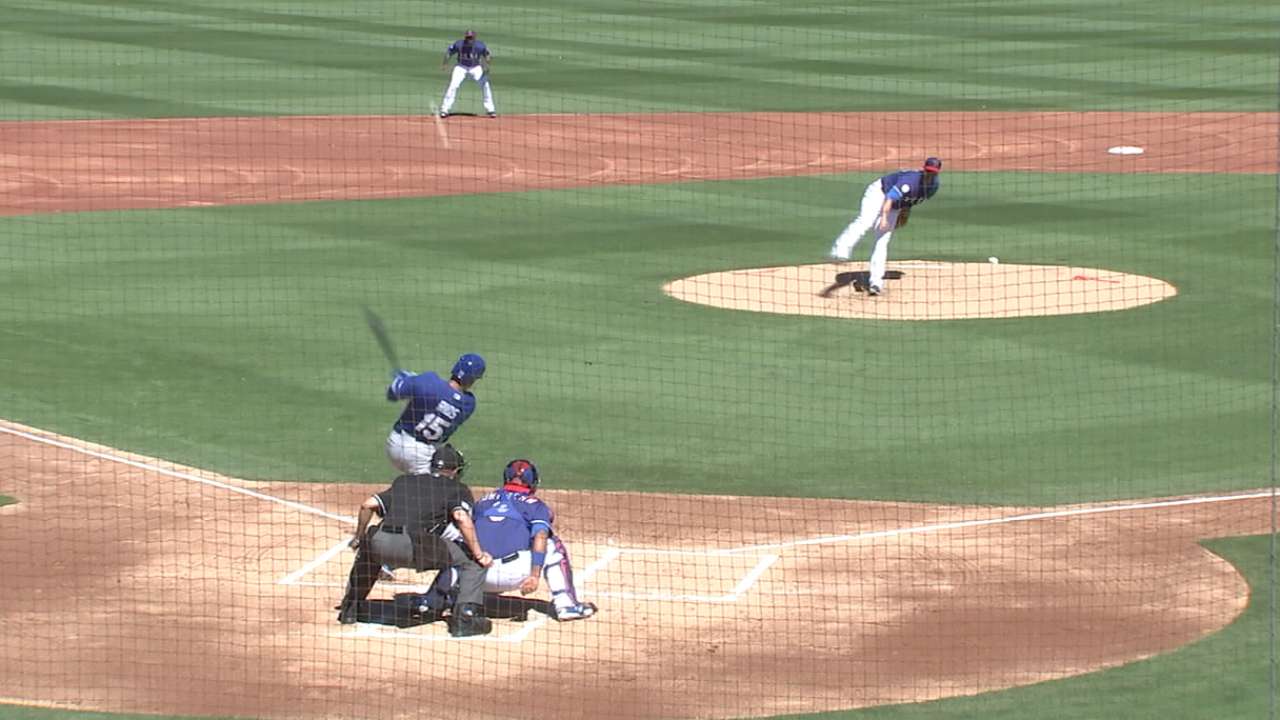 If Rios is able to rebound to his old form -- and he has given every indication this spring that the life is there in his body and bat -- the Royals will look wise for investing $11 million in his versatile services for 2015 after losing Nori Aoki to free agency and the Giants.
Only second baseman Omar Infante has more Major League service time among the youthful Royals than Rios, who has brought the whole package to his teams since 2004. The Royals have another burner at the disposal of manager Ned Yost.
"I can still run the bases well," Rios said. "I had [42] steals two years ago [dividing time between the White Sox and Rangers], and it's something I plan to take advantage of the rest of my career."
While his .280/.311/.398 slash line last season fell well below his standards, there were reasons for the slippage apart from the jammed thumb that made it difficult to drive the ball.
Decimated by injuries, the Rangers experienced a team-wide malaise -- only Adrian Beltre performing to his customary level. Rios slipped to four home runs from 25 and 18 the previous two seasons, driving in only 54 runs after producing 91 and 81 RBIs in 2012 and '13, respectively. He did hit 30 doubles and eight triples and stole 17 bases, indicating he still can get around the bases.
"It's just a matter of putting all the things together," Rios said. "Sometimes when things don't go right, people forget about what you've done. They always like to talk about the young guys coming up."
Rios is in the midst of a promising spring with a .333/.349/.619 slash line through 15 games, delivering three homers and three doubles. His versatility makes him a candidate to hit anywhere in the lineup.
A motivated Rios, producing along the lines of his .278/.323/.439 career norm, scores runs, averaging 86 per 162 games, and drives them in (78 per 162). He'll fit right into the game's most athletic defensive outfield, joining Alex Gordon, Lorenzo Cain and Jarrod Dyson.
"I'm going to get to see that live, how they do their magic on a daily basis," Rios said. "It's going to be exciting to be part of that. What they did in the postseason, that was really incredible."
Fellow Royals free agent import Kendrys Morales, also coming off a down season in Minnesota and Seattle, feels he and Rios can generate power production.
"We can help this team score runs," said Morales, the primary designated hitter in Billy Butler's absence. "Last year wasn't good for Alex and me, but we know what we can do. This is a great bunch of guys. We're going to have fun and win a lot of games."
One thing is certain: Rios and Morales already are smiling a lot more than they were last year.
"You can absorb all that energy from these guys -- it's contagious," Rios said. "You come to the field every day with enthusiasm and optimism. These guys are delivering that."
The loss of ace James Shields to the Padres via free agency is a blow, but Rios is aware of what Edinson Volquez can do and sees Yordano Ventura as a rising star. There's also the security provided by Salvador Perez, one of the game's elite catchers, running the show.
"Pitchers and catchers control the game," Rios said. "When you have a guy like Salvador Perez catching, he's got a great relationship with the pitching staff. They know it's good to have a guy like that who can take care of everything behind the plate. He's a leader of this team."
Rios has played 1,586 big league games across 11 seasons and is driven to feel the magic of October baseball. He believes he has come to the right place.
Lyle Spencer is a national reporter and columnist for MLB.com. Follow him on Twitter @LyleMSpencer. This story was not subject to the approval of Major League Baseball or its clubs.