Soler could be Maddon's man in 2-spot
New Cubs skipper has been impressed by young right fielder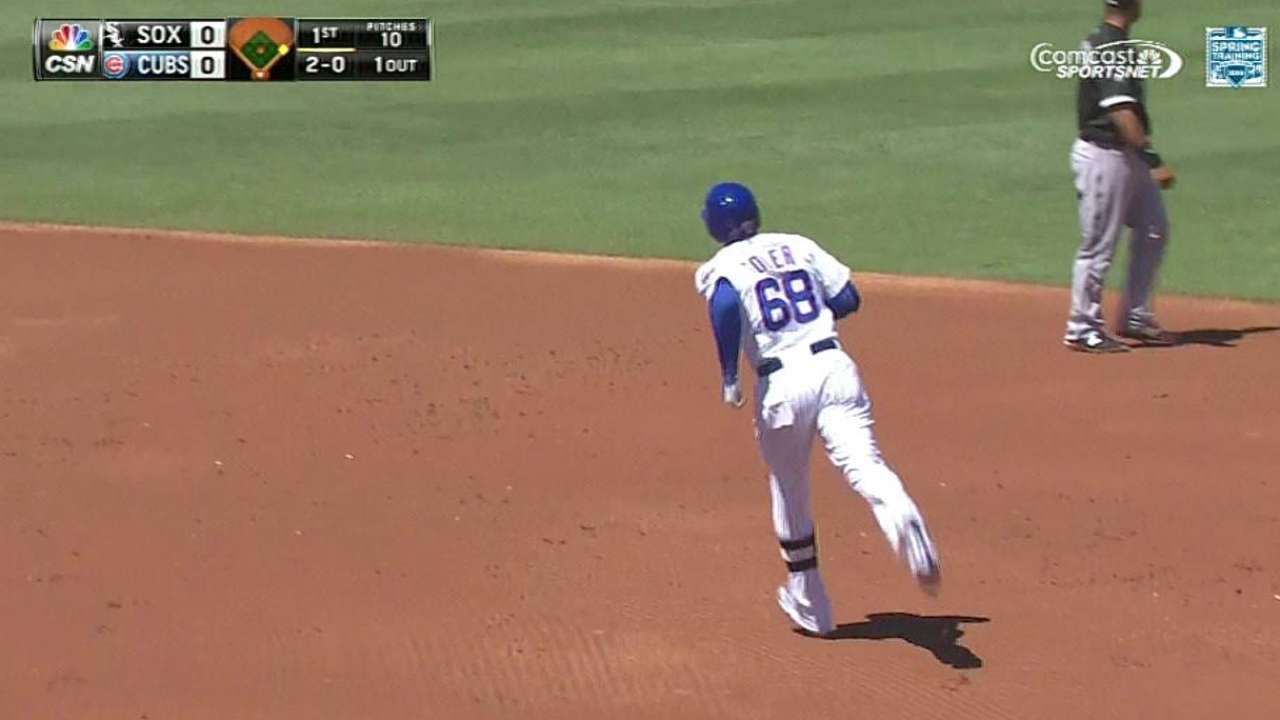 MESA, Ariz. -- Manager Joe Maddon may be closer to finding the "mystery man" to fill the No. 2 spot in the Cubs lineup, and it might not be who you'd imagine.
While Chris Coghlan is a strong candidate for the spot, Maddon has other ideas.
"An out-of-the-box candidate could be [Jorge] Soler," Maddon said of the right fielder. "With him, it goes beyond his power. This guy looks over a baseball now. This guy has great decision-making ability at the plate. That bleeds into either you're driving in the second leadoff hitter plus one, or he's setting up somebody after him because the guy is going to take his walks.
"He's a really interesting baseball player," Maddon said. "I'd heard good things, but his impression on me has been really strong."
Kris Bryant has been the focus of attention in camp. Soler, 23, who was batting .333 this spring with three home runs in 14 games, has been playing under the radar.
"Beautiful for George," Maddon said. "The fact that he doesn't really understand or speak English very well could work in his favor right now. He's a beautiful man. I really, really enjoy the way he is. He's like Vladimir [Guerrero] with plate discipline."
The Cubs have made sure to watch Soler's innings to avoid any leg injuries, which hindered him the past two springs.
"As a scout, my God, if he was in U.S. as a Draft choice, he'd be the No. 1 pick, there's no doubt," Maddon said. "No. 1 overall. I'm impressed with how he is, too. He's just a great guy."
Carrie Muskat is a reporter for MLB.com. She writes a blog, Muskat Ramblings, and you can follow her on Twitter @CarrieMuskat. This story was not subject to the approval of Major League Baseball or its clubs.