Mets taking cautious approach with Black comeback
Given injuries, team fears rushing reliever back too soon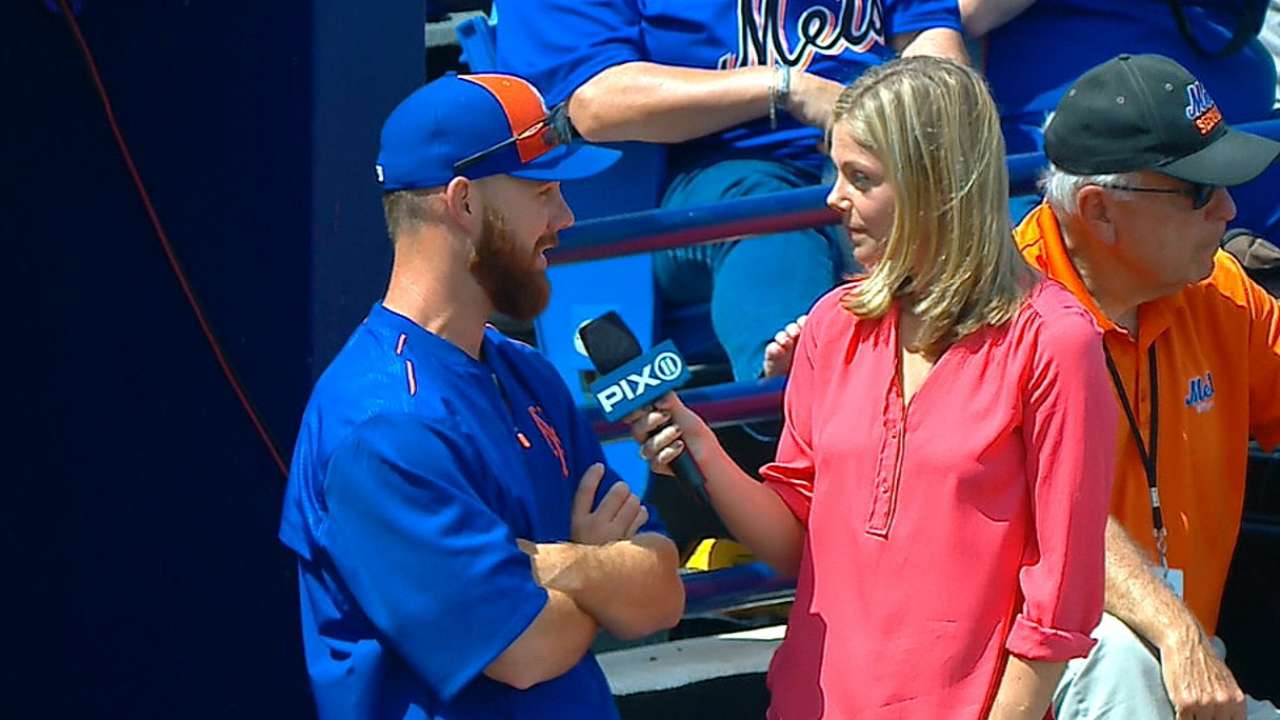 PORT ST. LUCIE, Fla. -- Though Vic Black enjoyed a successful return to the mound on Saturday, throwing a 22-pitch bullpen session late in the morning, his status for Opening Day remains tenuous. Black is looking at a progression that would have him return to game action next Wednesday, leaving essentially no margin for error between now and April 6.
"I'm good with what they end up deciding to do," said Black, who threw off a mound for the first time since the Mets diagnosed him with right shoulder tendinitis in mid-March. "The joy here is that my arm feels great, which means that I can help the team out when the time comes."
As long as Black does not experience any setbacks, he could conceivably pitch in a game on Wednesday, rest Thursday, then appear in back-to-back games on Friday and Saturday. That would give him one final day of rest before Opening Day.
But the Mets reserve the right to slow that progression, wary of losing another late-inning reliever to injury -- and knowing that if they place Black on the disabled list, they could back date the assignment far enough that he would be eligible to return April 12 in Atlanta.
"He's very close," pitching coach Dan Warthen said, "but I don't know that he's going to make the time limit."
"He'd have to make huge strides fast," manager Terry Collins said. "I don't see him facing hitters until Wednesday, so how many innings can you get him?"
The Mets have reason to want Black in their Opening Day bullpen, knowing they will already be without both Bobby Parnell and Josh Edgin. But while Edgin is done for the season following Tommy John surgery, Parnell is making significant progress in his rehab from a similar injury. Though Parnell recently said he is shooting for early May, Warthen noted that April remains in play.
"Right now, I'm thinking he's going to be very close to ready in late April, early May," the pitching coach said. "If we're lucky enough it might be a little sooner than that. Everything is feeling great right now."
The Mets will open this season with Jenrry Mejia at closer and Jeurys Familia as their setup man. Beyond that, nothing is set, though Rafael Montero and Carlos Torres could both see significant high-leverage opportunities if Black opens the year on the DL. Buddy Carlyle is also a strong bet to make the bullpen.
Worth noting:
• Regardless of whether Daniel Murphy's strained right hamstring heals in time for Opening Day, the Mets will not use him in Grapefruit League games to ensure they can backdate any DL stint to the maximum. "The one thing we've got to realize is that this game is about legs, especially if you play the way that Daniel Murphy plays," Collins said. "We've got to be very, very careful this time of year to where if his legs aren't underneath him, and they aren't in good enough shape, we risk the chance of losing him for more than seven or 10 days."
Anthony DiComo is a reporter for MLB.com. Follow him on Twitter @AnthonyDicomo. This story was not subject to the approval of Major League Baseball or its clubs.