Trout puts on a show with glove and bat vs. Dodgers
Angels center fielder homers and Aybar tacks on with long ball of his own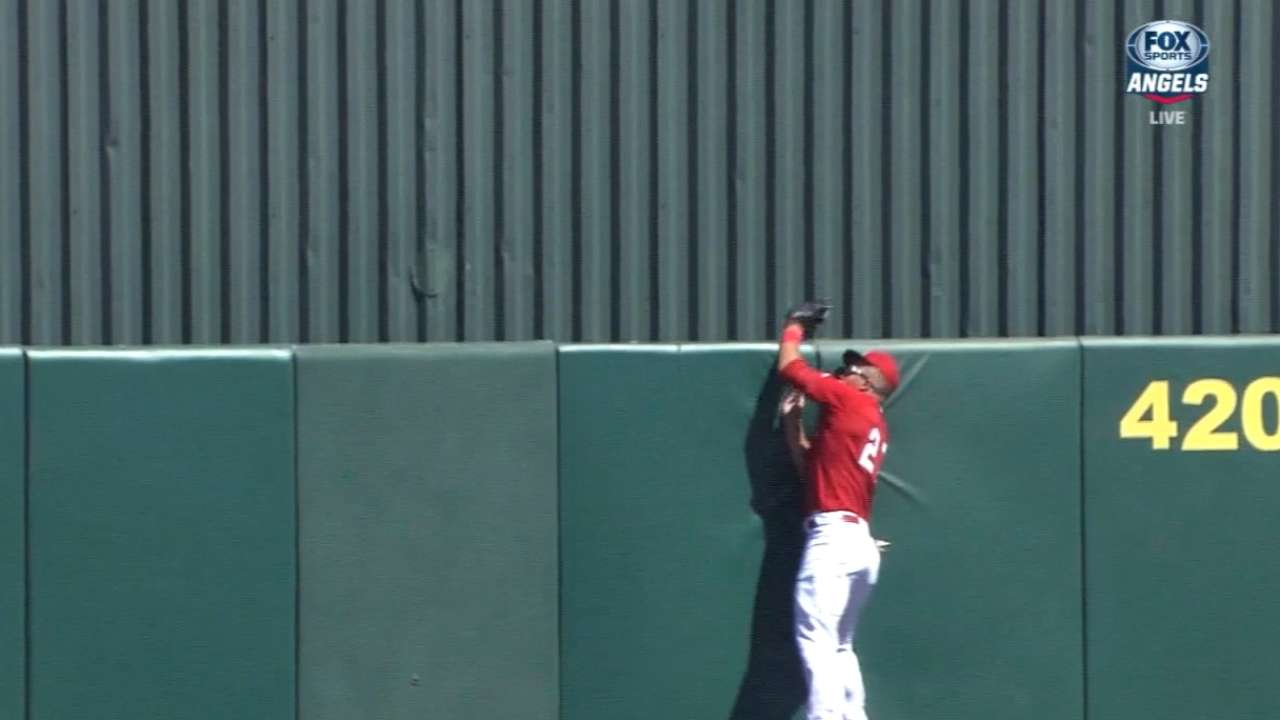 TEMPE, Ariz. -- Joc Pederson and Alex Guerrero each homered as the Dodgers beat the Angels, 5-4, on Saturday at Tempe Diablo Stadium.
Erick Aybar and Mike Trout homered for the Angels, who out-hit their Los Angeles counterparts, 11-9, but couldn't sustain a rally.
Pederson started the home-run barrage in the second inning, taking Angels starter Matt Shoemaker's offering deep to left-center field for a two-run homer, his fifth of the spring.
Guerrero -- who was robbed of a home run by Trout in the first inning -- also launched a homer to deep left-center field, his third.
Trout hit a similar homer in the fifth inning, while Aybar homered in the second.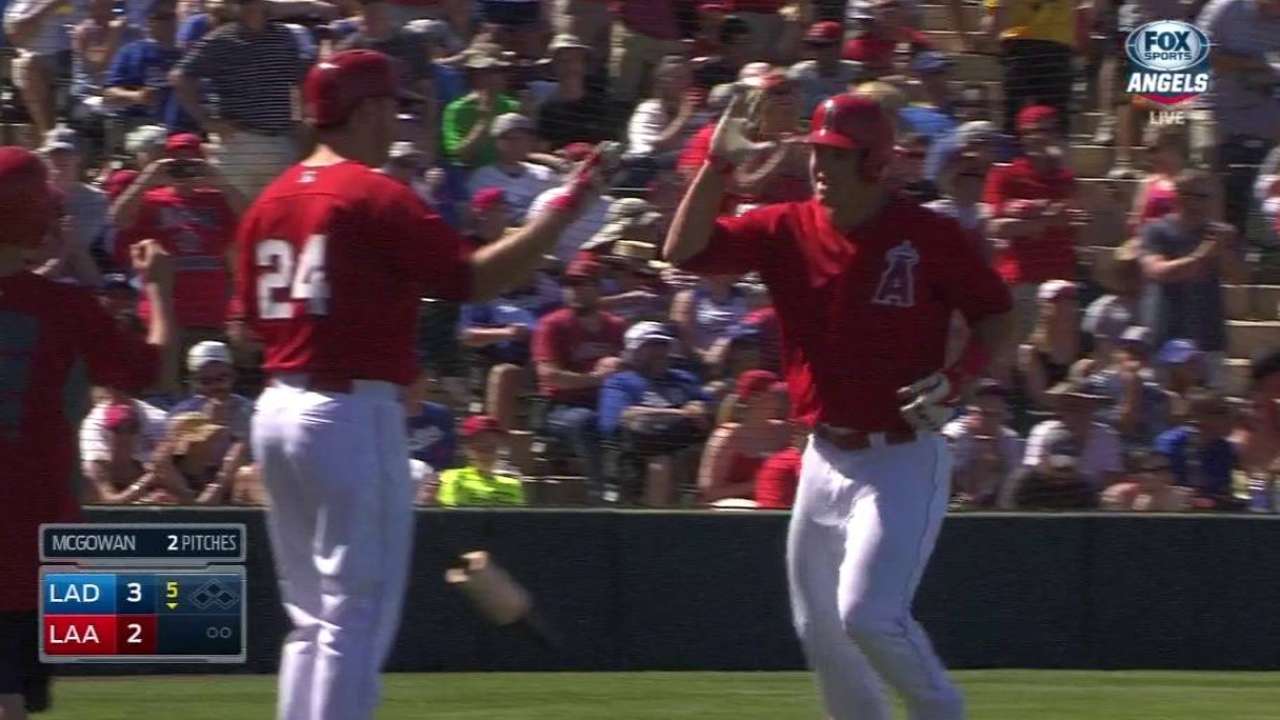 The Angels had two runners on in the third and fourth innings but couldn't score.
The Dodgers added an insurance run in the seventh when Chris Heisey doubled off of Jose Alvarez, driving in Lars Anderson. They tacked on another in the eighth, when Ralph Henriquez doubled off Huston Street to drive in Paul Hoenecke.
The Angels threatened in the eighth, but settled for one run. Johnny Giavotella led off with a triple off of B.J. Rosenberg and scored after Daniel Robertson singled.
The Halos again made noise in the ninth, when Taylor Featherston led off with a double off of Ryan Buchter and advanced to third on a wild pitch. After Efren Navarro struck out, Featherston scored on a sac fly from Josh Rutledge. The game ended when Marc Krauss struck out.
"Everybody got their work in," Angels manager Mike Scioscia said. "It was hot. We did some things that are starting to show up on the field and some things we need to improve on."
Dodgers left-hander David Huff allowed one run on six hits in 3 1/3 innings.
Shoemaker allowed three runs on four hits in six innings, striking out two.
"He got to be where he needed to be," Scioscia said of his starter. "Threw some more pitches down [in the bullpen]. All in all, probably threw over 80 in the game and 15 down there. Up seven times. It was where we wanted Matt to be and as the game went on he got better."
Up next: Top prospect Andrew Heaney makes his fifth start of the spring as the Angels host the Reds at 12:10 p.m. PT on Sunday at Tempe Diablo Stadium. The game airs on MLB.TV. The young lefty has shown flashes, but has been burned by a bad inning in each of his last two starts. David Freese, out since hyperextending his left elbow Tuesday, should return to the lineup.
Cash Kruth is a reporter for MLB.com. Follow him on Twitter at @cashkruth. This story was not subject to the approval of Major League Baseball or its clubs.