Gregorius to take time off with wrist sprain
Yankees shortstop injured diving for ground ball against Orioles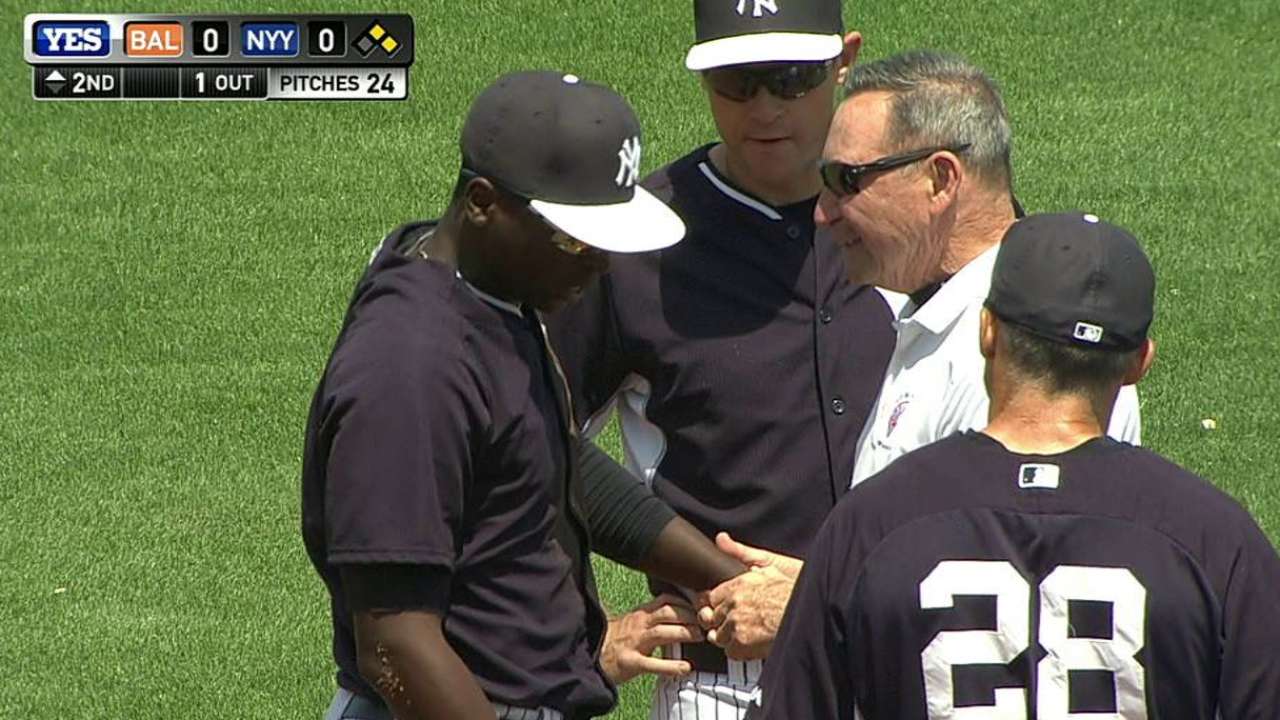 TAMPA, Fla. -- The Yankees are hopeful that rest will help Didi Gregorius' sprained left wrist after the shortstop was injured diving for a second-inning ground ball Saturday against the Orioles.
Precautionary X-rays were negative, and Yankees manager Joe Girardi said his plan is to give Gregorius three days off, aiming to get him back into action Wednesday.
"I was worried," Gregorius said. "Now that everything is fine, there's nothing to worry about."
Gregorius stayed in the game after coming up short in his attempt to corral Everth Cabrera's single to left field, waving off athletic trainer Gene Monahan and manager Joe Girardi after an examination on the field, but was replaced by Nick Noonan in the fifth inning.
"You see more with outfielders than you do infielders, but whenever a guy dives now, I kind of hold my breath when they dive headfirst," Girardi said.
Gregorius said he was unable to hold his bat on a check-swing, but he had no trouble with full swings. He is thankful the injury was not more serious.
"If you see the video, I was almost rolled completely over it," Gregorius said. "I had to roll with it, otherwise I think it would have snapped or something. It was fine after that."
Gregorius has been envisioned as the Yanks' Opening Day shortstop since being acquired from the D-backs in December, taking over the position following Derek Jeter's retirement. He is batting .300 (12-for-40) with four doubles, two triples and six RBIs in 17 games this spring.
Girardi said if Gregorius' injury turns out to be a lingering issue, his first thought would be to use Brendan Ryan at shortstop. Stephen Drew has been used strictly as a second baseman this spring, though Girardi said it would be like "riding a bike" for Drew to reacclimate to shortstop if necessary.
"I think you keep Drew at second and Brendan at short just because Drew's played there now a lot more, and Brendan's played mostly short in his career," Girardi said.
Bryan Hoch is a reporter for MLB.com. Follow him on Twitter @bryanhoch and read his MLBlog, Bombers Beat. This story was not subject to the approval of Major League Baseball or its clubs.