Shields' seventh Opening Day start promises to be special one
New Padres pitcher to face Kershaw, favorite childhood team at Dodger Stadium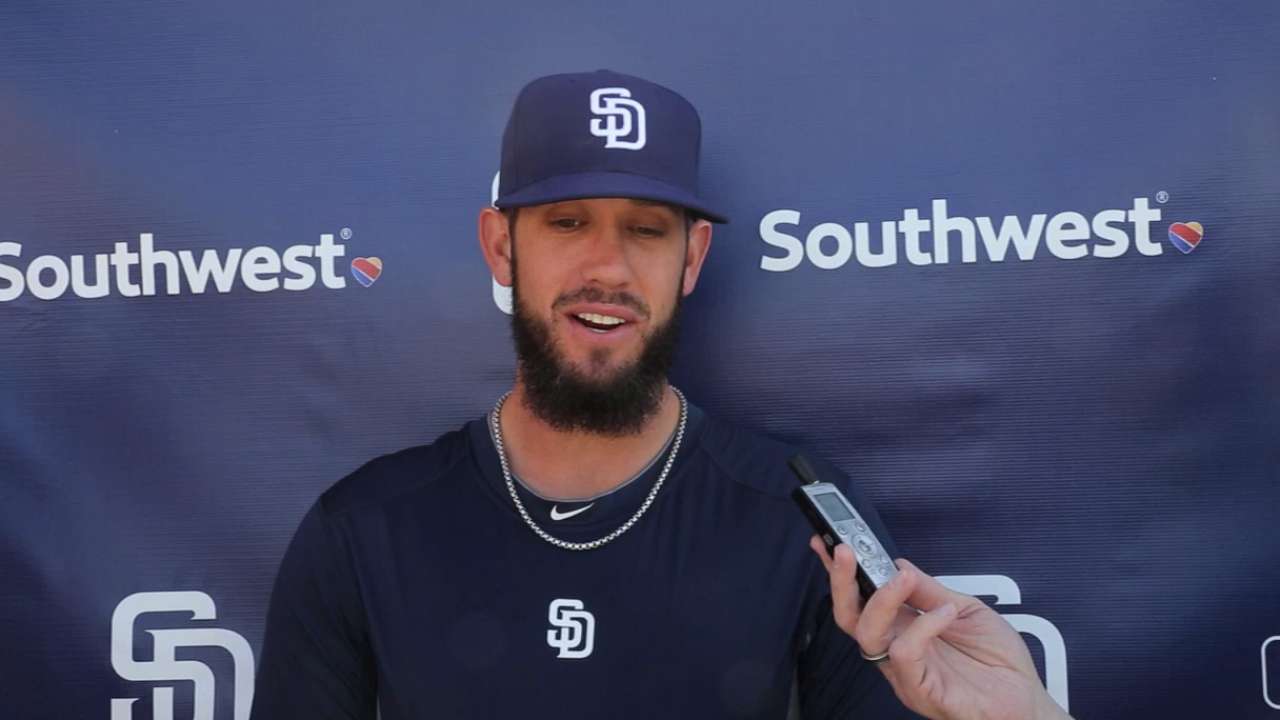 PEORIA, Ariz. -- As a Southern California native, James Shields grew up going to games at Dodger Stadium. But in his nine-year career, he's never once gotten the chance to pitch there.
That will change on Opening Day.
Shields' Padres debut will come on April 6, when the club opens its 2015 campaign in Los Angeles. It'll be the seventh career Opening Day start for Shields, who says it never gets old.
"It doesn't matter how many times you pitch Opening Day, any time you get named Opening Day starter, it's definitely an honor," Shields said. "It's a great day in baseball."
The Padres capped one of the most active offseasons in franchise history by signing Shields to a four-year, $75 million deal in February. He spent the past two seasons in Kansas City, where he helped lead the Royals to the American League pennant.
Shields has developed a reputation as one of the most reliable pitchers in basebabll. He has thrown at least 200 innings in each of the last eight seasons, and he's amassed 114 victories in his 285 career starts -- none of which ever came at his childhood ballpark.
"That was the only stadium, growing up, that I went to," said Shields, who was 14-8 with a 3.21 ERA for the Royals last season. "It's definitely going to be pretty surreal. But I'm sure once the game starts, I'll try to lock it in."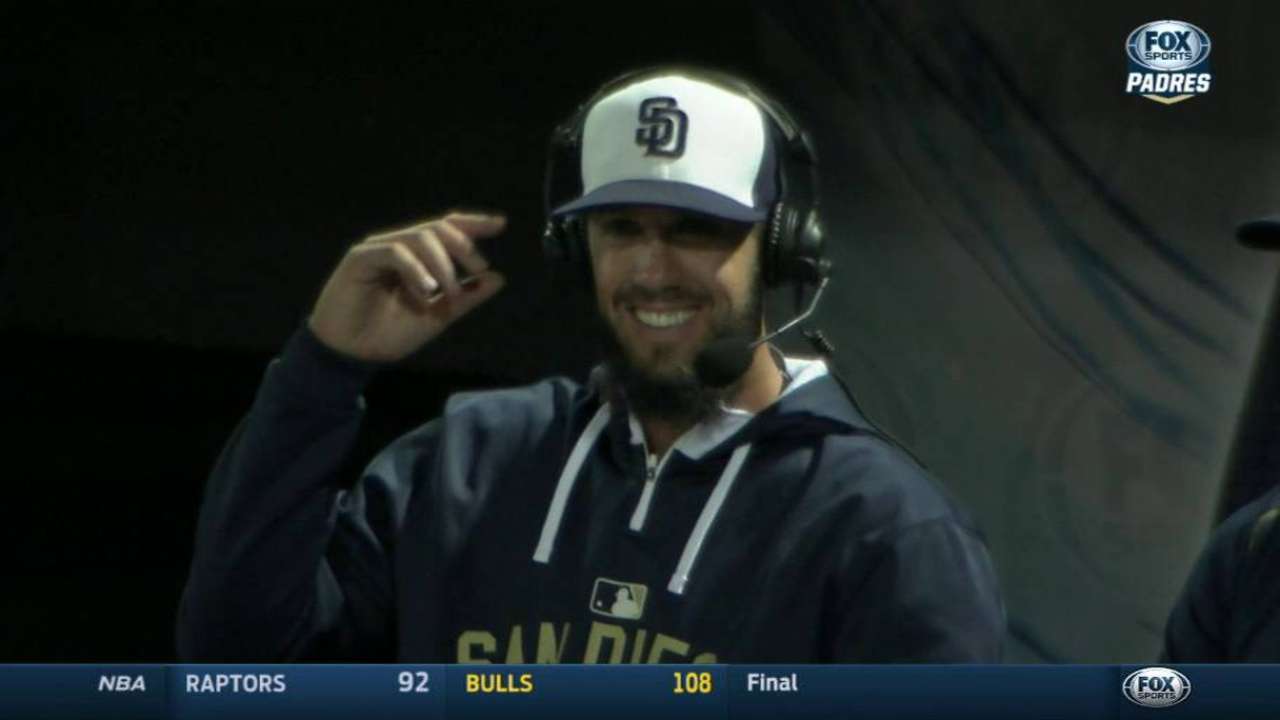 As if there wasn't already enough buzz around Opening Day, Shields opposes Dodgers ace Clayton Kershaw, the National League's reigning Cy Young and MVP Award winner.
"He's one of the best pitchers in the game, if not the best," Shields said. "But I don't really think about who I'm facing. I just think about their lineup and that's all that really matters. If I do my job holding them at bay, I think we've got a great lineup."
In six previous Opening Day starts, Shields is 1-2 with a 5.05 ERA -- though most of the damage came in his four starts with Tampa Bay. Shields recorded quality starts in each of his Opening Day outings for Kansas City, posting an ERA of 3.00.
"This is a feather in the cap for any pitcher who starts Opening Day," said manager Bud Black, who made the announcement at his morning media session. "This will be James' seventh, going back to Kansas City and Tampa, so he's been through this before. He knows how special this day is."
In five Cactus League starts, Shields has recorded a 3.31 ERA, allowing 10 hits in 16 1/3 innings. In his start Friday night against the Rockies, Shields labored a bit, needing 95 pitches to get through 4 1/3 innings.
But more than anything, the Padres were pleased that Shields was able to elevate his pitch count without any issues. He's slated to make one more Spring Training start -- Wednesday against the White Sox -- in what will most likely be a dialed-down finale.
Shields plans to start poring over video and scouting reports of Dodgers hitters in the next few days. He's looking to take full advantage of the extra prep time for the opener. Being an Opening Day veteran, Shields knows what to expect.
"There's a lot of highs and lows in Opening Day, a lot of emotion," he said. "Just try to stay within myself. You can't think too much into it. It's just another game, and we pitch 33-34 times a year."
Black said he's come away very impressed with Shields' demeanor and how he has adapted to life on a new club this spring. It's Shields' third team in four seasons after spending the first seven years of his career with Tampa Bay.
"We really like the way he's gone about it this spring -- not only on the field, but integrating himself with his teammates, getting involved in the clubhouse with the guys," Black said.
There might not be anyone more excited about the news than Shields' two daughters, who haven't missed any of his six Opening Day starts yet. Shields said he plans to pull them out of school once again.
A new team, a new season, a divisional matchup against Clayton Kershaw -- those would all seem to be good reasons for the Shields girls to get the day off.
"It's a big game, for sure," said Shields -- who should know a thing or two about those with a nickname like "Big Game James."
AJ Cassavell is a reporter for MLB.com. Follow him on Twitter @ajcassavell. This story was not subject to the approval of Major League Baseball or its clubs.