Cobb moving forward in his recovery
Ace right-hander expects to be back by the end of April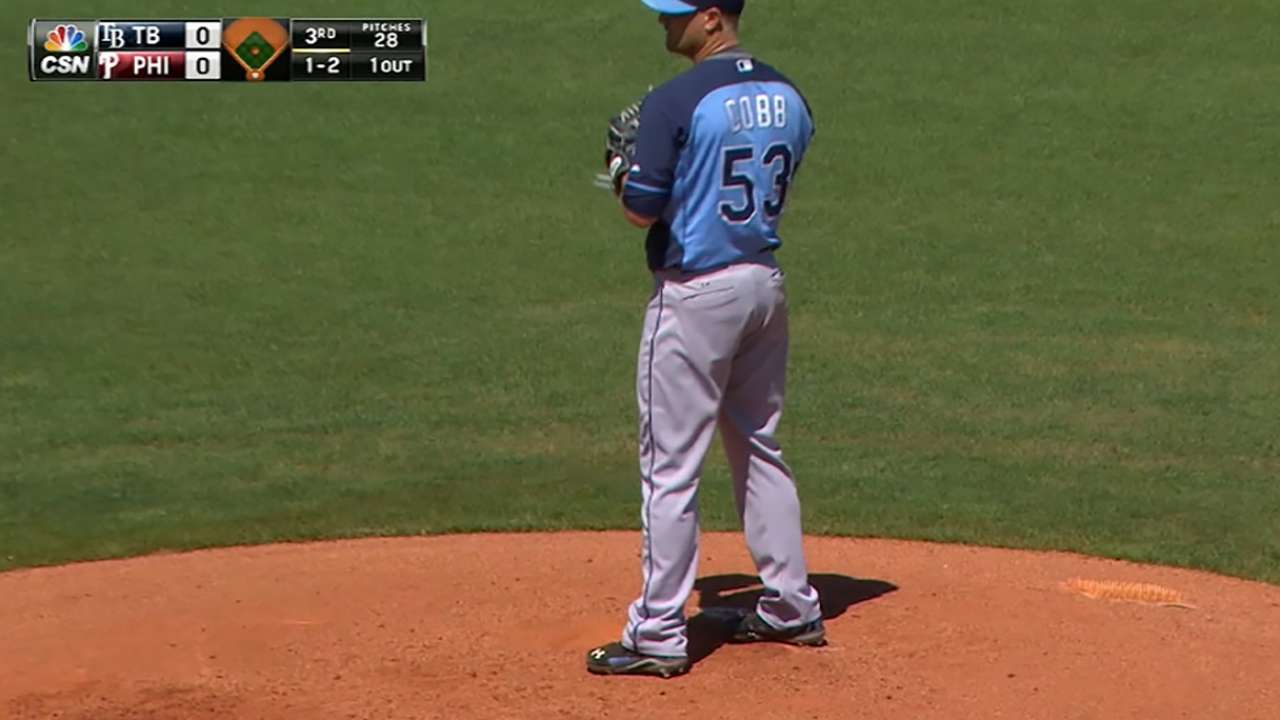 PORT CHARLOTTE, Fla. -- Alex Cobb played catch on Saturday and everything went well.
The right-hander threw 30 pitches and said he expects to be back pitching for the Rays by the end of April.
"My arm has still been sitting for 10 days or so, so [it's]still tight, breaking stuff up in there and throwing," Cobb said. "It's not like I feel like I did the day before I got hurt. That's why there's a build-up process. You throw 30-something pitches today. Take a day off and see where you are from there. But it's exactly where I anticipated it being."
Cobb had been tabbed as the team's Opening Day starter before getting diagnosed with right-forearm tendinitis following his start against the Phillies on March 17.
Cobb played catch on flat ground with head athletic trainer Ron Porterfield. Though he described Saturday's game of catch as being similar to the first day of throwing in the offseason, he painted an optimistic portrait about his return.
"I only took 10 days off and I was already built up to three innings," Cobb said. "So I don't think it will be as lengthy a process to get built back up to those three innings. Once this thing gets going again, it will be quicker to get going to its peak. We're starting at square one. But I don't think there are as many squares to go through."
Others inside the Rays' clubhouse find themselves at various stages of recovery.
Matt Moore (Tommy John surgery) threw 20 fastballs in a bullpen session on Friday. He is still expected back by early June.
Jake McGee (left-elbow surgery) threw 30 pitches on Friday and is expected back by early May.
Alex Colome threw a bullpen on Saturday. After arriving late to camp due to visa problems, he came down with a case of pneumonia. The Rays placed him on the 15-day disabled list retroactive to March 27. That means he'll be eligible to come off the DL on April 11.
Drew Smyly (left-shoulder tendinitis) will throw his fourth bullpen of the spring on Sunday.
Bill Chastain is a reporter for MLB.com. This story was not subject to the approval of Major League Baseball or its clubs.