After MRI shows "something," Vazquez unlikely for Opening Day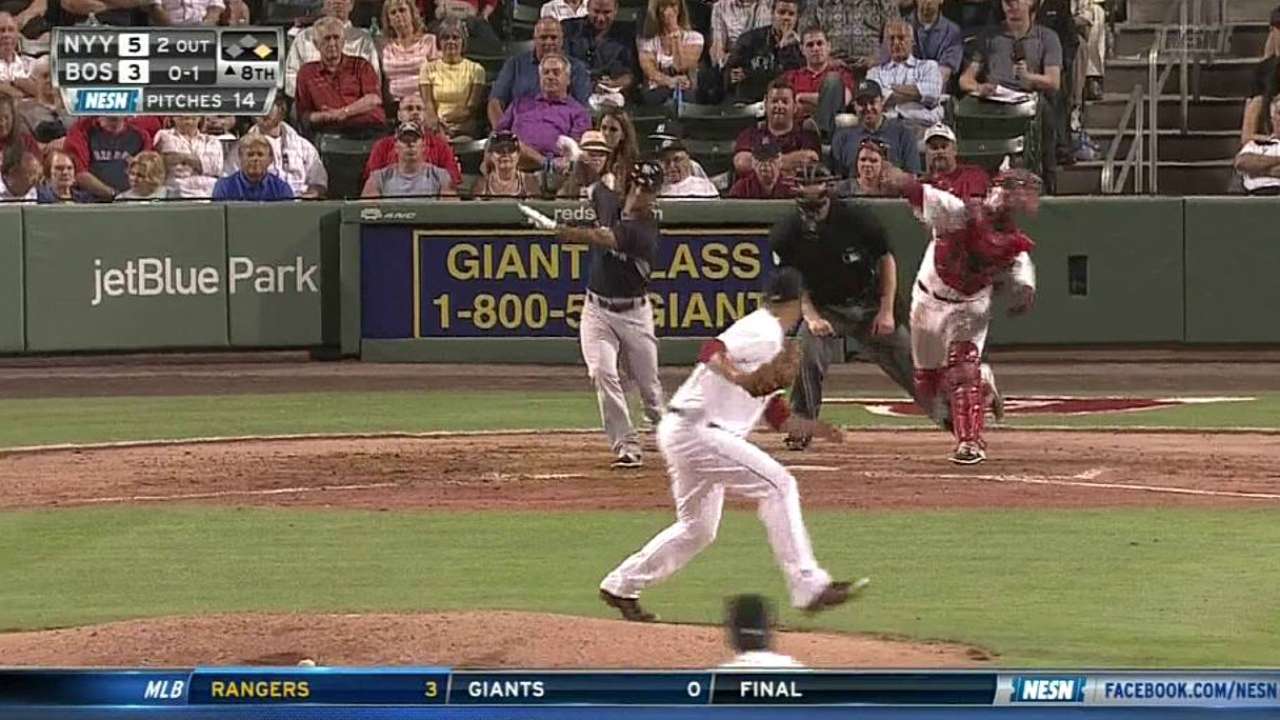 PORT CHARLOTTE, Fla. -- The Red Sox found "something" in the MRI they conducted on Christian Vazquez's right elbow.
That something -- whatever it winds up being -- is all but certain to knock the catcher out of Boston's lineup on Opening Day, and the early part of the season.
"At this point, unlikely," said manager John Farrell. "It's hard to imagine him being ready for Opening Day."
Vazquez, gearing up for his first full season in the Majors, is obviously disappointed.
"They found something," Vazquez said. "I'm looking for a second opinion of what happened. I don't know what happened yet, but they're [evaluating] the MRI."
Is there ligament damage?
"I was not told specifically what was going on there," said Farrell. "We just know that there has been some findings in the MRI. I think before we get too far ahead of ourselves, a second opinion will be had and information compared. But clearly the MRI suggests that there's more information that's going to be had."
Backup catcher Ryan Hanigan will move up on the depth chart in Vazquez's absence. The Red Sox will likely decide between veteran Humberto Quintero or top prospect Blake Swihart for the other catching spot on the roster.
"We'll continue to evaluate the internal candidates," said Farrell. "That means Quintero, that means Swi is going to catch some [in camp], as he's been. It means that Hanigan will probably get more games behind the plate as we get into the start of the season. And that's probably the best I can tell you right now."
Right now, the concern is for Vazquez, who has a big arm and a strong overall skill set behind the plate.
"So we're still in a little bit of a fact-finding mode right now," said Farrell. "What that means going forward is, there's no clear-cut plan going forward yet and hopefully through the coming days, we would have some more definitive information and then, what are the followup plans after that?"
It is hardly abnormal for a catcher to go through a dead-arm period during Spring Training. But it was a red flag when Vazquez's arm didn't rejuvenate after getting nearly two weeks down.
"He kind of plateaued," said Farrell. "You would think that after 11, 12 days, if it was just some abnormal soreness, you'd think at some point you'd get over that. That's why, when he kind of plateaued, even when the volume and the intensity was picking up, we said, 'let's check it out' and that's where we are right now."
Ian Browne is a reporter for MLB.com. This story was not subject to the approval of Major League Baseball or its clubs.