Rays still have plenty of roster decisions to make
Spots in the bullpen, starting rotation and bench remain up for grabs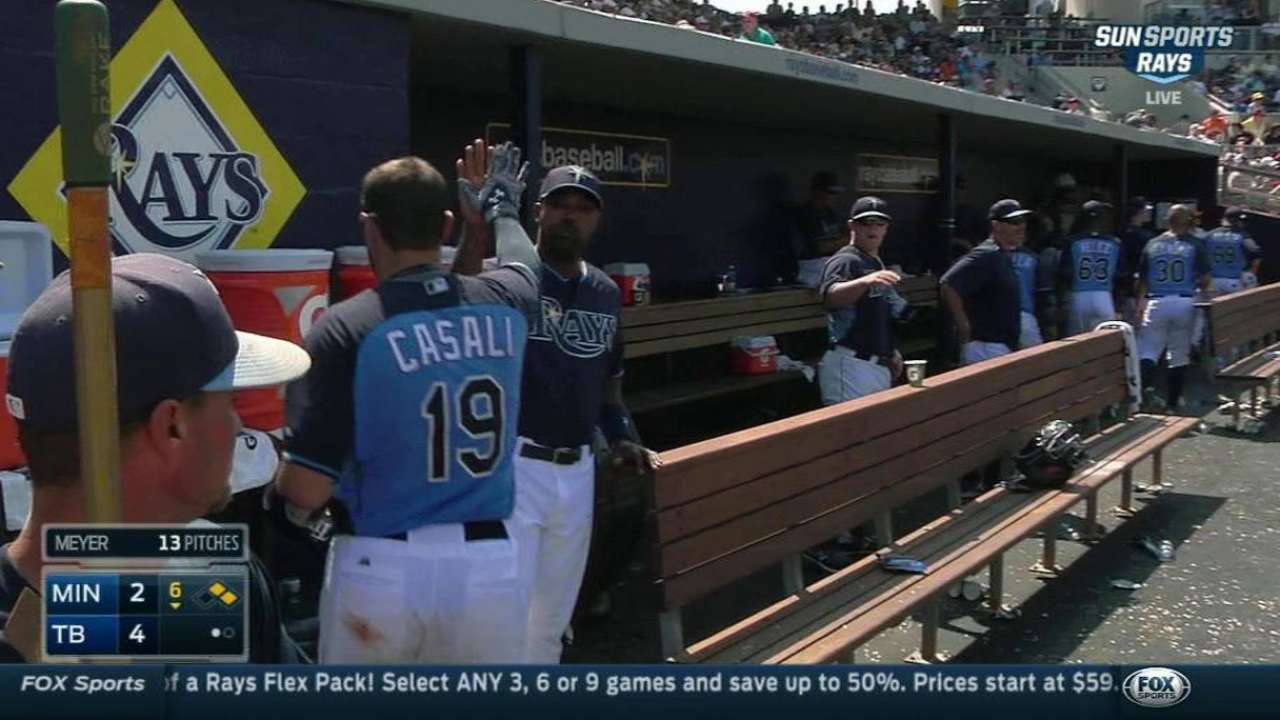 PORT CHARLOTTE, Fla. -- Heading into Saturday, the Rays' roster stood at 44 players. That means 19 players must be trimmed in some fashion before the start of the season.
Rays manager Kevin Cash expects the final decisions about who will be on the team's 25-man roster will go down to the wire. All teams must set their roster by 3 p.m. ET on April 5.
"Obviously we'll have coverage [with extra players in the final exhibition games] and there's still some decisions left to be made," Cash said. "... To be totally honest, Sunday, whatever that deadline is. That's what I would anticipate [setting the roster]."
Some hard decisions still need to be made.
"Obvioulsy with the pitching," Cash said. "There's a lot of factors in there. Some performance, how the guys have done. You've got roster flexibility issues."
What's known is that Chris Archer, Jake Odorizzi, and Nathan Karns will line up in order for the first three games. After that, it's anybody's guess. Earlier in the week, Cash did allow that the Rays will probably go with a four-man rotation to start the season, which is facilitated by the off-days on the schedule.
Who will win the backup catcher's role is another decision looming for Cash and company. Rene Rivera will be the starter and either Bobby Wilson or Curt Casali will be the backup.
"The catching situation has been made difficult simply because the guys have played well," Cash said. "We kind of anticipated that. Both of them, to their credit, have kind of just come in and done their job. They've performed well. That's, I guess, a good decision to make."
Decisions on the bullpen and who will be the team's reserves also need to be made.
"Some of the other [decisions] we have to wait and see where some of the guys are at," Cash said. "The chance of certain guys starting on the DL or not. We have to kind of factor all of that in. It's not so much to keep it a secret. It's more waiting until the last second to make sure we're making the right decision with the rosters and the guys who could potentially start the season on the DL."
Another factor in the decisions will be the consideration of whether a spot on the 40-man roster must be created.
"All of that stuff goes right in with the roster stuff," Cash said.
Bill Chastain is a reporter for MLB.com This story was not subject to the approval of Major League Baseball or its clubs.