MLB.com Columnist
Richard Justice
Count on the Orioles being back atop the AL East perch
Front office, Showalter and returning stars will offset key free-agent losses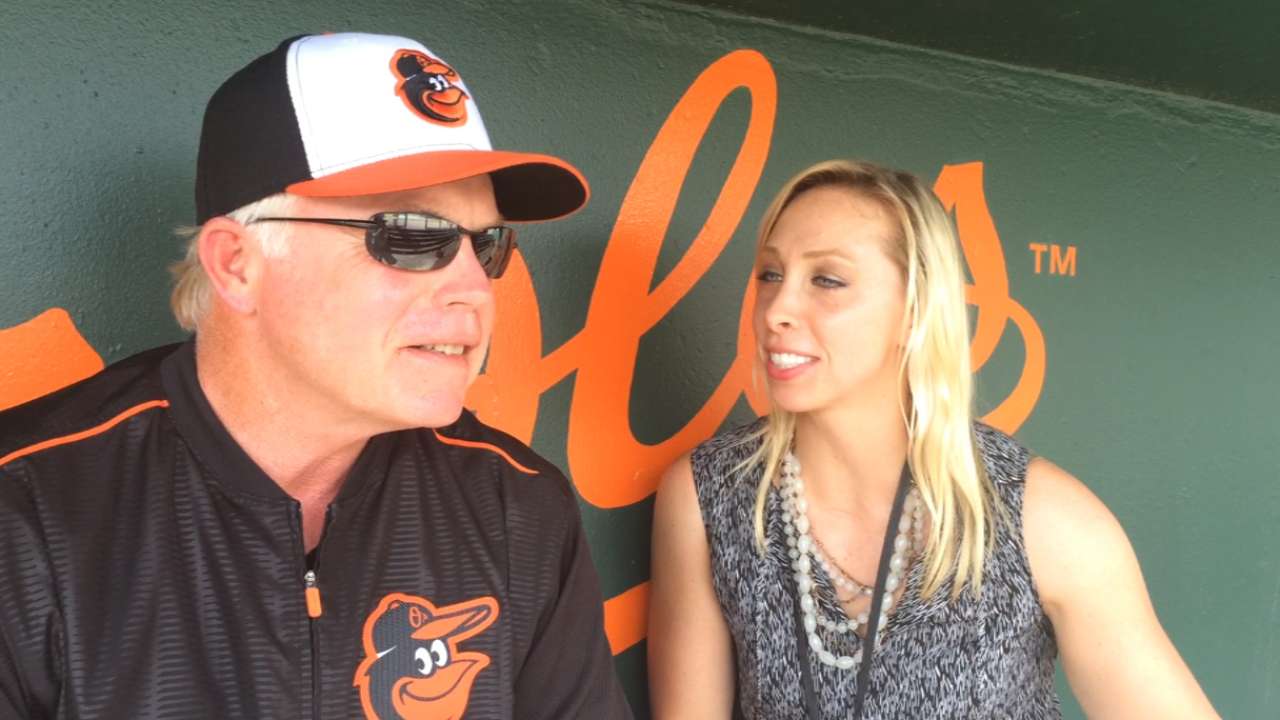 Let's get out in front of this thing here and now. The Baltimore Orioles aren't sneaking up on anyone this time.
Fooled me once…
Are they going to win the American League East for the second year in a row? They just might. In fact, they probably deserve to be the favorite.
That's not what you'll read elsewhere. You'll read that the Orioles were gutted by free-agent losses and that they might finish last.
Incidentally, the Orioles absolutely love this kind of talk. They thrive on it. More on that later.
Yes, the AL East is a tough call. The Red Sox are capable of winning with a new mix of players. The Blue Jays might end up being really good, too.
The Rays have a completely different look and loads of pitching. Their issue seems to be getting their main guys on the field. But like the Orioles, they should not be overlooked.
The Yankees? There's no way of knowing how things will play out -- not just with older players like CC Sabathia, but with an assortment of kids who could arrive in the Bronx this summer.
That said, if you're one of the people predicting the Orioles are going to finish last, you're on your own this time. If there's one thing these past three seasons have taught us, it's that this new Oriole Way works.
This franchise has been resurrected on tremendous scouting and brilliant managing and great clubhouse leadership.
Yeah, I'm talking about you, Adam Jones. You, too, J.J. Hardy.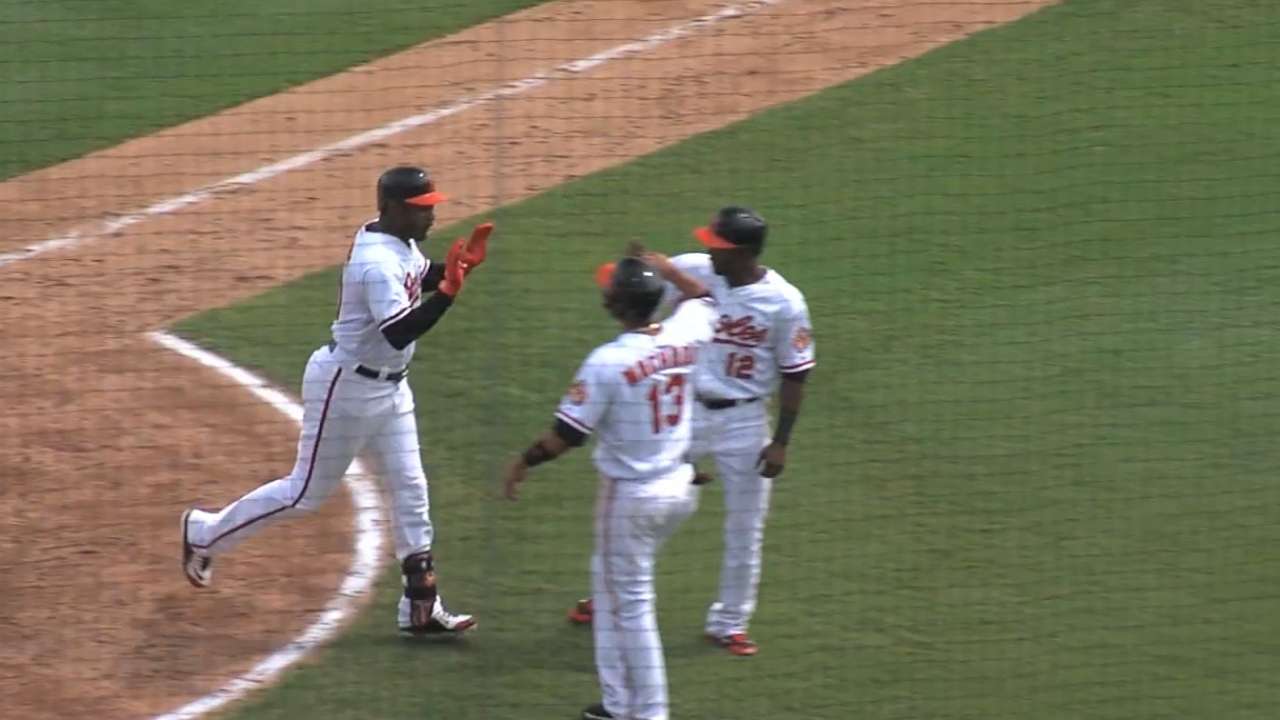 When someone mentioned to Orioles manager Buck Showalter that his team was starting to become a popular pick to win the AL East, he didn't seem all that pleased.
"I don't want to hear that," he said.
He wasn't kidding. It doesn't fit with the way the Orioles operate; messes with the larger plan.
This franchise thrives on being overlooked and underestimated. It does not spend the most money or have the hottest, flashiest prospects.
The Orioles get their players here, there and everywhere. At the beginning of SpringTraining, they had nine former Rule 5 Minor League picks on their roster.
That number tells you that they trust their own internal evaluations, and that they also trust their manager to find ways to use players who may have unimpressive resumes.
For instance, there's outfielder Steve Pearce, who was claimed off waivers in one in a string of absolutely brilliant finds by Orioles general manager Dan Duquette.
Duquette tells his personnel people to focus on what players can do instead of what they can't. He trusts them, too.
When one of his scouts tells him there's a pitcher in the Mexican League who might be able to contribute, Duquette buys in.
So right-hander Miguel Gonzalez has won 30 games the past three seasons and pitched 159 innings in 2014 as the Orioles won the AL East by 12 games.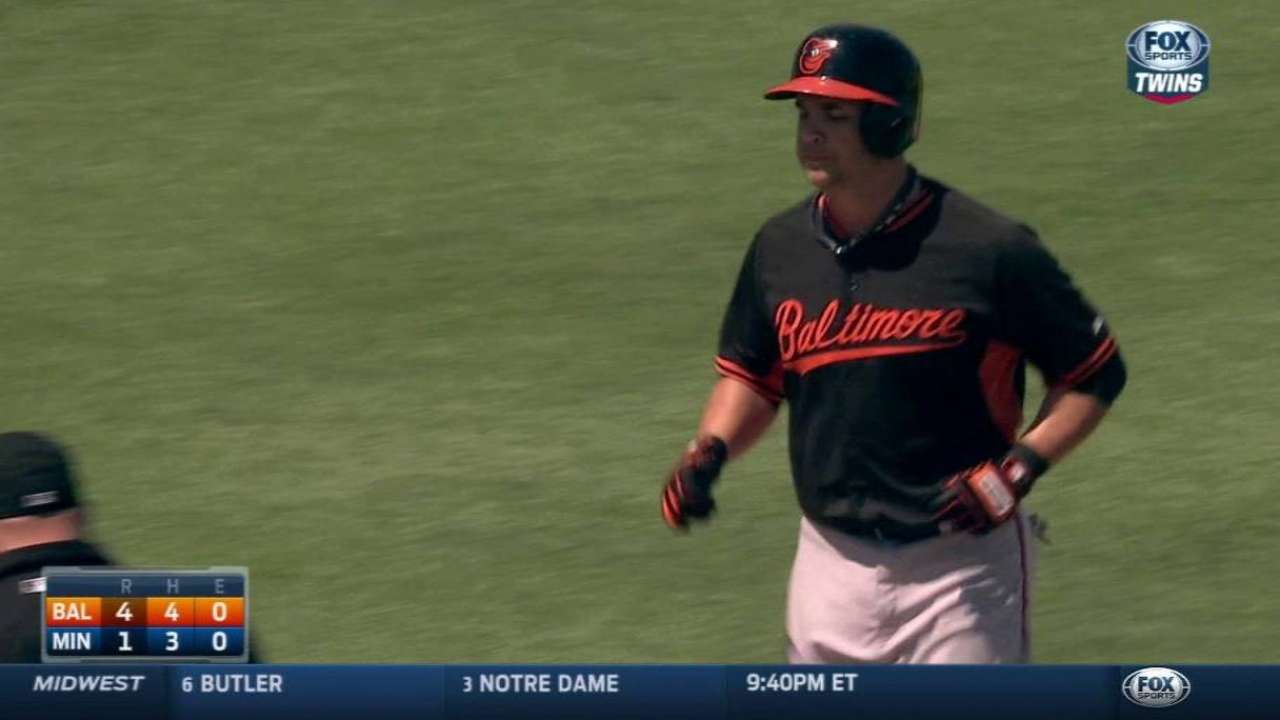 That's how Pearce ended up hitting 21 home runs in just 383 plate appearances last season. The Orioles are his sixth organization. Until last season, he'd never had 200 at-bats in a season.
The Orioles believed Pearce just needed a real chance and a manager who believed in him. That's the other part of this Oriole Way.
If you're having one of those "Best Manager" debates, Showalter is right in the middle of it. Bruce Bochy obviously is brilliant. In most ways, he's the gold standard for big league managers. Joe Maddon is tremendously gifted at running a game and getting his players to buy in. John Ferrell, Joe Girardi, Terry Francona, Bob Melvin and Mike Scioscia are all very, very good.
In terms of dealing with players and putting them in position to succeed and managing a bullpen, Showalter is as good as any of them.
Showalter is like Duquette in that he approaches each new player with an open mind. What can he do to help us?
If that sounds simple, it's not. Personnel people sometimes get caught up in what a player can't do or what he hasn't done.
As Jim Leyland annually told his scouts, "If you're looking for the perfect player, you're probably going to be looking a long time."
Here's why it's OK to believe in the Orioles even after they lost MLB home run leader Nelson Cruz in free agency to the Mariners. They also lost one of their core guys, right fielder Nick Markakis, to the Braves, and reliever Andrew Miller to the Yankees.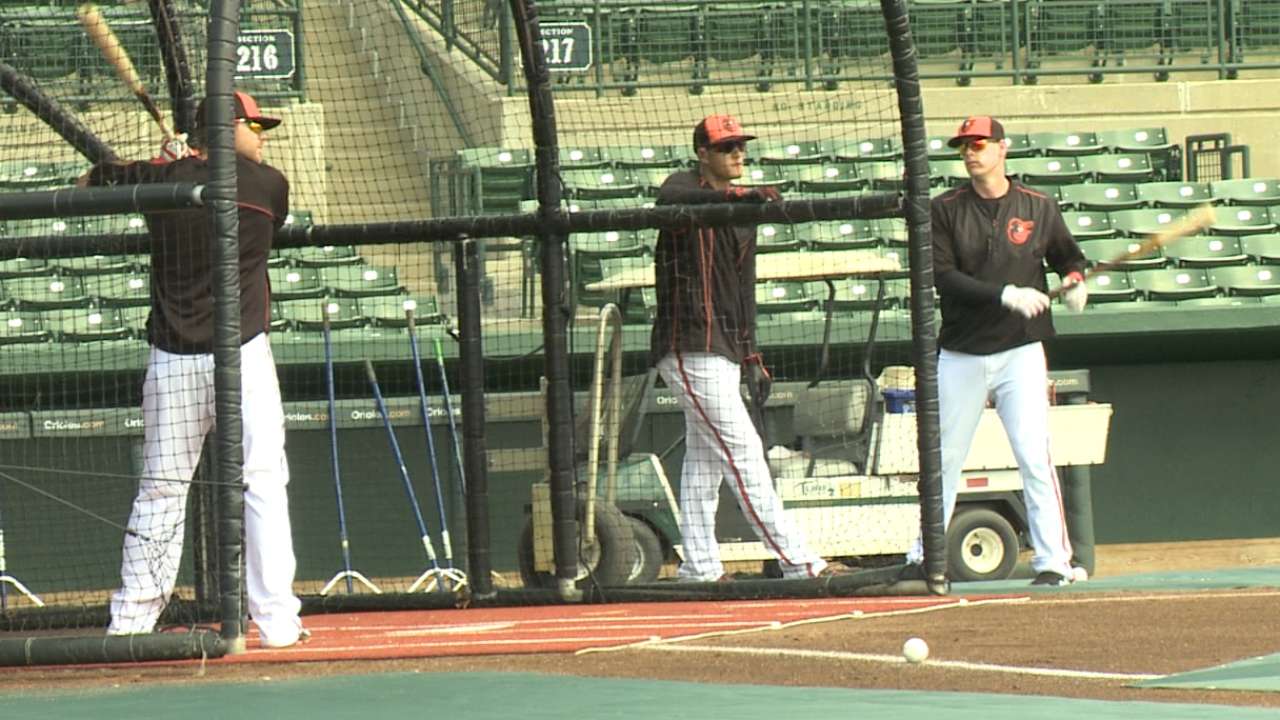 First, the offense. The Orioles hit 25 more home runs than any other team last season, but they were only eighth in scoring. With first baseman Chris Davis back from suspension and third baseman Manny Machado and catcher Matt Wieters back from injuries, the Orioles believe they'll have enough offense.
When Showalter was asked about his losses, he said, "Yeah, but I see it as a half-full deal. We'll have a full season of Steve Pearce and a full season of [stretch-run acquistion] Alejandro De Aza."
In the end, though, it's about the pitching. Chris Tillman morphed into a No. 1 starter in 2014 with 207 1/3 innings and a 3.34 ERA. Wei-Yin Chen and Bud Norris are solid. So, too, is Gonzalez. Ubaldo Jimenez has had a nice spring.
The Orioles are deep enough in pitching that one of baseball's best young arms, Kevin Gausman, could open the season in the bullpen. And looking ahead to the stretch run, the Orioles think two of their top prospects -- Dylan Bundy and Hunter Harvey -- will be ready to contribute.
"The reason we were better the last two or three years is that we pitched better," Showalter said. "If we pitch as well as did last year, we'll have some fun this summer. I've got a couple of concerns, but I always do. There are some things I don't feel warm and fuzzy about."
And the Orioles aren't cheap.
"Our payroll is going to be around $109 million," Showalter said. "That's plenty."
Actually, it's middle of the pack, which means the Orioles sometimes have to make tough calls. One of those was Markakis. As for Cruz, they never had any illusion of keeping him.
One of their focuses has been preparing for the 2015 First-Year Player Draft, during which the Orioles have five of the top 102 picks.
"We have to be true to who we are, and I think we've done a good job of that," Showalter said. "We can't miss on our own pitching. We have to keep a chain coming."
There's something amazing about watching them do their thing. About Duquette and his men unearthing talent. About Showalter making it work. In 2012, the Orioles made the playoffs for the first time since 1997, and in three years since, only the A's have won more regular-season games in the AL. The Orioles feel confident their run isn't over.
They'd just rather no one else thought that.
Richard Justice is a columnist for MLB.com. Read his blog, Justice4U. This story was not subject to the approval of Major League Baseball or its clubs.