Kendrick shows ability to battle through 'tough innings'
Weiss lauds Opening Day starter's intelligence, precision on mound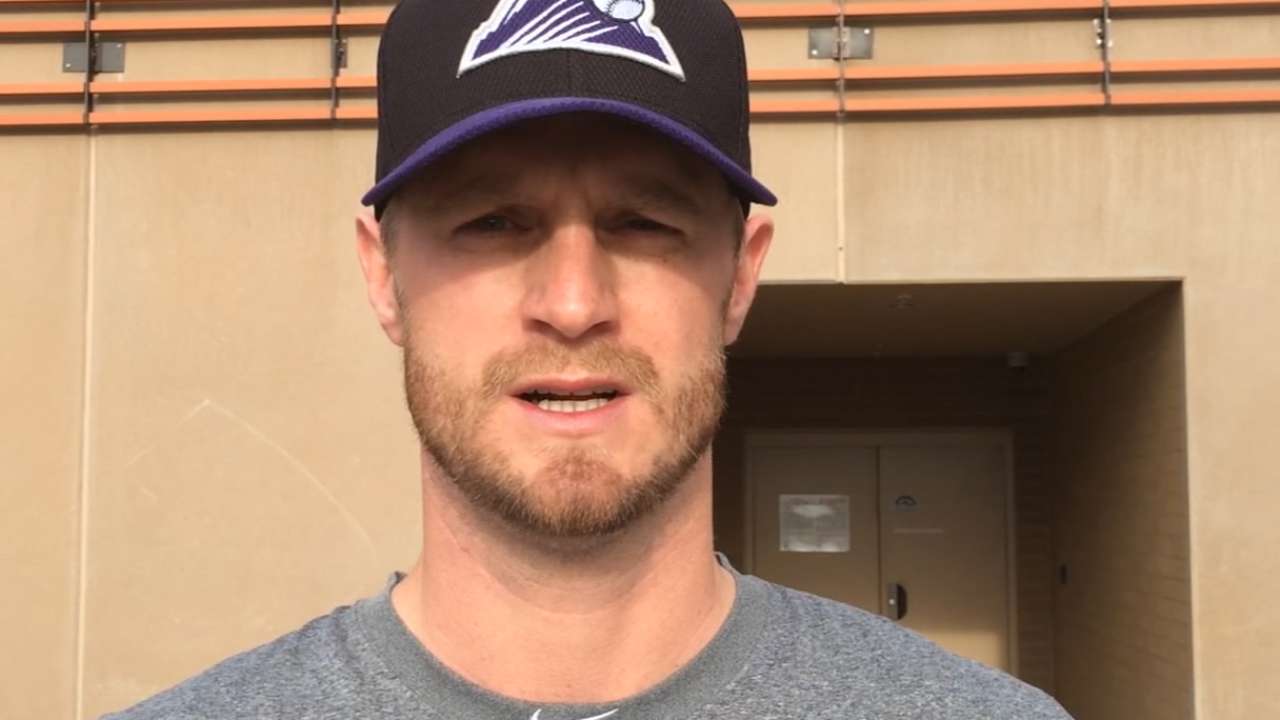 PEORIA, Ariz. -- Kyle Kendrick has never been one to blow hitters away. There's a method to his pitching that involves putting the ball where it'll get hit -- but where it won't get hit hard.
In that vein, the Rockies signed Kendrick to be their version of an escape artist. Kendrick's style makes him prone to allowing hitters to reach base, but the club likes his ability to stay away from the big inning.
Could that be just what the Rockies need, playing in a ballpark that sees its fair share of big innings?
"I hope so," said Kendrick, who is slated to take the hill when the Rockies open the season in Milwaukee on April 6. "As you guys know, I'm not a power pitcher. I'm going to pitch to contact, get early outs.
"You pitch like that, guys will get some bloop hits, guys will get some broken-bat knocks and ground balls that will find the hole, but you've just got to keep battling. With our defense there's a lot of double plays out there. One ground ball, you're always out of the inning. You've just got to keep battling. That's my thing."
Kendrick did just that without his best stuff in Friday's outing. He needed 81 pitches -- 50 of them strikes -- to get through 4 1/3 frames. He allowed three earned runs on eight hits (three of them on broken bats) and two walks.
"I had to make some pitches tonight," Kendrick said. "There were a lot of guys on base early. I had to make some pitches to get some outs, and there were a lot of tough innings. But that's good to have in Spring Training."
Kendrick stranded runners in scoring position in each of the first three innings, and the Padres left five men on base in those frames.
Rockies manager Walt Weiss called Kendrick "a good fit" for the Rockies, given their rangy infield defense. Weiss has been especially impressed by Kendrick's ability pitch to that defense when he needs to get out of a jam.
"We've got a guy that works like a surgeon out there," Weiss said. "That's his M.O. He's going to add and subtract, pitch both sides of the plate. He's going to use the hitters' aggressveness against them. He's an intelligent pitcher that can execute a gameplan, and that's what we expect to see from him."
AJ Cassavell is a reporter for MLB.com. Follow him on Twitter @ajcassavell. This story was not subject to the approval of Major League Baseball or its clubs.