MLB.com Columnist
Jesse Sanchez
International prospects have fun in first game vs. high school team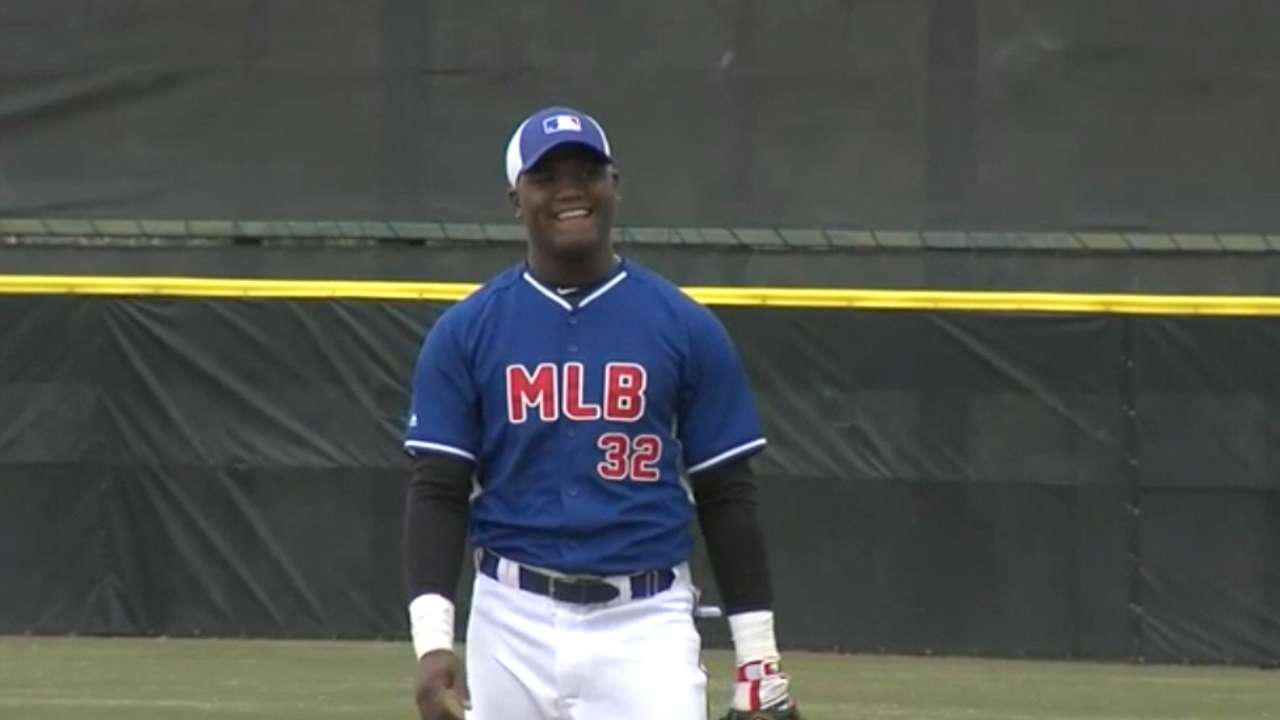 CARY, N.C. -- The team of prospects from across Latin America competing in the inaugural International Prospect Series at the USA Baseball National Training Complex knew they were in for a memorable experience even before they stepped on the field against North Carolina's South Caldwell High School on Friday afternoon.
In the end, it was everything they had hoped. And not even the final score, the 8-1 victory by South Caldwell, or the cold and drizzling could spoil the day. The team of international prospects will square off against Providence High School on Saturday.
"We lost the game, but this was so much fun," said first baseman Jhailyn Ortiz. "I know we wanted to play better as a team, but we are not sad about losing. We have another game and we'll do our best in that one."
Ortiz finished 0-for-2. He was hit by a pitched and walked. He also struck out to end the game. The international prospects racked up six hits, one more than South Caldwell.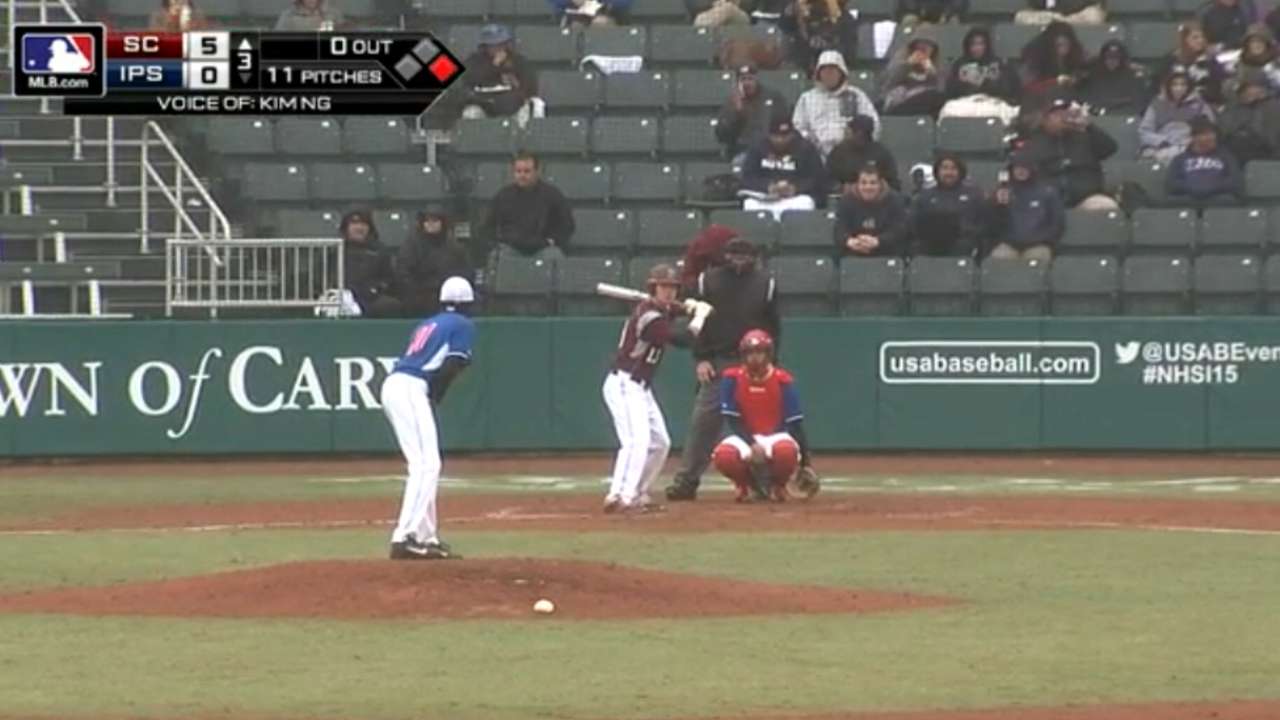 "Disappointed?" Ortiz said. "No way. This is too much fun."
Outfielder Starling Heredia, who had two hits in the game, echoed his teammate's sentiments.
"I think we were trying to hit home runs out there," Heredia said. "I think we will come out tomorrow with a little more patience. We were very excited and maybe a little anxious. Tomorrow will be fine."
The South Caldwell offense was led by third baseman Tanner Parham, who finished 2-for-4 and drove in three runs. Shortstop Brock Johnson, catcher Brett Macchia and Dylan Wingler also had hits in the victory.
Parham is the son of South Caldwell head coach Jeff Parham.
"To me it was a big stage for our kids, especially this early in the year and to come to a complex like this and to play an international team," said the elder Parham, who has coached at the school for 26 years. "To come out here and to play and to win is big. It's something we can build on."
South Caldwell's offense scored five runs in the third inning and three more in the sixth. Four pitchers combined to strike out eight batters. It's no surprise the club is 10-0 entering conference play Tuesday. It is seeking its first state title since 2007 when Giants starter Madison Bumgarner led the team to a championship.
"I told them it's sort of like an early state championship game," coach Parham said. "That's our goal. We're shooting for a state championship. That's something we always do. I told them it's sort of like that. Playing in a great complex and playing a very talented team, I thought it was good just to come in here and do that."
Shortstops Aramis Ademan and Miguel Hernandez along with left fielder Simon Muziotti and second baseman Juan Morales each had hits for the international team. Starter Alvaro Seijas was charged with five runs on only one hit in 1 2/3 innings pitched. Venezuela's Jose Quintana, Wilken Hernandez and Gabriel Estrada along with Brazil's Igor Kimura also pitched for the international team.
Hernandez was charged with three unearned runs.
"We had a lot of fun and the players were a little worried about the rain and cold, but we had a good time," international prospect manager Denio Gonzalez said. "This event is special. We have some of the best talent in Latin America and this experience is something they can take with them when they sign. They are experiencing a new language, a new climate, new competition and all types of things they will face when they turn professional."
Jesse Sanchez is a national reporter for MLB.com. Follow him on Twitter @JesseSanchezMLB.
This story was not subject to the approval of Major League Baseball or its clubs.