NHSI title game to be battle of California
San Clemente, College Park will meet Saturday in game broadcast on MLB.com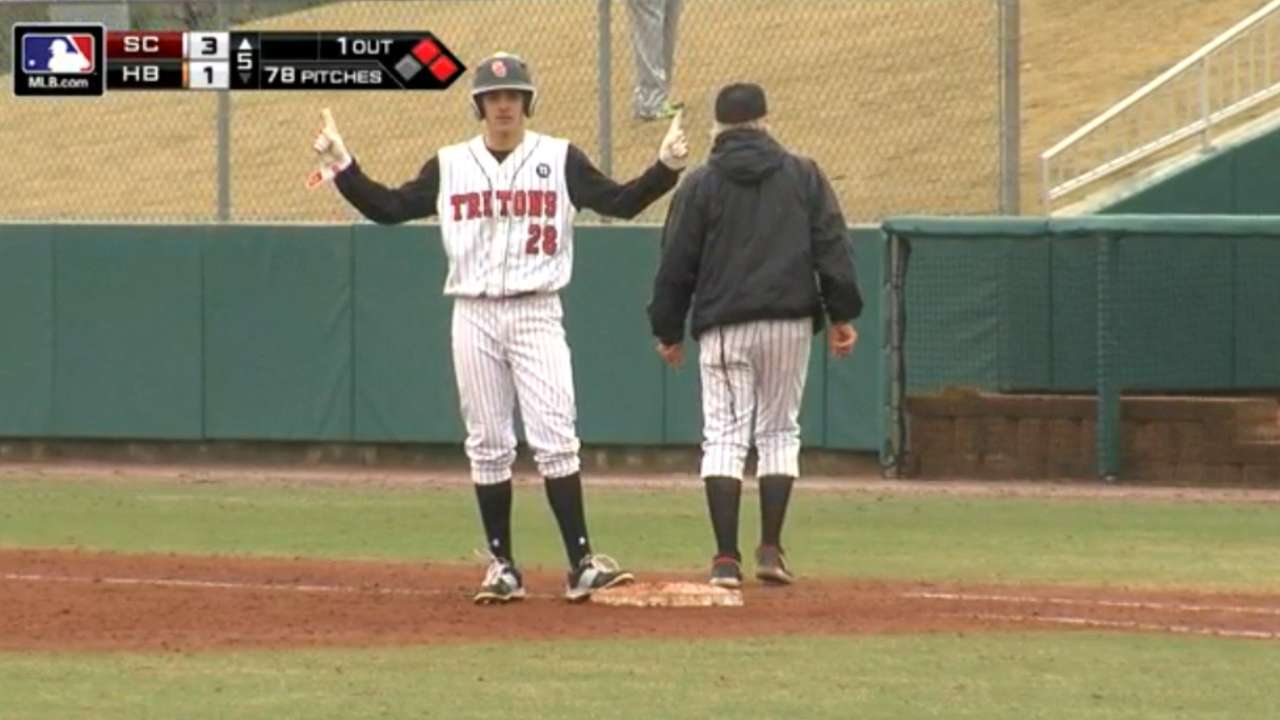 CARY, N.C. -- For the third time in four years, the championship game of the USA Baseball National High School Invitational will feature two teams from California.
On a cold, rainy Friday at the USA Baseball National Training Complex, San Clemente (Calif.) High School and College Park High School (Pleasant Hill, Calif.) won their semifinal games to advance to Saturday's title game. They will face each other at 12:30 p.m. ET in a game that will be streamed live by MLB.com.
After rain delayed the first pitch of the first semifinal by three hours, San Clemente High School defeated Huntington Beach High School, 5-1, in a matchup of two schools separated by about 30 miles in Southern California.
Huntington Beach pushed a run across in the first inning, but San Clemente's offense kept grinding away. The Tritons finished the game with 14 hits, 13 of which were singles. Their approach helped them score five runs over the final four innings of the game.
"I just think our guys just had great approaches at the plate; they didn't try to do too much with it," coach Dave Gellatly said. "In a big park like this, it's not going to get out too easily, especially with this weather. I just think our guys battled every pitch, every inning and every moment."
In the second semifinal, College Park routed Mosley High School (Lynn Haven, Fla.), 13-2. It was the first loss of the year for Mosley, which entered the tournament as the No. 1 team in Baseball America's rankings.
College Park's offense went to work early, scoring five runs in both the second and third innings. Senior outfielder Jeffrey Mitchell, a California commit, went 3-for-4 with a double, two runs and five RBIs to lead the Falcons.
"I felt good. I've felt good all tournament," Mitchell said. "Coach got me locked in right now. Just seeing the ball, hitting the ball. That's all I'm thinking about right now."
Mater Dei High School (Santa Ana, Calif.) won the first two editions of the NHSI, before The First Academy (Orlando) won last year's tournament. Now either San Clemente or College Park will be bringing the trophy back to California, along with some state bragging rights.
"Northern California and Southern California are kind of two different states anyway, so this will be a big rivalry game for us," College Park coach Andy Tarpley said.
While the weather disrupted play Friday, it didn't stop several players from making their mark on the third day of the NHSI.
Owen Breithaupt, OF, Puyallup (Wash.) High School: Facing Loyalsock Township High School (Williamsport, Pa.) in a consolation game, Breithaupt went 2-for-2 with two runs, a walk and a stolen base. The senior is committed to Western Nevada Junior College.
Chris Brown, 1B, College Park: Along with Mitchell, Brown led College Park's attack Friday. The senior UC-Davis commit scored the first run of the game and went 3-for-3 with a double and two runs.
Jake Hagenow, C, Farragut High School (Knoxville, Tenn.): With the bases loaded in the bottom of the eighth inning of a consolation game against College Station (Texas) High School, Hagenow hit a sacrifice fly to give Farragut a 5-4 victory. The sophomore finished the game 3-for-4 with three RBIs.
"Playing these teams and seeing all these players, it's incredible," Hagenow said. "I can't compare it to anything. You hear these big names and then actually getting to see them play and play against them, it's awesome."
Austin Stump, RHP, Puyallup: Against Loyalsock, Stump threw four scoreless innings. The junior struck out three batters, walked one and allowed two hits, as Puyallup won, 12-0, in five innings.
William Tribucher, 1B, San Clemente: A day after earning the victory in San Clemente's quarterfinal win with his performance on the mound, Tribucher went 2-for-3 with a double, a run and an RBI in the semifinals. The senior Michigan recruit is hitting 5-for-11 with two doubles and three runs in the tournament.
Teddy Cahill is a reporter for MLB.com. Follow him on Twitter at @tedcahill. This story was not subject to the approval of Major League Baseball or its clubs.