Power-pitcher Gustave to make Padres debut
22-year-old considered longshot to make club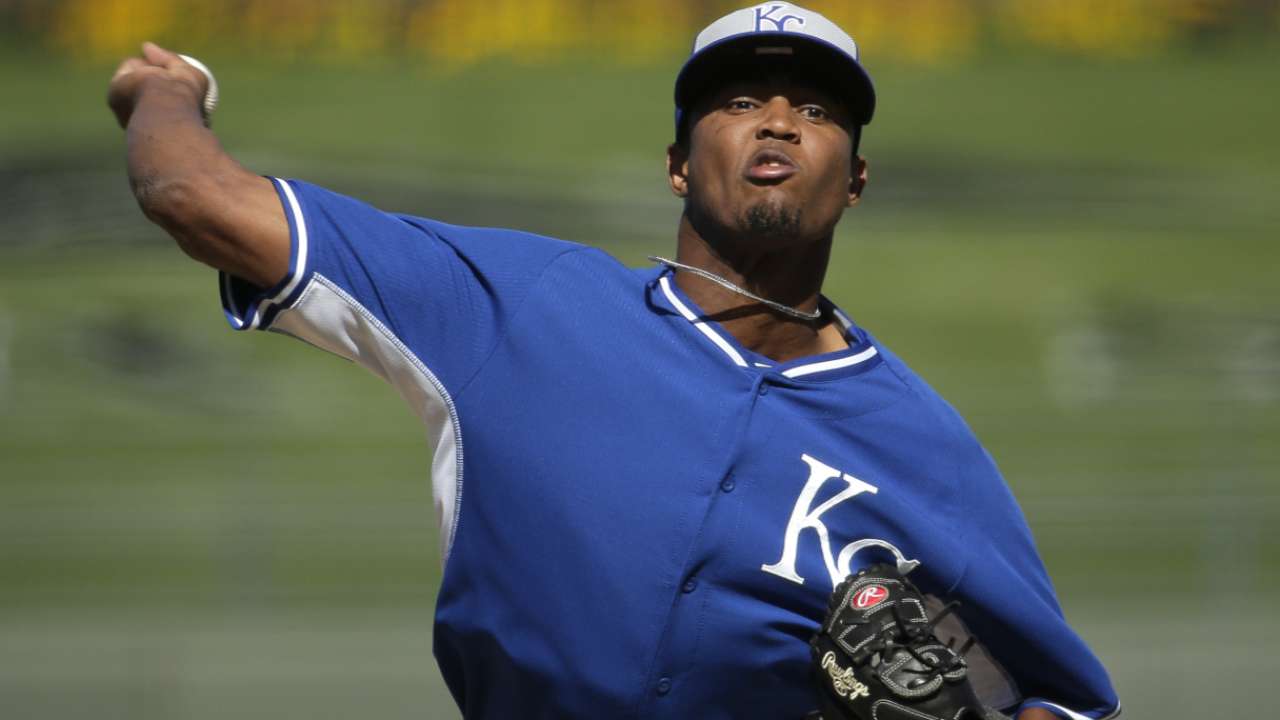 PEORIA, Ariz. -- He has played in the Astros system, was taken by the Red Sox in December's Rule 5 Draft and later traded to the Royals. Then on Thursday, pitcher Jandel Gustave was claimed off waivers by the Padres.
What have the past five months been like for the 22-year-old right-hander?
"It's complicated," he said Friday, standing in front of his new locker, wearing a new uniform (No. 73) all while introducing himself to a new set of teammates. "It's the first time I've been through this."
The Padres claimed the hard-throwing Gustave -- who said his pitch has been clocked as high as 102 mph before -- and will take a look at him in games during these last days in Arizona, deciding whether to keep him or offer him back to the Astros, as per Rule 5 rules.
If that sounds like a lot of pressure for Gustave, he's not taking it that way.
"I'm trying to keep my mental game strong and not let that bother me," he said.
Gustave is scheduled to pitch for the Padres for the first time Saturday against the Rangers. He's likely a longshot to make the team, which is already brimming with bullpen arms. But there's no harm or risk in taking a look.
The Padres have watched Gustave for a while but got to see him up close on March 11 when he tossed two innings of relief against them with the Royals. He allowed one run on two hits, as his fastball topped out at 96 mph. His slider ranged from 83 mph to 86 mph.
Gustave, a power arm, had a 3.68 ERA in 7 1/3 innings this spring for the Royals with six strikeouts and three walks.
In his first five seasons in the Astros' system, Gustave posted a 9-18 record and a 5.73 ERA, but he had 199 strikeouts in 196 1/3 innings.
"It's a powerful arm. He comes with some raw stuff," Padres manager Bud Black said Thursday. "… We'll have a look to see what we've got and we'll go from there. I don't think there's any guarantees with Mr. Gustave."
As for the transient nature of his career, at least recently, Gustave shrugged his shoulders.
"At the end of the day," he said, "it's baseball."
Corey Brock is a reporter for MLB.com. Keep track of @FollowThePadres on Twitter. This story was not subject to the approval of Major League Baseball or its clubs.