Astros hope to finalize roster by end of camp
Status of Fields, position players still up in air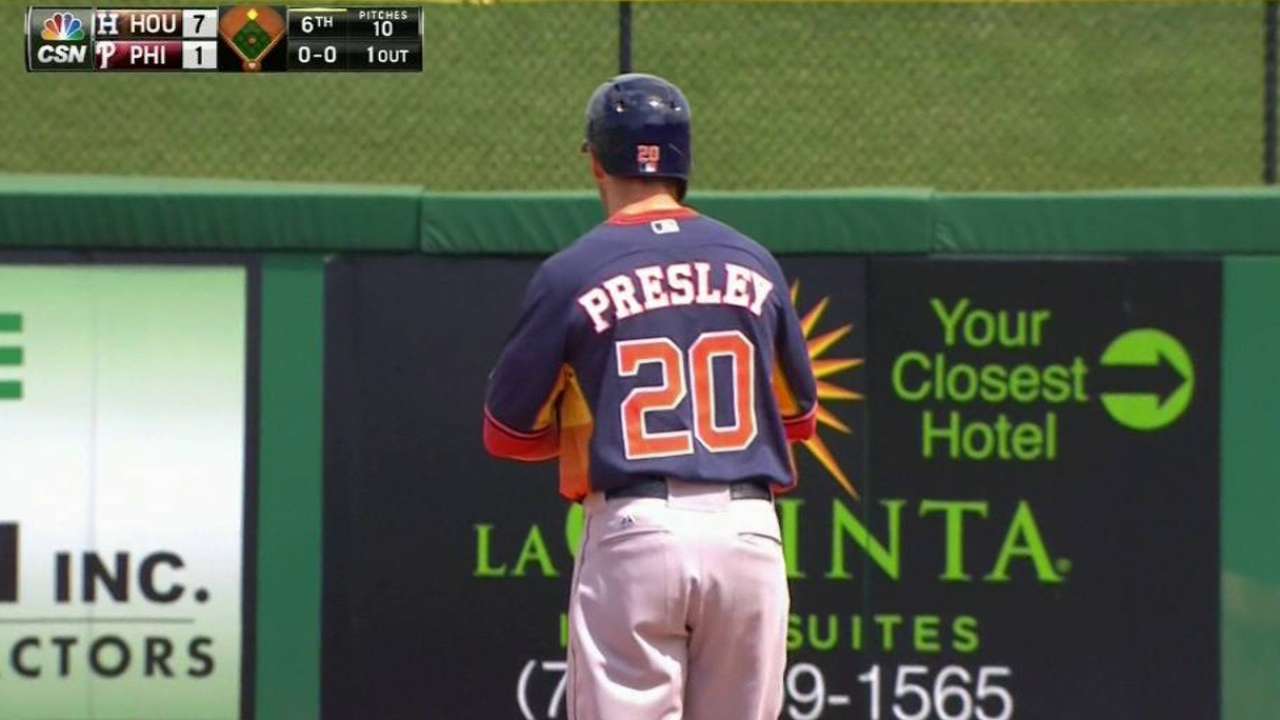 KISSIMMEE, Fla. -- Astros manager A.J. Hinch said he would like to have his 25-man roster set prior to breaking camp on Wednesday, but that might not be possible. One issue that might carry over into next weekend is the health of reliever Josh Fields, who's not throwing off the mound because of a groin strain.
Fields is a lock to be on the team when he's healthy, but the decision on whether he'll be able to make the Opening Day roster might linger into next weekend's exhibition games in Houston against the defending American League champion Royals. Houston also plays an exhibition on Thursday at its Double-A affiliate in Corpus Christi, Texas.
"As much as you try to make that [roster decision] beforehand, you might need the Corpus game and two games at Minute Maid Park," Hinch said. "In a perfect world, we would be able to make the decision and let the player know here in Kissimmee."
The Astros only have a few decisions remaining: the fifth spot in the starting rotation, the final spot in the bullpen and two reserve positions in the infield/outfield. These next few days figure to be anxious ones for players on the bubble like Robbie Grossman, Alex Presley, Matt Dominguez, Jonathan Villar and Jon Singleton.
"I'm just trying to play and not worry about it as much as possible," said Presley, who's out of options. "I feel like I should be in a good position off of last year and what I can do and coming on here. I feel pretty good about my chances. I'm not too worried about it. There's nothing you can do but play and any more worries just brings pressure from within, and I try to avoid all that as much as I can."
Grossman, who started in left field for the Astros a year ago, has had a nice spring and said the adjustments he's been making with his swing have paid off. It appears Grossman and Presley are competing for the same fourth outfielder spot with L.J. Hoes behind them.
"Last year I had to be almost perfect every time to put an A swing on a good pitch, and this year I'm giving myself a chance to barrel some balls up I haven't before," said Grossman, who had a great spring a year ago and then got off to a rough start. "I had some different things going on last year and I'm in a better place right now, and I'm excited for the season to start."
Dominguez, the Astros' starting third baseman the previous two years, has taken up at first base as well as he battles with Gregorio Petit, Singleton and Villar for the backup infield spot.
"It's kind of been the same thing all spring, you don't really know where you stand," Dominguez said. "You keep going out and try to get quality at-bats and play hard and whatever happens, happens."
Brian McTaggart is a reporter for MLB.com and writes an MLBlog, Tag's Lines. Follow @brianmctaggart on Twitter. This story was not subject to the approval of Major League Baseball or its clubs.