MLB.com Columnist
Barry M. Bloom
Dedicated to craft, Peavy evolving with age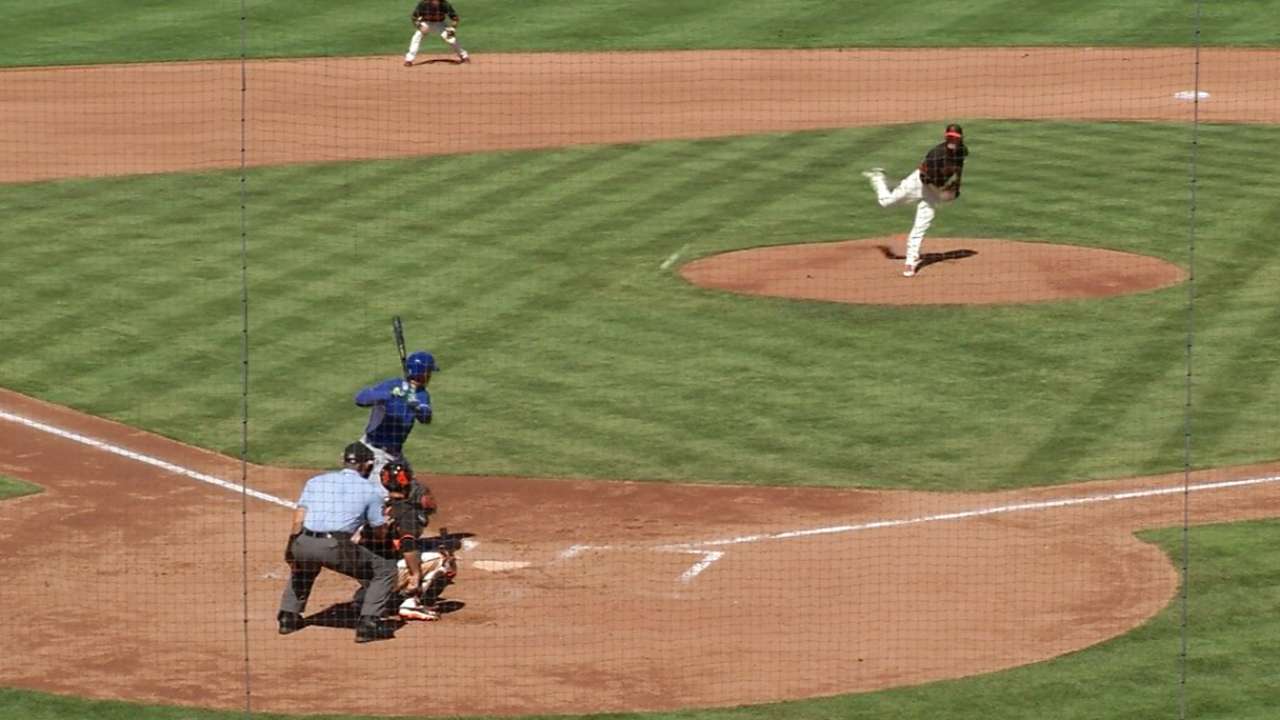 SCOTTSDALE, Ariz. -- Give Jake Peavy credit for constantly trying to adjust. At 33 years old and at this point in his career, the Giants right-hander's fastball isn't what it used to be. But whose is at an advanced baseball age? Just ask Justin Verlander and Tim Lincecum.
As recently as 2007, when Peavy won the National League Cy Young Award and the league's pitching Triple Crown for the Padres, Peavy's fastball topped out at 100 mph, and his average was 94. Last year, his top velocity was just a tad over 93, and his average was only a skosh under 90.
While four mph might not seem like much, it makes a big difference to the hitters. That's why Peavy is in camp adding new ripples to his repertoire.
"I'm going to throw the kitchen sink at 'em," Peavy said earlier this week. "I am."
And he isn't kidding. On Monday against the Royals, Peavy broke out what he called a four-seam changeup and used it in that start for the first time. The suggestion came prior to the game from Giants catcher Buster Posey, who had trouble tracking that particular pitch when Angels left-hander C.J. Wilson served it up to him only a day earlier. Peavy had never tried the pitch even in practice.
"Can you throw it?" Posey asked.
No better time than now to try it, Peavy responded.
"It's unlike anything I've ever thrown before," Peavy said. "The first five I threw bounced to the plate, they were about 50 feet."
By the end of his five-inning outing, Peavy whiffed Lorenzo Cain with the new pitch.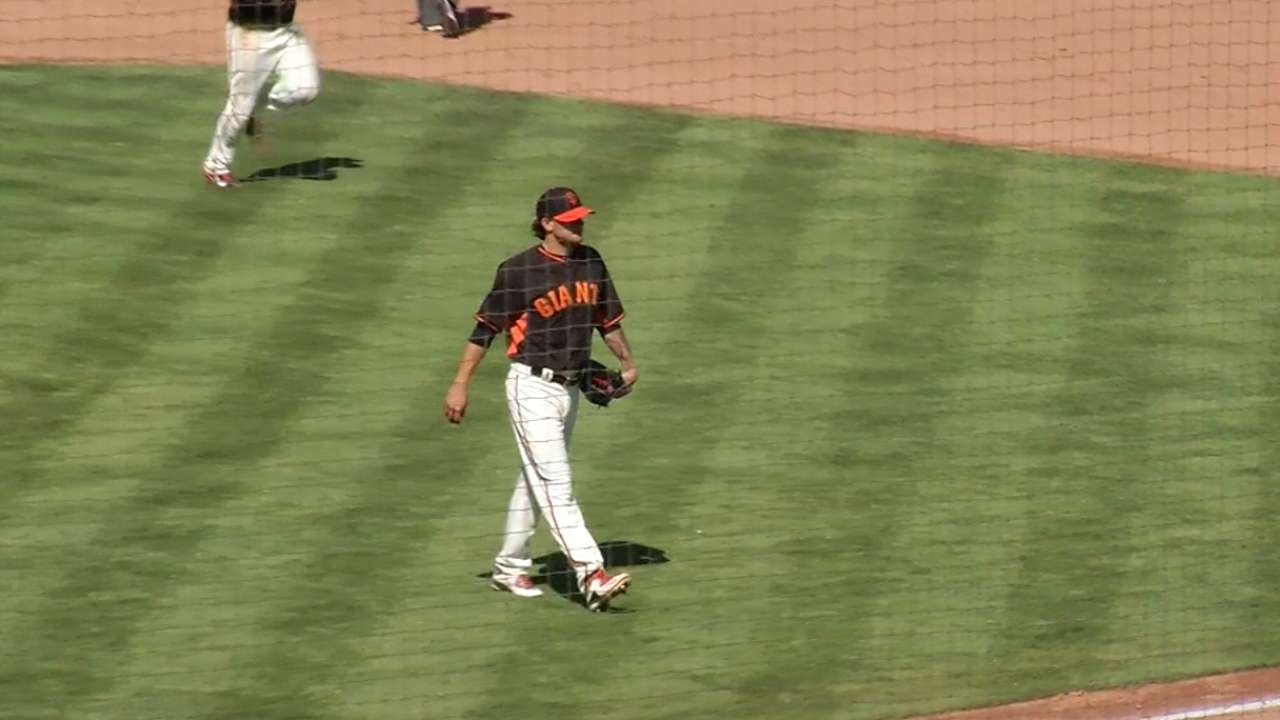 "It just got better as the game went on," said Peavy, who has often thrown a splitter and two-seam changeup. "I'm excited about it. I'm excited to have this time to work on a little bit of everything. Have all my bases covered to mix and match and really have a game plan to be here."
Peavy lamented that he doesn't have his old mentor Trevor Hoffman around to help him work on it. When Peavy came up to the Padres in 2002 as a hard-throwing 21-year-old, Hoffman was the closer and in the middle of what ultimately should be a Hall of Fame career. The all-time NL leader with 601 career saves, Hoffman will be on the ballot for the first time later this year.
Hoffman is still with the Padres as senior advisor for baseball operations, but his job is actually to coordinate every level of pitching in the organization with the Major Leagues.
Hoffman laughed out loud the other day when approached on Field 1 of the Peoria Sports Complex during a pregame practice and told about Peavy's latest antics.
"He did that? That sounds just like Peavy," Hoffman said.
When asked if Hoffman had any advice for him, he said: "Go for it!"
Hoffman went to a two-seam changeup after shoulder surgery wiped out most of his 2003 season and his fastball velocity began to steadily decline. Hoffman revealed the difference between throwing a two-seamer and a four-seamer, whether it's a fastball or changeup. He has huge hands and the ball disappeared in the palm of his right one.
At the risk of sounding too geeky, a pitcher throws a two-seamer with his fingers draped straight over the seams as he releases the pitch. A four-seamer is thrown with the fingers wrapped over the seams as the ball is held horizontally. The two-seamer has a tendency to circle, Peavy said. Not the four-seamer. Get it? Good.
To the hitter, the changeup and fastball look the same coming out of a pitcher's hand, save for one big difference -- the changeup must reach the plate at least 10 mph slower, throwing the hitter completely off balance.
"The effort has to be the same throwing the changeup as it is throwing the heater," Peavy said. "The deception is all with your hand. If you give it away with your body you're going to get hammered."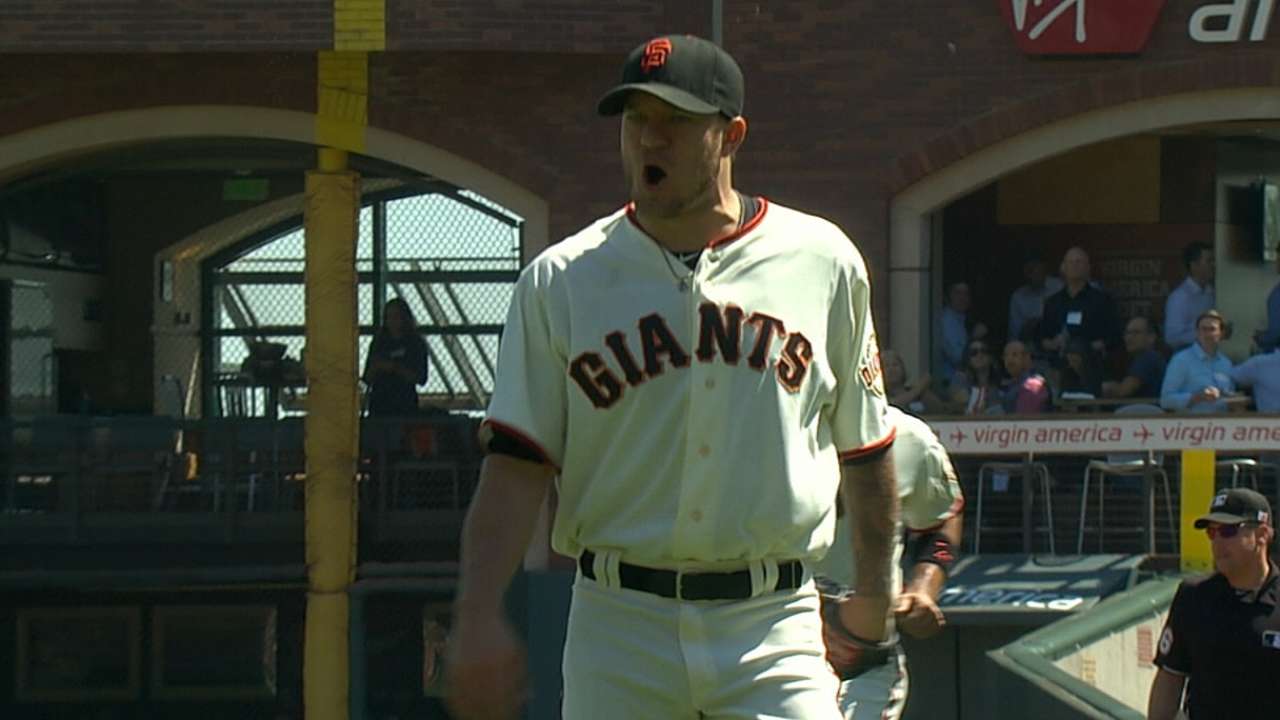 Hoffman saved 301 games after making the adjustment.
"My stuff certainly changed over time," Hoffman said. "I had to reinvent to an extent. I was fortunate to be able to make that happen. I came in a hard thrower and walked out a 'thumber,' per se. I kind of thought I threw the heck out of the ball every time I threw it. Then I'd look up at the scoreboard and would be discouraged. So I stopped looking up."
Plagued by forearm problems most of his final 2010 season with the Brewers, Hoffman realized he couldn't do it anymore when his fastball was about 84 mph and his change remained at about 78. Not enough difference. Hoffman always said the hitters would let him know when it was time to retire, and the hitters just sat on both pitches.
"I tried not to worry about what the hitters were telling me, but at the end that was pretty loud, too," Hoffman said.
By that time, Hoffman was 42 and in his 18th season. Peavy, beginning his 14th season, should be nowhere near that juncture.
"Jake's got a lot more left than he'd want you to believe," said Hoffman, who was his teammate in San Diego until Peavy was traded to the White Sox midway through the 2009 season.
Still, the numbers don't lie. Peavy was 1-9 with the Red Sox last season before they traded him to the Giants on July 30. He won six out of his final seven decisions to help push the Giants to the NL Wild Card Game. Then Madison Bumgarner took over. The Cardinals and Royals beat up Peavy in his last three starts over the course of the NL Championship Series and World Series to the tune of 11 runs and 13 hits in 10 1/3 innings.
Though the Giants rewarded Peavy as a free agent this past Dec. 19 with a two-year, $24 million contract, Peavy knows something has to change. And that's why he's open to any and all suggestions. Like Hoffman, Peavy will continue fighting. He has too much pride as a competitor and performer to do anything less.
Barry M. Bloom is a national reporter for MLB.com and writes an MLBlog, Boomskie on Baseball. Follow @boomskie on Twitter. This story was not subject to the approval of Major League Baseball or its clubs.