'I can play everywhere': Solarte embraces versatile bench role
Padres switch-hitter gets spring starts at second, third and first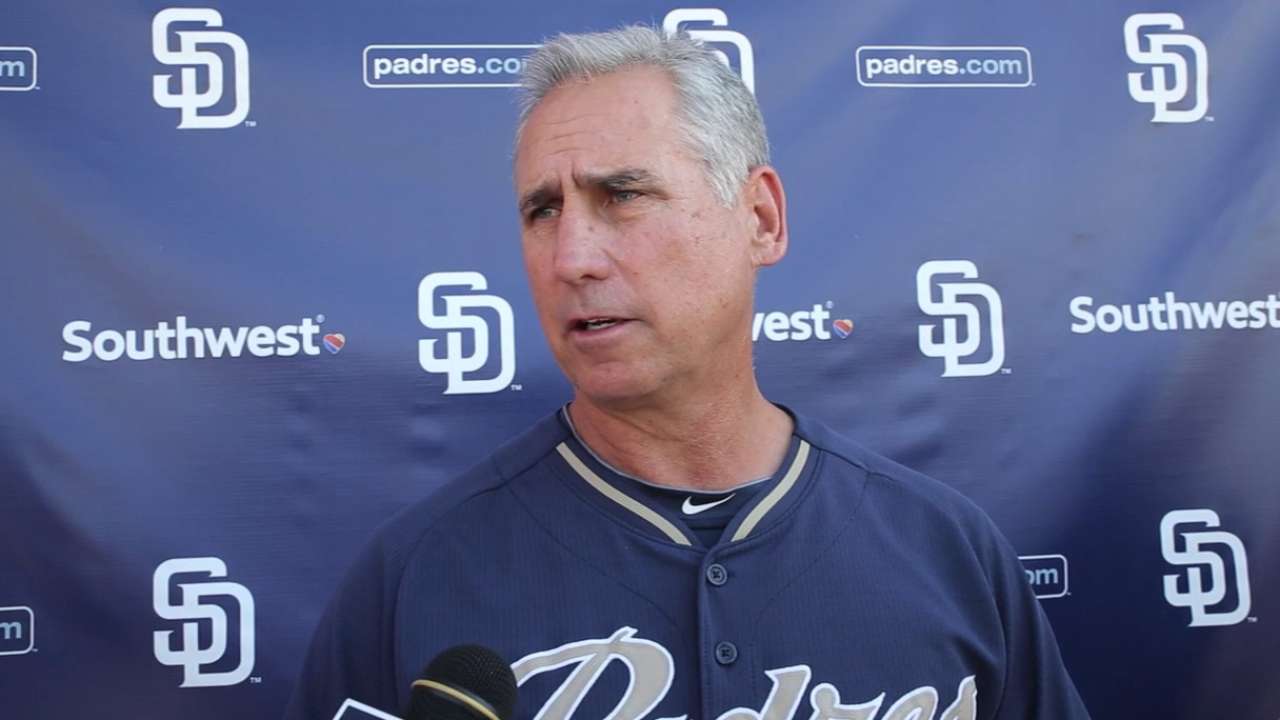 PEORIA, Ariz. -- Before the clubhouse guys started the process of packing up some equipment to send to Petco Park this week, infielder Yangervis Solarte's clubhouse locker was cluttered chaos.
Bats, batting gloves and workout gear were stuffed into every nook and cranny, mostly because the storage area above the locker was already spoken for.
That's where Solarte's kept his gloves -- all eight of them. Some he used for third base, some for second base. The first base glove, well, that speaks for itself. If he bounces to the outfield, he's got a glove for that. There's a smaller glove for shortstop, too.
"I've used all of them," he said, smiling.
Chances are, that might hold true during the regular season, as the team appears to be grooming him for a super-utility role that comes with one major caveat -- they still almost think of him as a regular.
"We feel good about Solarte in there," said Padres manager Bud Black.
It's easy to see why.
Solarte, acquired from the Yankees last summer by then-assistant general manager A.J. Hinch in the deal for Chase Headley, hit .267 with four home runs and 17 RBIs in 56 games following the trade and also showed plus-defense at third base and the ability to play some shortstop, too.
He's done more than that this spring, getting starts at third base, second base and first base. A switch-hitter, Solarte took a .295 average in 44 Cactus League plate appearances into Friday night's contest against the Rockies in Peoria.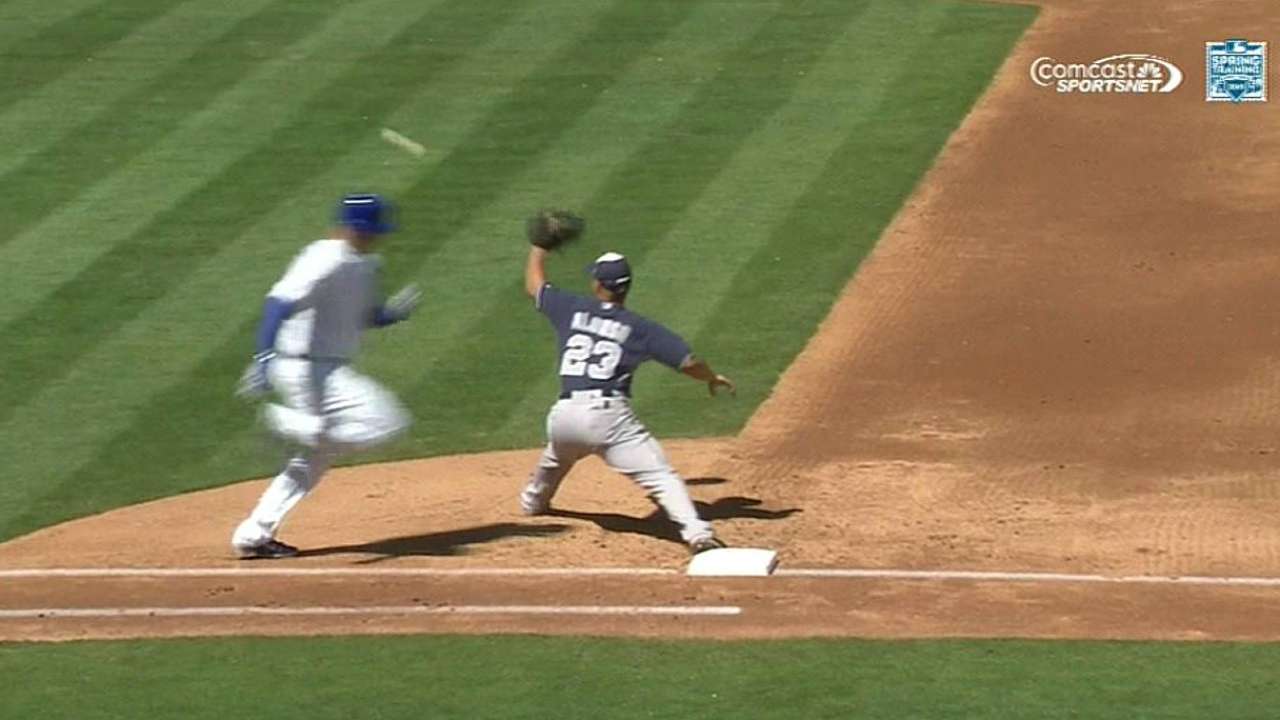 "Overall, he's done a nice job moving around the diamond," Black said. "The versatility he brings is very advantageous for us. He brings some offense, some durability."
Solarte appears to have lost the competition for the starting third base job to Will Middlebrooks, though Black hasn't come out and said so. But the team might be better off having Solarte as a piece of the five-man bench.
"There really is a difference between the two leagues when you try to construct your bench; he does fit that profile. In the NL, you use two to three [bench] guys a night. Solarte gives you that versatility. If he doesn't start a game, he's ready to come in. That's imperative for NL bench players," Black said.
Solarte has embraced his role this spring, and has not only found joy in seeing his name in the starting lineup, but also where he's playing on the field.
"Every day, it's a new place," he said. "And that's good for me. I can play everywhere. That's a good situation. I can do everything. The more positions I can play, the better it is for me. I think that it can help me and help the team."
This spring, Solarte has been charged with playing more first base than he ever has. It's the position he has the least experience at -- he's never played it in the big leagues and only once in the Minor Leagues and that was in 2012 with Triple-A Round Rock.
"The thing that I like about Solarte is his arm action at all positions," said Padres third base coach Glenn Hoffman, who works with the team's infielders. "A lot of times you see guys move around to different positions and they lose something with their arms. He's maintained it. You see the arm strength, the footwork, it's very good. He's done outstanding."
Corey Brock is a reporter for MLB.com. Keep track of @FollowThePadres on Twitter. This story was not subject to the approval of Major League Baseball or its clubs.