Canha establishing knack for clutch, late-inning hits
Walk-off homer against Rangers latest of Rule 5 Draft pick's big moments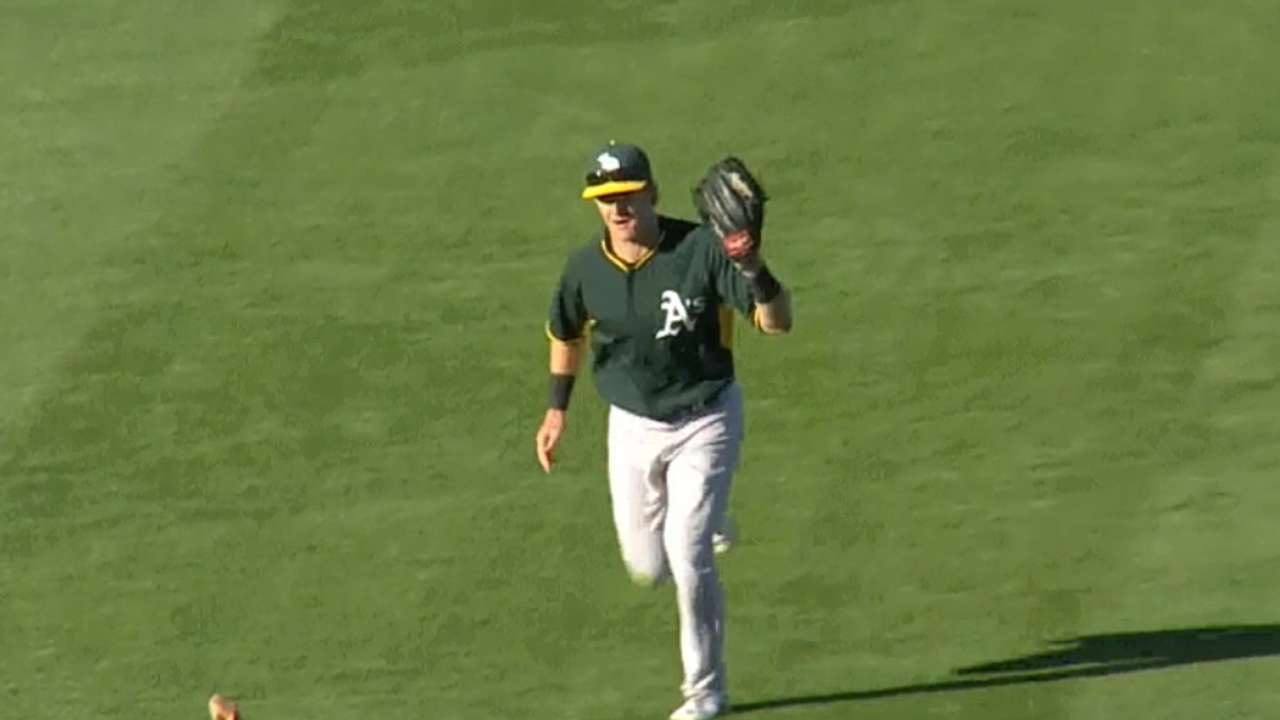 MESA, Ariz. -- Mark Canha has firmly established his knack for the big, late-inning hit. Just two days after clinching the go-ahead run with a two-run homer against the Brewers, the A's slugger provided a walk-off win over the Rangers, courtesy of a three-run shot.
"Big shocker there, right?" said manager Bob Melvin, grinning. "It was just whether he was going to hit it to right or to left."
Canha hit it to right, not only cementing a win for his new team, but lending himself a boost of confidence after he made a mid-game adjustment with his swing, having noticed his front shoulder leaking out, which was causing his upper and lower body to be out of sync.
"He knows what he's doing up there," said Melvin. "He definitely has a good idea of what his strengths and weaknesses are. He's got some power, as we've seen. He's going to strike out some, but he's going to do that, too."
It was Canha's fourth Cactus League homer, and, at this point, the Rule 5 draftee -- batting .267 this spring -- appears a safe bet to make the A's Opening Day roster, providing them an option at both first base and in the outfield, where he's continually impressed on defense this spring.
"Last Spring Training, I didn't get as many at-bats, so it's been a long six weeks," he said. "I feel like I'm out there all the time. I'm tired. I'm worn down, but I keep telling myself, 'Just keep going out there and playing, and just stay focused.'"
• Closer Sean Doolittle, rehabbing a left shoulder strain, played catch from 90 feet on Friday and reported no issues.
• Tommy John patient A.J. Griffin threw 50-plus pitches in his latest bullpen session Friday, and "all his pitches look great," said Melvin.
• Outfielder Alex Hassan (right hamstring strain) ran the bases without any issues Friday, putting him in the clear for game action Saturday.
Jane Lee is the Oakland Athletics beat reporter for MLB.com. She has been covering the club since January 2010.
This story was not subject to the approval of Major League Baseball or its clubs.