After 'soul searching,' Barnes commits to new approach at plate
Despite spring struggles, outfielder expected to maintain roster spot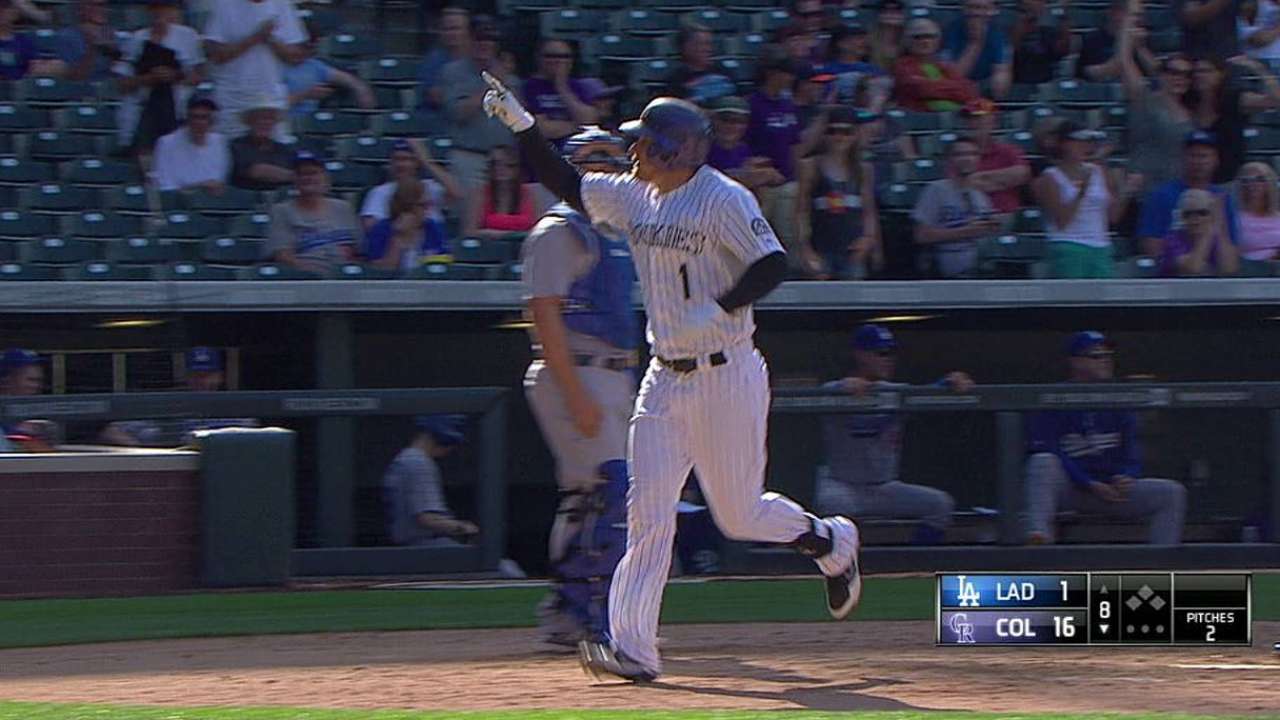 SCOTTSDALE, Ariz. -- Brandon Barnes carried a sour taste in his mouth into the offseason last October. His .257/.293/.425 slash line was by no means terrible, but the Rockies outfielder never truly felt comfortable at the plate.
That meant it was time for some self-described "soul searching." Barnes made a drastic adjustment to his swing, adding a leg kick that he says will help with his timing. He also spent hours dissecting film of his own at-bats, trying to decipher his weak spots.
"When I got home last year, I did a lot of what I'd call soul searching -- just trying to figure out who I was," Barnes said. "I did so much tinkering the year before. So I just sat down and tried to figure out who I was and the things I could get better at."
This spring, Barnes is hitting just .194 with one extra-base hit. But he says his swing feels more settled -- to the point where he won't need to make as many in-season adjustments.
That's the goal -- Barnes spent too much of the 2014 season tinkering with mechanics. So he decided to do his tinkering during the offseason this time, in an effort to find a steady approach once the season begins.
"There's a lot of film watching," Barnes said about his process. "I had to go back and look at what I wasn't good at last year -- whether it be pitches away, sliders, I had to go back and look at that and really hone in."
Despite Barnes' early struggles with his new swing and his increasingly high strikeout totals (100 in 292 at-bats last season), manager Walt Weiss indicated that Barnes will most likely maintain his spot on the roster -- as a backup outfielder and a sparkplug-type player.
"He's committed to his approach at the plate, and that's the key -- not wavering," Rockies manager Walt Weiss said. "There's some conviction in his approach. He's made some hard outs, too. You probably look at the numbers. In 40 at-bats or so, you make 3-4 hard outs, it's a big difference in your average. I don't pay too much attention to the numbers. I just see a guy who is in more control of his at-bats."
Both Weiss and Barnes stressed the need for Barnes to shrink his own strike zone. Among players with at least 300 plate appearances last season, Barnes was second in the National League with a swinging-strike percentage of 17.7.
With that in mind, Barnes has also altered his plate approach, eying only the certain part of the strike zone where he feels he's most likely to succeed. That part, he said, will change day to day, based on matchups.
Said Barnes: "Some guys like to pound in, some guys stay away. It's about doing your homework and knowing what you're capable of hitting."
AJ Cassavell is a reporter for MLB.com. Follow him on Twitter @ajcassavell. This story was not subject to the approval of Major League Baseball or its clubs.